Normally, the accountant and Bookkeeper both provide financial assistance and usually work together. Undoubtedly, accounting and bookkeeping are both considered one of the best career paths for those interested in working with numbers and mathematics. But most people seem hard-pressed when it comes to describing the difference between Accountant vs Bookkeeper. While an accountant vsBookkeeper both play a significant role in business. It is required for every business person to know everything about Accountant vs Bookkeeper. In this blog, you will learn everything about both in detail, including the difference between Accountant vs Bookkeeper.
What is an Accountant?
No doubt, the accountant plays the most crucial role in every business. An accountant is considered a professional who is generally responsible for keeping and analyzing all the company's financial records of an industry. At present, the scope of accounting is vast. Today, accountants are accountable for a company and are also responsible for a wide range of different finance-related tasks. An accountant can work either for a specific client or a larger organization and business.
What is a bookkeeper?
Generally, a bookkeeper is also considered a bookkeeping clerk. In simple words, a bookkeeper is an expert who helps you keep all the financial records of your business. A bookkeeper can easily manage all the accounting ledgers, transactions(journal entries) and generate a financial statement of your business. It is noteworthy here that every professional bookkeeper has their specific expertise, same as every company has unique bookkeeping requirements.
What is the working process of both professions?
Suppose you want to know the differences between accountant vs bookkeeper. First of all, you should learn everything about the processes behind the professions. It will also clear all your doubts regarding "What is the difference between accounting and bookkeeping?"
Accounting
Accounting is a process in which accountants have to keep all the financial records of a company. Here is the process which every accountant follows to maintain financial records of any company, recording, analyzing, summarizing, discussing, and reporting to entrepreneurs. Generally, all the accounting tasks are completed by a CPA(certified professional accountant).
Bookkeeping
Bookkeeping is considered a part of accounting. The bookkeeper is responsible for performing records maintained in the business, including daily business transactions. He is also responsible for storing all the recording transactions in the database. To become a bookkeeper, you don't require any license, but you should obtain certification first.
Duties Of Both: Accountant vs Bookkeeper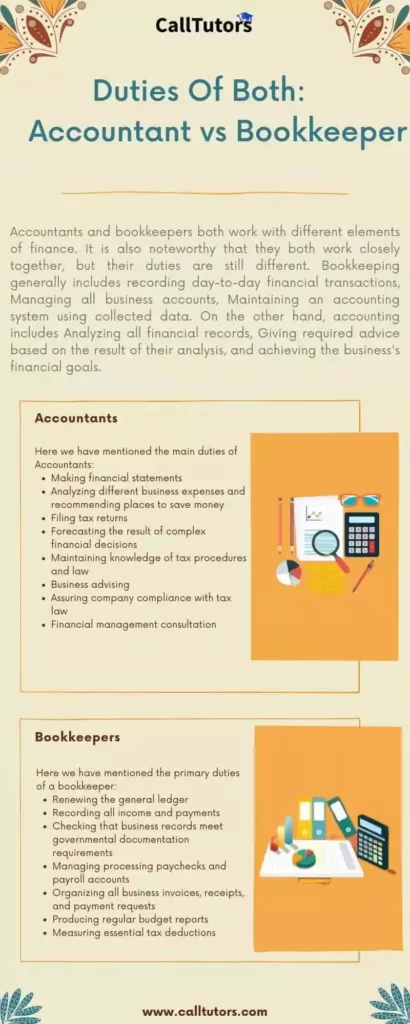 As we already discussed, accountants and bookkeepers both work with different elements of finance. It is also noteworthy that they both work closely together, but their duties are still different. Bookkeeping generally includes recording day-to-day financial transactions, Managing all business accounts, Maintaining an accounting system using collected data. On the other hand, accounting includes Analyzing all financial records, Giving required advice based on the result of their analysis, and achieving the business's financial goals.
Accountants
Typically, accountants study the numerous variables that influence financial business success and make sure to place them within the context of financial laws and rules. Here we have mentioned the main duties of Accountants:
Making financial statements
Analyzing different business expenses and recommending places to save money
Filing tax returns
Forecasting the result of complex financial decisions
Maintaining knowledge of tax procedures and law
Business advising
Assuring company compliance with tax law
Financial management consultation
Bookkeepers
Usually, a bookkeeper applies lots of time to recording, analyzing, and organizing daily business transactions. Here we have mentioned the primary duties of a bookkeeper:
Renewing the general ledger
Recording all income and payments
Checking that business records meet governmental documentation requirements
Managing processing paychecks and payroll accounts
Organizing all business invoices, receipts, and payment requests
Producing regular budget reports
Measuring essential tax deductions
Demanded Qualifications: Accountant vs Bookkeeper
Accountant
Today, the field of accounting is growing broadly. Generally, most companies or industries require an accountant who has a bachelor's degree in accounting or commerce. As an accountant gives financial advice, they need to have higher qualifications than a bookkeeper. At the same time, the requirements of accountants in small and large industries are growing vastly. Today, thousands of universities/colleges provide higher education to students who want to become professional accountants. Most companies also prefer to select a candidate as an accountant with higher qualifications and some working experience.
Bookkeeper
To become a bookkeeper, you don't require higher qualifications in the commerce field as an accountant. In the field of bookkeeping, employers prefer past clerical work experience instead of higher qualifications. It is required for a bookkeeper to have a high level of coordination with the accountant to make sure that the funds are managed correctly. So we can say bookkeeper requires a high level of accuracy and dedication rather than higher education.
Required Skills: Accountant vs Bookkeeper
Undoubtedly, both accountants and bookkeepers share numerous similar skills, but they both apply those skills in different manners. Here we have mentioned major Used Skills: Accountant vs Bookkeeper.
Problem-solving
Accountants use their various problem-solving skills according to their unique financial requirements and goals. Bookkeepers apply their different problem-solving skills to correct any variances between the business accounts and navigate complicated clerical work.
Organization
It is required for both Accountants and bookkeepers to be well organized in each aspect of their works so that they can be quickly and easily able to access all financial records.
Attention to detail
As accountants and bookkeepers, both work with third-party persons, so it is required for them to give attention to detail on the financial information of their clients. In simple words, we can say that accountants should have to note down how all the big and small details influence their clients' financial growth. And bookkeepers are required to keep meticulous accurate records for different financial transactions of their clients.
Computer skills
At present most businesses are using computer softwares and spreadsheets for making general ledger accounts. So it is required for a bookkeeper to have good knowledge of computer working so that they can easily use different types of computer software. At the same time, accountants also required computer knowledge to obtain and analyze that data.
Mathematics
Generally, both accountants and bookkeepers have to perform basic math operations in day-to-day work. They may also be required to do some advanced-level calculations when working with investments and taxes. So we can say that good mathematics skills are required for both professions.
Written communication
Both accountants and bookkeepers have to do lots of writing work based on gathered and processed financial information. The primary purpose of this writing work is to make sure that other persons can quickly and easily understand their recorded transactions. So good written communication skills are required for both professions.
Conclusion
We have mentioned everything about accountant vs Bookkeeper you should know. Thus, we hope that our blog will become very helpful for you and it will also clear all your doubts regarding "what is the difference between accounting and bookkeeping"? Still, if you have any confusion regarding Accountant Vs Bookkeeper. Even if you are an accounting student and troubling with accounting assignments, then don't worry. We are here offering the best accounting assignment help online at an affordable price to students worldwide.
FAQs(Frequently Asked Questions)
Is it hard to be a bookkeeper?

It is not difficult to become a bookkeeper. Bookkeeping can be learned on the job, through self-study, or a formal college degree program. Many businesses use the services of bookkeepers to maintain their financial records so that they may devote their time to other activities.
Is accounting a good career?

Accounting has existed since the dawn of time. It has evolved into a significant field in the financial landscape throughout the years. It still exercises millions of professionals throughout the world today. Accounting careers are increasing due to the continuous need for its services.