Do you want to stand out in a crowd, especially when applying for admission to abroad universities and colleges?
If not, you can take the help of a college essay, which is a type that can be impactful for all students. It helps students get college admission easily abroad and without standing in a crowd. Also, a good college essay gives students a better opportunity to showcase their personalities.
The best university in the world, for example, Harvard University and Stanford University, includes college essay for those kinds of students. The college essay is a main part of these universities for realizing the student's value of essays in the admission process.
Are you also interested to get studied in foreign? If yes, first, you will have to know "what is a college essay," "how to write a college essay," and what is the college essay format and structure."
In this blog, I will guide you on how to format a college essay and what format a college essay should be in.
Also Read: How To Write A Narrative Essay?
What is College Essay?
The college essay is an individual's essay that conveys a story of around 600 to 800 words. The students mainly write college essays with proper structure and format. Moreover, in the biography or non-fiction writing essay, word count relates to the student's experience.
Because it needs to be depth research, rich and introspection reflection. It should always be error free in grammar, well-written, have good punctuation, and be plagiarised free.
A college essay is an essential piece of a college application and a great chance for students to express an admission committee that helps them to be good. Writing an essay is not just enduring academic assignments for students that have been doing for many decades but also a crucial part of learning.
Moreover, college essays are vital as they allow the student to speak openly to the college admissions office.
What Is The Main Purpose Of The College Essay?
The purpose of the college essay is to provide college admissions officers a preview of a student that they may not glean from their high school record or other questions on their major application.
College essay writing needs a good command of English higher vocabulary, and students have to make their writing skills through practice. Besides, a perfect essay needs a commitment that helps students write it.
The main purpose of including the college essay in the admission process is to provide students with better opportunities. It personalizes the teachers directly to students' college applications beyond scores and grades.
Another purpose of the college essay is that it becomes the main nerve-wracking part of the college application process.
Also, it helps the students to boost their knowledge and skills by writing an application-worthy essay.
Apart from this, the college essay's other purpose is to provide a statement of student self-awareness and creativity.

College Essay Types
There are two kinds of college essay formats: narrative and montage. Both formats are different from each other. There is a major difference between the Montage and Narrative Structures.
1. Narrative Structure
The narrative structure is the source of the majority of US films today. This Structure relates to story events in an underlying way, such as X leading to Y leading to Z.
2. Montage Structure
Moreover, Montage Structure is a format of a college essay that relates to story events in a thematic way such as X, Y, and Z are all associated with one another.
College Essay Features
These are the following features of the college essay.
Brainstorm the topic from life. Make it personal and real.
Learn to structure the essay.
Use the narrative structure for writing regarding challenges
Use the montage structure for writing regarding some parts of life.
Select a structure that works.
Add plenty of color and details.
Revise and Test the essay.
What Should I Do To Format the College Essay?
Several major points have to consider while formatting the college essay in an effective manner, such as below:
1. Make it Simple and Precise
Make the college essay format as simple as possible. Clear writing reflects more clear thinking among the readers. The style of writing should be consistent throughout the board.
2. Give a great introduction
It is probably an essential part of the essay. The introduction defines whether the teacher will read all the manner through the writer or if she will throw it aside.
3. Define what to include in the college essay body
The college essay body is where one validates the thesis by giving persuasive arguments. One can break it down into paragraphs.
4. Take care of the conclusion
Ensure the conclusion of the college essay is not "dry." Keep the focus, the fun, and the precision until the full stop. The conclusion must reiterate the higher focus of the essay and inspire the reader to take a certain kind of action.
5. Arrangement – connect the arguments, sentences, and paragraphs to make a cohesive whole 
The organization of the text is the other essential part of college essay writing that may highly affect the student's grade. See the essay as a complete body, with all the key parts fitting collectively.
6. Prevent boredom at all cost
Preventing unnecessary repetitions in the college essay is more important. Confirm that it is only associated with details that matter. Do not write excessive words to attain the required word count.
7. Give more credits in the footnotes
Do not forget to attribute the major credit to whichever material the student used in writing the essay. The footnotes must contain the sources one used as a reference in assembling the whole essay.
How Do I Start College Essay?
These are tips and tricks to start and write a college essay.
Tip 1:- Write The User-Friendly Introduction
The first and foremost tip to writing a college essay is that you will have to write an essay introduction that is user-friendly. It should be an attention grabber that easily grabs the user's attention. The first sentence of your essay is very interesting and holds them to read more about the information in your content.
Your essay's introduction should be crisp, providing rich details or connecting a reader's curiosity.
Tip 2:- Stick To The Topic
The next tip for writing the essay is always to stick to your topic. You do not add any irrelevant or unnecessary data. Because it impacts the user interest.
Tip 3:- Create an Outline
After this, you will have to create an outline for showcasing "how your overall essay topic will flow from beginning to end".
Tip 4: Be Creative But True
Moreover, another tip to write a creative essay is that you should use each paragraph to make an individual point. Also, use a standard college application essay template that is easy to understand and does not repeat the topic.
Tip 5:- Other Tips & Tricks
Apart from this, you can use examples and analogies, get your essay reviews from someone, use Grammarly or plagiarism tools to check the grammar, etc.
How To Outline College Essay Format And Structure?
The format of a college essay depends on the essay type. The following steps are given below to outline the college essay format and structure.
Step 1:- Think About An Appropriate & Relevant Title With the Proper Structure
First, you will have to consider the appropriate and relevant title. The college essay title is not necessary to choose, it's optional. But if you include a good title in your essay, it will help to grab the attention of the reader on the essay very easily. After selecting a good title for your college essay, you must start telling your story. Also, the title will give the officer and reader an idea of your essay. You can follow the below-given structure to write your essay and create a college essay format, for example;
Font Style or Size: Times New Roman or Arial font, size 12
Double-spaced
Heading: Heading 1 for the title, 2 for the main body, and 3 for its main body parts.
1-inch margins on all sides
Title centered and in bold
Paragraphs indented by 0.5 inches
Page numbers in the top right corner
No extra spaces between paragraphs
Step 2:- Start College Essay With A Hook
The second step is to start your college essay with a hook. The beginning sentence of your essay is one of the most crucial parts that will be most useful to capture the reader's attention. Also, it will give the reader a reason to read more.
So, you will start your essay by grabbing the attention feature and give you a better opportunity to make an impactful essay first impression.
Consequently, keep starting your essay with a blast that will spark the reader's curiosity.
Step 3:- Continue With Your Main Topic
After writing a good hook introduction, ensure it will give them an idea of where your essay topic is going. Also, set the essay story with four to five sentences that are most interesting. After this, write about your main topic properly in the main body.
If your essay introduction and conclusion end up with approximately 100 to 150 words, then you have to use the 450 to 500 words for constructive paragraphs. It will give the main idea to the reader of your essay or overall story.
Step 4:- Wrap Up With A Conclusion
The next step is that finally wrap up your essay's overall story with a short conclusion. You will have to make a separate paragraph for the conclusion to finish your topic. Ensure to include the main idea of your essay that you want to know the examiner.
Also, you can conclude your essay story with a better personal statement and wrap up the topic. For example: write something about yourself, don't recount or reflect, be funny & strong, etc.
Step 5:- Review The Essay Once
In the end, you will have to glance through the college essay format and structure to ensure it's set properly. Also, review all the sentences and read the essay once to check the mistakes, etc.
Also Read: Tips And Tricks On How To Make Your Essay Look Longer
College Essay Format Examples
These are the following examples of the college essay format.
1. College Essay Example
Here is an example of a college essay written in a standard format with a college essay format template.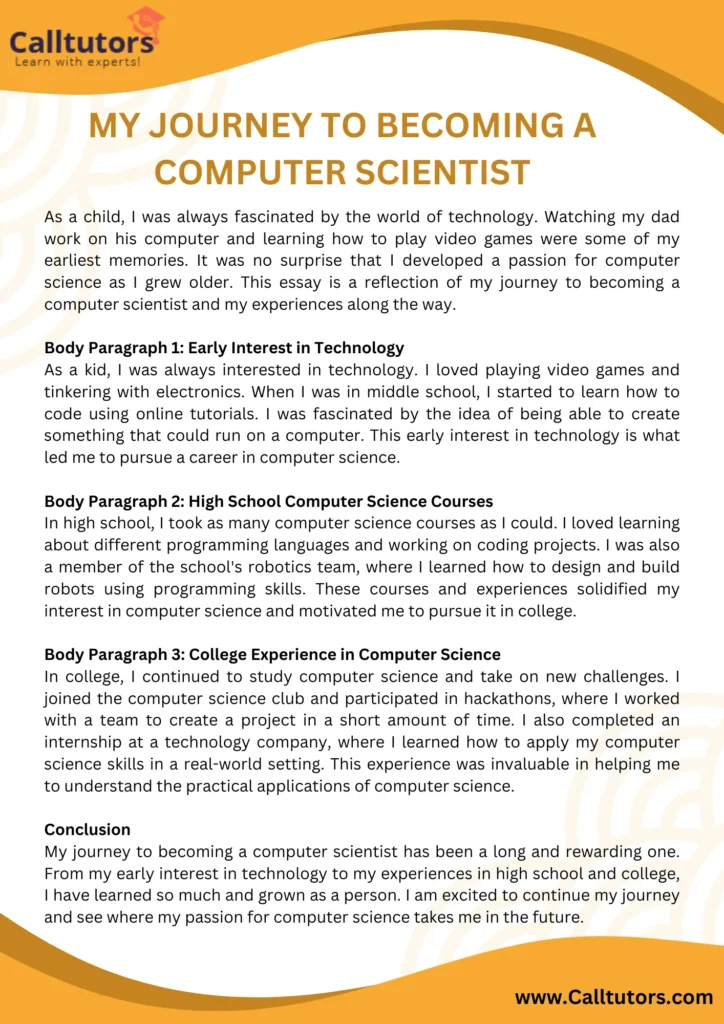 2. College Essay Example
Here is the standard college essay format example.
Importance of College Essay Format
The college essay is a vital element of the final decision regarding a student's acceptance into graduate and undergraduate programs.
It is monumentally crucial and analyzed with great diligence.
The Essay format must be grammatically correct and the substance astutely expressed.
It must present the student as an analytical or thoughtful person with a desire for knowledge.
Tips for the micro-level of the college essay format
Always draft the essay in word processing software, even if students may copy-and-pasting it through a text box.
If students are copy-and-pasting it into a common text box, confirm that the formatting properly transfers, the paragraphs are clearly defined, and the college essay is not cut off.
If students are attaching a document, confirm that the font can be easily readable, the margins are standard 1-inch, the whole essay is 1.5 or double-spaced, and the file format is well-matched with the application specs.
Tips for the macro level of the college essay format
There is no major-secret college essay format that will confirm growth and success.
In terms of the college essay structure, it is vital to have an introduction and a conclusion. There is much freedom for the body of the essay, just so long as it flows rationally.
Quick Links
Conclusion (College Essay Format)
The above-provided information about "how to write a college essay" is beneficial for the students This information will help the students to get higher grades in the class.
A student may encounter many problems while writing a college essay, and they may take out services from our experts to increase their grade and take a higher position in the class. Furthermore, We provide 24×7 services, free plagiarism work, and timely content delivery to the students. Also, get the best college essay writing help from experts.
Frequently Asked Questions
What Format Does Most College Essays Use?
A college essay format and general rules are common. Your admission paper should follow a basic 5-paragraph format. You must include one introductory paragraph, three body paragraphs, and a conclusion.
Why do Students Use MLA Format For College Essays?
The MLA college essay format helps your instructors read and understand your work. Also, it's useful to act on creating citations and citing sources to help prevent plagiarism.
Is A College Essay 5 Paragraphs?
There is no set number of paragraphs in a college admissions essay.