An essay layout serves as a guide for writing a prose essay. Essay outlines give you a template for what you'll say in each section and portion of your article. Making sketches is an important part of writing convincing essays, argumentative essays, expository essays, compare-and-contrast essays, and research papers that are well-written. Also, narrative essays, which tell stories instead of making logical claims, will benefit from an outline's layout.
Writing an academic essay entails putting together a logical case from a collection of ideas. Since essays are basically linear (they present one idea at a time), they must present their ideas in the most logical order for the reader. When it comes to structuring an essay, paying attention to the reasoning of the reader is important.
The structure of such an essay is determined by its emphasis. It determines what information readers should know and in what order they should receive it. As a consequence, the layout of your essay must be adapted to the core argument you're making. While there are some guidelines for writing some styles of classic essays, there is no one-size-fits-all formula.
The Advantages of Outlining an Essay
It lets you keep track of your studies.
It represents the logical flow of knowledge from points to subpoints.
It helps you to be adaptable.
An essay's basic framework often involves an outline, a body, and a conclusion. The most challenging aspect of formulating an essay for many students, however, is determining how to arrange details within the body.
Argumentative Essay Layout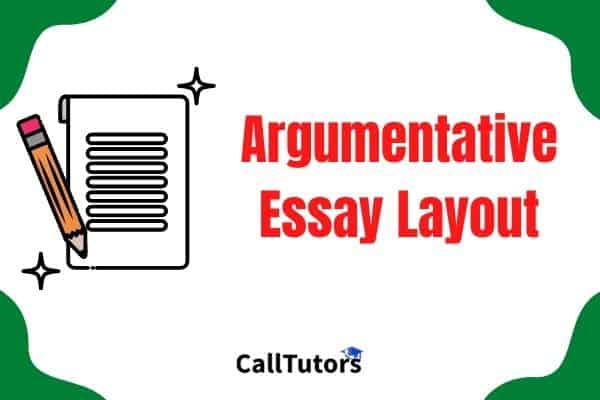 Many students may find it difficult to write an argumentative essay since it appears to be too complicated and multilayered. Don't be concerned; we're here to assist you. Students are usually given argumentative essays on the SAT, ACT, IELTS, and TOEFL studies. This type of paper can also be used as part of a coursework assignment.
Writing an argumentative essay is a common activity for high school and college students. Science, technology, politics, and healthcare are all popular subjects for argumentative essays.
Students are required to write a high-quality argumentative essay during their academic careers to demonstrate their ability to assess circumstances and make informed comments based on facts.
When grading an argumentative essay, the following abilities are considered:
Capacity to perform analysis
Writing ability
Skills in review
The content of your essay is determined by how well it is organised and illustrated. Do you need assistance creating an outline for your argumentative essay?
To learn more about the argumentative essay description, read the blog below.
In 5 Simple Measures, Layout an Argumentative Essay
The first paragraph is an introduction
The thesis statement is the main concept of the article
Paragraphs in the body
Conclusion
Editing
Introduction
You'll need a base to build your essay on, just like every other piece of academic writing. The cornerstone of your essay is the introduction. Your paper would be flawless if you have a proper and perfect presentation, and vice versa.
An argumentative essay's hook, context detail, and thesis statement are all included in the introduction.
Hook
An argumentative essay introduction, like most other forms of assignments, should aim to pique readers' attention right away. Make a sentence that stands out from the others in the document. Use a rhetorical query, a powerful quotation, or an interesting concept. The aim is to get your audience reach for a bag of popcorn as soon as the hook is read.
Background Information
After capturing the audience's attention, provide any relevant context in order to narrow the discussion's emphasis. This knowledge does not yet disclose any of the body's key points. It should also serve as a natural step from the train of thought to the thesis statement.
Thesis Statement
Your essay's main focus is the last paragraph of your introduction. It gives the readers a summary of the key point of the subject. It expresses the author's point of view and where he or she stands throughout the essay.
Body Paragraphs
Claim
It's time to link your key sub-argument to your thesis statement after you've presented your topic sentence. The aim is to show how this argument supports and validates your main message.
Evidence
In an argumentative article, making a point isn't enough. The writer's goal is to get people to believe in your point of view. To do this, you must have proof and information to back up your claim.
You must build your reputation as a writer by presenting evidence that supports the validity and accuracy of your arguments. The credibility and reliability of the data, statistics, studies, and other evidence you provide to support your argument and point of view are entirely dependent on the trustworthiness of the facts, statistics, studies, and other evidence you provide.
Topic Sentence
Begin with a transitional sentence from the former to the present paragraph. It should also present the section's key sub-argument.
Include a counter-argument
When gathering information for an essay, students often overlook alternative viewpoints. A writer should not simply state his point and back it up with proof when writing an argumentative essay.
After you've given proof for your contention, debunk it by identifying and including alternative viewpoints and counter-arguments. There is always a counter-argument to any argument. Disprove the contrary viewpoints and claims with proof.
Final Thoughts:
End the body section with a thorough explanation after making a defendable argument and supporting it with evidence. This sentence's main purpose is to summarise the claim's overall relevance to the study. To put it another way, why was this particular argument so crucial?
At the End
The conclusion is the final step in the outline writing process. It's time to wrap up your essay now that you've properly arranged the introduction and body paragraphs.
The importance of a conclusion is often overlooked. Your whole essay would be a waste if the ending is ambiguous, abrupt, and unsatisfactory.
The following items should be included at the end of an argumentative essay:
Reiterating your thesis statement is a good idea.
Briefly summarising the main point.
Readers are being advised on a course of action.
Offer a memorable closing point to finish your argumentative essay description on a high note. This sentence should generally express the information's universal value and leave the reader with a desire to learn more about it.
Revision
Before sending your argumentative article, ask yourself the following questions:
Is there anything in your study that anyone might argue for or against?
Are all of your points well-written and logical?
Have you used the best examples to back up your claims?
Have you presented and refuted any counterargument(s) successfully?
Does the conclusion provide an intriguing glimpse into the topic's future?
Persuasive Essay Layout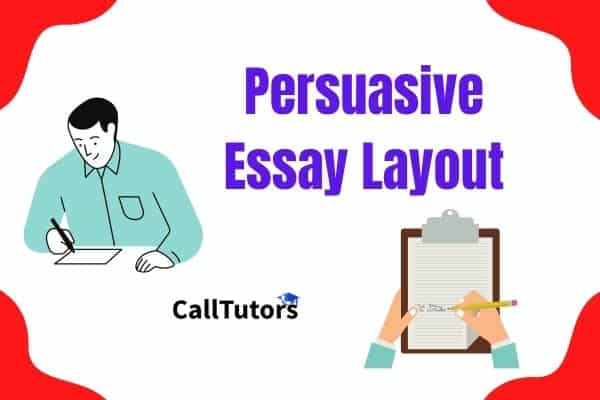 A Persuasive essay is a piece of writing that attempts to persuade the reader to agree with your position. It's a writing style that we see all the time, particularly in advertisements. If you've been assigned to write one, this guide will provide you with what you need to get started.
Study, analysis, and logical thought are all part of persuasive prose. You must have a detailed understanding of your subject and a thorough understanding of your audience in order to choose the right reasons for convincing. With this in mind, you write an essay so that it covers the subject logically and consistently.
Style of a Persuasive Essay
Introduction – This is where you will introduce the topic. Discuss why the topic is so controversial or significant, and why a decision is required.
Thesis – Introduce yourself and your point of view. To ensure that your writing is well-informed and useful to the reader, perform extensive research before writing.
Main body – Introduce a new argument to support your thesis in each paragraph. After you've introduced your claim, be sure to back it up with facts. Connect your paragraphs to build a bigger picture and a better flow.
Conclusion – Use this section to link all of your key points. This is not the place to introduce something new.
The following are the general guidelines for essay formats:
500, 1500, or 2000 words are allowed.
Times New Roman, 12-point font; unless otherwise specified, a 16-point font is used for your essay title. For essay formatting, Arial and Georgia fonts are also appropriate.
Double-spaced is preferred, but 1.5 is appropriate as well.
Justified alignment.
Informative Essay Layout
Essay writing is a critical aspect of every student's life. Professors love to assign it because they think it's a great idea for a homework assignment. It assists in the growth of critical thought, analysing skills, and time management. Time management is particularly important. Many businesses seek out college graduates because they are more organised and accustomed to meeting deadlines. They are more goal-oriented and can be helpful in solving urgent problems.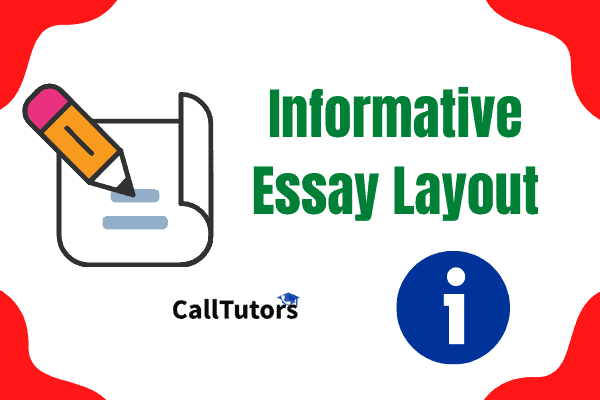 Any well-written academic paper begins with a strong structure. A detailed essay description is the first step in creating the structure. The paper almost builds itself until the outline is completed. The writer can develop an essay worth reading by focusing on a strong insightful essay outline rather than rushing through all of it.
An insightful essay is a piece of writing that offers details on a particular subject. In other words, it tells the reader about a specific subject, such as a concept, an occurrence, or a natural phenomenon.
The author's evaluation or analysis are not included in an insightful article. Rather, it aims to define a subject. How does this essay appear? In essence, most Wikipedia articles are insightful essays in the sense that they provide information on a specific subject.
An insightful essay is a great way to learn about and explore a new essay style while still conducting comprehensive study. It is extremely beneficial to logical thought. Isn't it true that college is all about studying?
The Benefits of Writing Informative Essays
For illustration, an informative essay was used.
informative essays may be used as a visual aid in some cases. A different scenario is presented in this type of insightful essay to establish the essay's key points. If the insightful essay is about the advantages of a particular self-help medication, for example, the essay might begin by explaining how the person has been able to manage a specific health condition as a result of taking this medicine on a regular basis. There would be a direct connection between the medication and the individual's wellbeing. The remainder of the article will detail how the unique treatment has benefited them.
What Does an Outline for an Informative Essay Look Like?
Introduction
The difficulty in determining how to begin an essay of this kind begins with a lack of understanding of the contents of the introductory paragraph. In insightful prose, there are three elements to an introduction that should always be included. The hook is the first of these elements, and it's sole purpose is to catch the reader's attention. Following that, a brief introduction of the key points should be made. The descriptive essay thesis argument, which should be the last part of the introductory paragraph, should be the foundation of thought for the entire essay.
Body Paragraphs
It's time to move on to the body paragraphs now that you've written a solid, insightful, and engaging introduction. The main purpose of this section is to dig deeper into your subject. The main body of your insightful essay should build on the points made in the introduction. The body paragraphs contain a variety of viewpoints that help to build or endorse the essay. To support your main thesis argument, each paragraph should include a different point of view. Each topic (point) needs its own paragraph, the number of which is determined by the assignment's and topic's parameters. If the topic requires more information, provide more paragraphs.
Conclusion
The essay conclusion should leave the reader with a sense of completion. You should start by rewriting the thesis argument. Please keep in mind that you must give your rewritten thesis statement a new sense based on the facts and conclusions given.
Then, in a couple of sentences, summarise the body of your article. In the final line of your conclusion, summarise the entire article.
Excellent essay topics
In London, there are a lot of things to see and do.
Killer Zodiac
Bullying on the internet
World's poorest nations
Warming of the planet
Nazis obliterated art.
Tornadoes have many causes.
History of the Bible
Throughout history, books have been banned.
Millennials in the workplace
Year off
Theatre of the twenty-first century
Urbanism is the analysis of the area.
Orthography in the ages
Hypnosis as a sales tool
Skateboarding is a common sport in the United States.
Head rolls in France
Pyramids in Mexico
Audible narcotics
Espionage films by Alfred Hitchcock
History of Thanksgiving
Terrorism in schools is a significant concern.
Stress-related risks Tattoo as a fashion accessory
Teenagers are subject to taxation.
The source of cheese
Compare and Contrast Essay Layout
The compare and contrast writing is a type of paper that compares and contrasts two topics. It explains how the topics are similar in some ways and different in others, as the title suggests. This essay structure usually includes body paragraphs that identify both subjects before concluding with a final review.
The simplest concept of a compare and contrast essay is one that compares and contrasts two subjects to discuss both their similarities and differences. It's easy to misinterpret this form of essay writing as a straightforward contrast of two topics or subjects, but that's not exactly accurate.
The significance and implications of this study are explained in good compare and contrast articles. A valid distinction must be made in a compare and contrast essay thesis. Locate your essay's core theme and do some thesis brainstorming.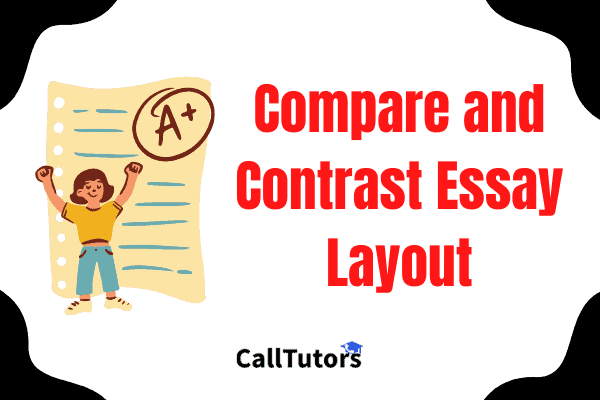 College and university students often write this sort of essay. Professors challenge their students to apply their analytical and comparative skills while paying careful attention to the reference topics. This type of essay tests your observation and interpretation skills, as well as your ability to create a frame of reference and make persuasive arguments on a subject.
Structure and Outline: Compare and Contrast Essay
Make a list of ideas
The best compare and contrast essays show that they have done a lot of research. This means that you'll need to do some brainstorming before you start publishing. For brainstorming compare and contrast essay subjects, a Venn diagram is an outstanding visual aid. A Venn diagram is a series of alternating circles in which one circle represents the first subject's characteristics and the other represents the second subject's characteristics; an overlapping section between the circles includes characteristics that both subjects share.
Form a Plan
Once you've mapped out the similarities and discrepancies in your issues, you'll be able to see how they relate. You will be able to create your thesis statement and subject sentences during the prewriting process. Your thesis statement should serve as a road map for the rest of your paper.
After you've spent time with your data, you'll move on to outlining in your prewriting phase. The typical essay format is followed by a strong compare and contrast essay outline: an introductory paragraph, body paragraphs, and conclusion. When you write, stick to your outline. The difference between a tight, centred essay and a meandering one is excellent outlining.
Create an introduction
This form of essay's introduction is similar to that of others. It's where you present the piece's general theme as well as the individual objects, circumstances, or incidents you'll be comparing and/or contrasting. The presentation should include the following elements, as depicted in the diagrams:
Start with a hook sentence and basic information about the main subject. A quote, a question, anecdote, or something else that you think is appropriate for the topic you're writing about will serve as your hook.
Specific topics to compare and contrast – you can't just start writing about the similarities and discrepancies of two things. As a result, you can include a sentence or two mentioning relevant topics you'll compare under the central theme.
Paragraphs in the centre
The overall amount of paragraphs in the body section is calculated by a range of variables or requirements that must be discussed. If you need to compare two different events from two different perspectives, for example, two paragraphs are needed. Three requirements, for example, necessitate three paragraphs. Often your professor or a client will provide you with the number of aspects to use for comparison/contrast, and other times you'll have to figure it out on your own during the study process.
In most cases, comparative essays compare two or more items. As a result, intend on writing at least three body paragraphs that cover both of your topics from different perspectives. Transition words connect your paragraphs.
Final Thoughts
A strong conclusion is needed for a strong compare and contrast essay. You should have demonstrated your thesis on how your two subjects are both different and similar by this point. Your final paragraph is an opportunity to express any final thoughts and to restate your paper's thesis. In your concluding paragraph, do not add any new information; instead, summarise the entire article.
Check your work for mistakes.
You've completed the paper, but your job isn't yet finished. It is best to proofread and edit the essay before sending or submitting it to ensure that any errors and unnecessary sections are removed.
Your essay isn't done until you've gone through it with a fine-toothed comb. Make sure that each of your topics has an equal amount of room in the essay. Make sure you have a good understanding of how the two subjects are related and different. Check for pronunciation, punctuation, and overall consistency, of course.
Narrative Essay Layout
A narrative essay's primary goal is to inform the reader about events, encounters, and experiences that occurred to the author within a specific time span. It always has an interesting storyline. The descriptive essay, on the other hand, attempts to paint a picture of an individual, a location, an experience, or an object without demonstrating a sequence of events. The storey is either non-existent or hazy.
What is a Narrative Essay and How Do You Write One?
Examine the subject you've been assigned and consider what personal knowledge you can draw on to write about it.
Make a journal entry about your experience. What went wrong? Make a rough description of what will happen.
Do your homework and look for proof in the text to back up your claims.
Make a list of your ideas. It will be simple to determine where everything will fit in your essay if you follow the framework described above.
Take a seat and begin writing. If you use the framework as a guide, you'll find that writing an essay is a lot simpler than it seems.
Proofread and edit your work. Even if you think your essay is flawless, go through it one more time before submitting it. You'll be surprised by how many mistakes you can make.
Writing a Narrative Essay: Instructions
Consider the subject.
Begin with the first draught.
Components of the plot
The vantage point
proving and defending
Don't include information that aren't relevant to your storey.
Writing that is easy to read
Describe the events in chronological order.
Check out some examples of narrative essays.
Double-check the specifications you've been issued.
Outline for a Narrative Article
Introduction
You should read a little more about the overall criteria of this type of paper before your creative process actually begins, select the subject and gather some relevant details to use as a guide.
Commit readers with the aid of a hook into the plot. You can use a question, fact, quote or interesting comment in order to build a powerful hook to allow readers to read further.
Put the scene and let readers know what's going on. However, the whole storey shouldn't be told yet, just give it a glimpse; don't give it away and intrigue your fans.
Specify your writing's intent. Finally, you can offer an insight into what the storey is all about. Give your readers a look at what's to come, but don't say the lessons from the situation you have yet experienced. Keep them involved! Keep them involved!
Paragraph in the Main Body
The history of the storey should be defined in the first body paragraph. To give readers the most critical information they need to understand the storey you're about to tell, use clear and concise words.
The setting, the main characters, and the beginning of the storey you'll tell in the essay are examples of these specifics. Make certain that every detail is crucial to the plot.
In your essay, the second body paragraph should get to the core of the storey you're saying. To tell the storey up to the climax, or turning point, use one or two short anecdotes or details.
You can tell how the tale finished with the final paragraph of your essay. You may share your experience with short anecdotes or facts.
Modify
Do not begin to check for errors immediately after the essay is finished. Relax and just look at it again then;
Transform large and complex sentences into short, convincing ones;
Avoid using multi-meaning terms;
Find and delete any repetitions of ideas or arguments;
Check with a guide all quotes and general formatting;
Paraphrase in which it is difficult to understand the meaning;
Re-examine the essay structure.
You should review your grammar yourself or use Grammarly or other resources, but don't depend on them too much.
Remove the extra spacing.
Replace misspelt words for their proper counterparts.
Conclusion
Reread your study and see how your life experiences influenced your view of the subject.
The final paragraph of your article is where you describe all you've written. Restate your essay's key topic, and explain how it applies to the lives of your readers. Your final statement should be a call to action, asking readers to consider the subject further.
Expository Essay Layout
An expository essay is a method of writing in which the author tells or reveals the reader about a sequence of events, an idea, a novel, a historical incident, or some other subject. The primary aim of this essay is to provide a simple, succinct, and rational interpretation of a subject. In order to provide a detailed insight into the subject, the expository essay necessitates extensive analysis. Unlike other types of essays, there is no need for the writer to take sides or create a case in this one. The third person, neutral writing style should be used.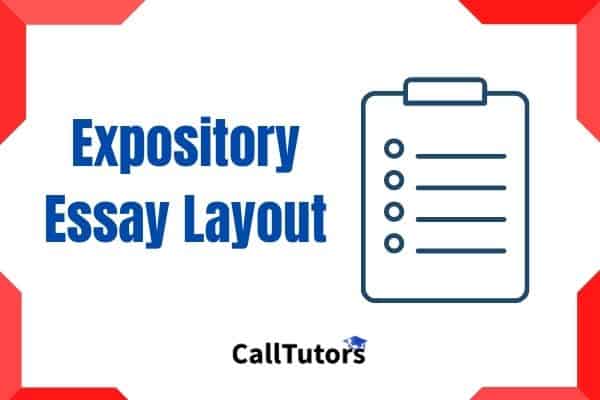 A valuable guide for developing the framework of the article and its logical contents is an expository essay description. An expository essay description should be written in a simple, easy-to-follow format that can be used to streamline the writing process. Making an expository essay without an outline just complicates the structure and contributes to jumbled thoughts. The best way to compose a well-written exposition text is to adopt the proper expository essay format.
What Does an Expository Essay Outline Look Like?
introduction
Begin your introduction with a hook that will pique your readers' curiosity. Often, what you need is a shocking truth or a short storey.
After that, you should set standards for your essay's history, meaning, and audience. Make sure you don't think your reader already knows everything there is to know about the subject, particularly if you're talking about something niche or obscure. If your reader has never learned of BitCoin, your directions on how to mine crypto-currency would be useless.
What Does an Expository Paper's Body Contain?
The body needs the most effort, which is why many authors struggle with it. This segment would include analysis if the student wishes to complete the task rather than use expository writing resources online. The bulk of body paragraphs have three pages that cover the definitions, descriptions, and any possible claims. It is important to use expository essay transitions when transitioning between paragraphs.
Transition words may be a single word or a sentence, but they must be used to keep the flow from being interrupted. The ideas presented are always a paragraph in and of themselves. After that, those definitions will be extensively explored and clarified. In an ideal world, a concept will be viewed objectively from both sides. The use of evidence is an important part of writing an expository thesis.
Conclusion
The aim of the conclusion of an expository essay is to summarise the subject being discussed. It should not provide any new facts or proof, but rather concentrate on highlighting the points that have been made thus far. Essentially, the aim of your conclusion is to bring the essay to a satisfying conclusion.
Suggestions for Writing.
To switch between paragraphs smoothly, use transition terms like "however," "otherwise," "furthermore," and similar words.
Your title should be catchy and relate to your thesis statement.
If expository essay writing has thrown you for a loop and this article hasn't helped, seek professional support and consider purchasing an expository essay as a model.
Organize facts in a way that makes them easy to follow, such as chronologically or by priority.
Use vocabulary that is descriptive and succinct.
Prioritize consistency over quantity; it isn't about how many statistics you present, but rather how powerful they are.
Second person writing may be used if the essay is about a method or operation.
To add more rhythm to your paper, vary the duration of your sentences.
Be concise and avoid confusing terms.
Write a rough draught a few days before your essay is due, and have a friend or classmate look it over before revising it.
It can be beneficial to read your essay aloud as though you were giving a presentation to your intended audience.
Any assertion or reality you include should be backed up with facts.
For facts, only use reliable sources such as surveys, official figures and announcements, journals, and other similar sources.
If you want to highlight something, don't fabricate facts.
Descriptive Essay Layout
The aim of a descriptive essay is to paint a vivid picture of a situation, a specific life experience, a specific feeling or emotion, an individual or a place, and so on. You don't have to convince or argue with the reader; instead, your job is to use words to create a vivid and easy-to-imagine image, so the descriptive essay ideas at the end of this article will come in handy. But does this imply that the format for a descriptive essay is unique?
To write a good descriptive essay, you must:
Provide a thorough and detailed summary of the subject; provide even the tiniest information if they are crucial.
Demonstrate the subject's emotional qualification.
Demonstrate your own reaction to and impression of the subject.
Irrelevant elements should be avoided.
Step by step, examine each and every aspect.
The first paragraph is an introduction.
It provides the audience to whatever subject you're writing about. It doesn't offer much background detail. There is a conclusion argument in it. A single sentence that summarises the entire article. The tone and mood of your descriptive essay are defined in the introduction.
Body of a Descriptive Essay
The body of every document contains the material on the subject. It is necessary to divide ideas into your own paragraphs by writing a descriptive essay body. For this paper type, many students have trouble beginning a body paragraph. Each paragraph should begin with a subject phrase and enter the interpretation of the concept. The portion should be completed with the presentation after a detailed explanation of the theory.
The writer uses supporting evidence in the interpretation of the concept. Typically, this is where credible figures from beyond are cited and debated. Sources are in most cases used to highlight the concept already mentioned. The meat of the paper is produced if this is more analysed.
Conclusion
In the event of being a little confused and unable to make a statement for a descriptive essay, here are some suggestions. It would be a good idea to write a comprehensive descriptive paper that provides a general picture of the object you identified and does not just refine your initial thesis point. You may also outline the key points and how they are related in the preceding paragraphs.
In conclusion, try to provide the following:
The first thing that needs to be done at the end is to think about the initial goal of the job. Spill out the bovines why you have chosen to write and how your life has been influenced by this topic.
Importance of the information indicates: Go through some crucial moments in the paper. Give a rundown of what you discussed and plan for the statement by the clincher.
The final sentence is the clincher that strengthens the overall intent of your work or leaves an attractive idea, query or quote to your audience. You probably have spent a lot of time considering a hook to get the crowd into. Let the paper not avoid the thoughts of your audience after it has read.