Adolf Hitler, Martin Luther King JrAbraham Lincoln, Winston Churchill, and Nelson Mandela are the best leaders in the world. They all play a good role in leadership. You can quickly write an essay on leadership by giving all the best leaders' examples.
Moreover, leadership is a skill that only some people have. He is a person that works according to their team and leads them to work positively without any trouble. The central leadership qualities are courage, integrity, empathy, respect, self-awareness, and gratitude.
Many schools and colleges give students essays on leadership in their scholarship exams. Writing an essay on leadership for all students in the correct way and cracking the scholarship exam is a very challenging task. If you are one of them and don't know how to write a good leadership essay, this blog will help you.
This blog teaches you how to write a good essay on leadership and its correct meaning. Let's follow the below-given information to learn about it.
Who is a Leader?
A leader accepted by society who has great skills, motivate others, listen, and some suggestion to others. A leader is important in every field. If you have no leader, you can not succeed in your society or any work. You have seen a leader in your society. You have well-known about his work, nature, qualities, and characteristics.
How to choose a topic for a college essay On leadership?
A leader essay is a complicated process. Sometimes you have confused about leadership and have no idea to write a leadership essay. Here are some examples of the leadership topic

leadership style
You can think about leadership style, which means to show a method of work.
Examples for life
You can try to remember your life example.
Social leader
You can think or imagine for your social leader. Everybody lives in a democratic country where a social leader has an important role in society. You can think of his work, nature, quality, characteristics, and more.
Brainstorm technique
You can think about the structure of your leadership essay. The benefits of brainstorming are creating ideas in your mind. In this brainstorming technique, you can understand or identify leadership characteristics.
You can think about the leaders like group leaders, team leaders, sports leaders, social leaders, etc. Once you think about it and you can easily write in the flow. Let's take the example of MS Dhoni. Brainstorming techniques are.
Good behavior
strong strategies
decision making
commitment and passion
11+ Tips With Examples On How To Write An Essay On Leadership?
The following are the best tips for students on how to write an essay on leadership with suitable examples. Let's use these all given tips and write an essay accordingly.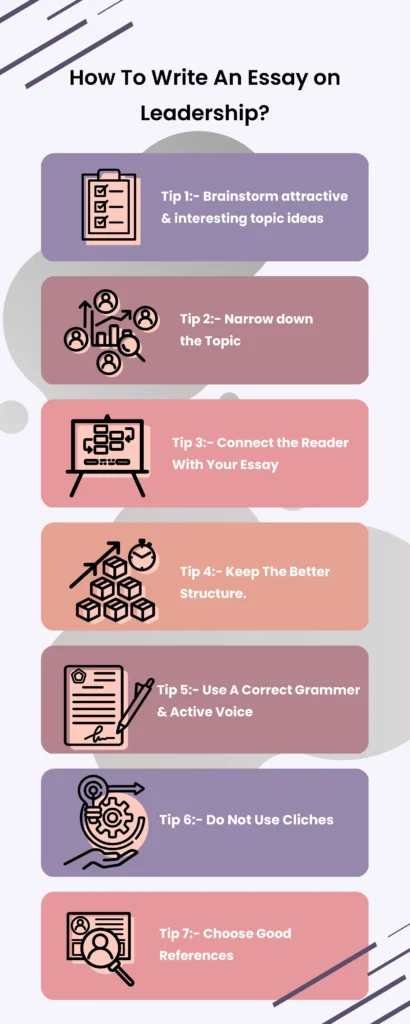 Tip 1:- Brainstorm attractive & interesting topic ideas
First, you will have to brainstorm exciting ideas to choose a topic if your teacher doesn't give you any specific topic. After collecting the topics list, you must select the best leadership topic to write an essay on. You can write an essay by taking examples of the best leaders. Following are the topics examples of the leadership essay you can write on.
Topic Examples To Write An Essay On Leadership
1. Leadership in non-human animals
2. Theories of leadership
3. Gender and leadership in Western countries
4. Leadership as a research area and a practical skill
5. Emotional intelligence and leadership: the connection
6. Task-oriented leadership style: the key features
So, begin with enrolling probable topic ideas that would let you spotlight your written essay on leadership capabilities. Don't hurry via this step – take your time to choose a good topic.
Tip 2:- Narrow down the Topic
Another tip for writing an essay is to think out of the box. You should select a topic that no one takes, and they never write on it.
You should only pick a leadership topic to confirm that your essay deserves high marks. Because the unique and new essay ideas get the attention they deserve, your readers are likelier to see them as exciting and get connected to your essay right at the start.
Tip 3:- Connect the Reader With Your Essay
The other tip to writing a leadership essay is kindly following a technique through which a reader hooks on your essay. Keeping your content most interesting from start to end will make it possible to get good marks in your scholarship exam. These are examples to make your essay very interesting.
Does your introduction entice
Keep short sentences and start your essay with a bang
Don't confuse leadership with management!
Moreover, start with a funny experience, state an interesting fact or raise a startling question.
Tip 4:- Keep The Better Structure.
You can write a good essay on leadership by using a better form and format of your overall content. For example, you can use colors to highlight good headings and make tables and numbers or bullet lists for better structure.
Stick to your educational institution's criteria for styling and formatting your leadership essay since, in the initial step, your teachers would like to see that you have dived into how to format your essay.
Tip 5:- Use A Correct Grammer & Active Voice
Unlike an educational paper or essay topic, leadership essays must be unique. They are considered to be about you. As you share your experiences or perspective, you should only use an active voice to create a more practical effect and ensure your message gets the reader.
| | |
| --- | --- |
| Example Of Active Voice:- | Not To Use |
| I completed the task quickly. | I was finished my job with great precision. |
Tip 6:- Do Not Use Cliches
Typically, if you write an essay on leadership, cliches are one of the most common things used to represent the person. If you do not use these cliches, then you can easily make your leadership essay good and significantly better. Also, you might have sought to reply to any queries readers.
| | |
| --- | --- |
| Cliches Examples | Leaves no stones unturned ahead of the curve. |
Your teachers are wondering for creativity and originality, whereas an essay whole of cliches will seem inert and uncreative.
Tip 7:- Choose Good References
Also, choosing an excellent reference for a leadership essay will give you good marks on your scholarship test. In today's scenario, many platforms provide excellent knowledge of any topic, especially leadership.
References Examples
Javaassignmenthelp
Codvail
Calltutors
Tip 8:- Recheck The Whole Essay & Ask Questions
When you finish your essay, kindly ensure what is missing in your written essay. If anything is missing, put it in and check your whole essay to correct the mistakes. These are the following important to re-reading the essay on leadership.
Helpful in creating a more accurate understanding
Address your essay's efficiency.
Easy to figure out what your readers could ask.
Explain the importance and relevance of your paper.
Tip 9:- Share Your Leadership Stories
Another tip for writing a leadership essay is to share anecdotes that can intensify your essay and take it from good to outstanding. Don't be shy to share your personal stories. Make sure that's pertinent to leadership. Let's know why it's vital to share.
1. Best to add credibility to your essay writing.
2. Explains the facts you have made.
3. It can be funny or life-changing.
4. Keep readers supported and adds enormous value to the essay.
Tip 10:-Keep Focus on Essential Qualities
Moreover, you can also write an essay on leadership by focusing on the critical qualities of leadership. All people know that effectual leadership includes specific crucial features and rates. These qualities are given below.
Empathy
Collaboration
Good listening
Vision
Ownership
Decision-making capabilities
Delegation
Communication, and more.
Tip 11:- Use Best Leaders Examples.
If you want to write an attractive essay on leadership, you can use a good example of our modern history legends or best leaders. These are the names of our world's best leaders.
Best Leaders Of The World
1. Mahatma Gandhi
2. Nelson Mandela
3. Martin Luther King Jr.
4. Abraham Lincoln
5. Winston Churchill
Tip 12:- Edit or proofread and Get Feedback
Eventually, you need to edit or proofread the essay. Also, get feedback on your written essay on leadership through your teacher. Knowing the feedback can help you improve your skills and learn something new from your mistakes.
Leadership Essays Example
Here is the best example of a leadership essay: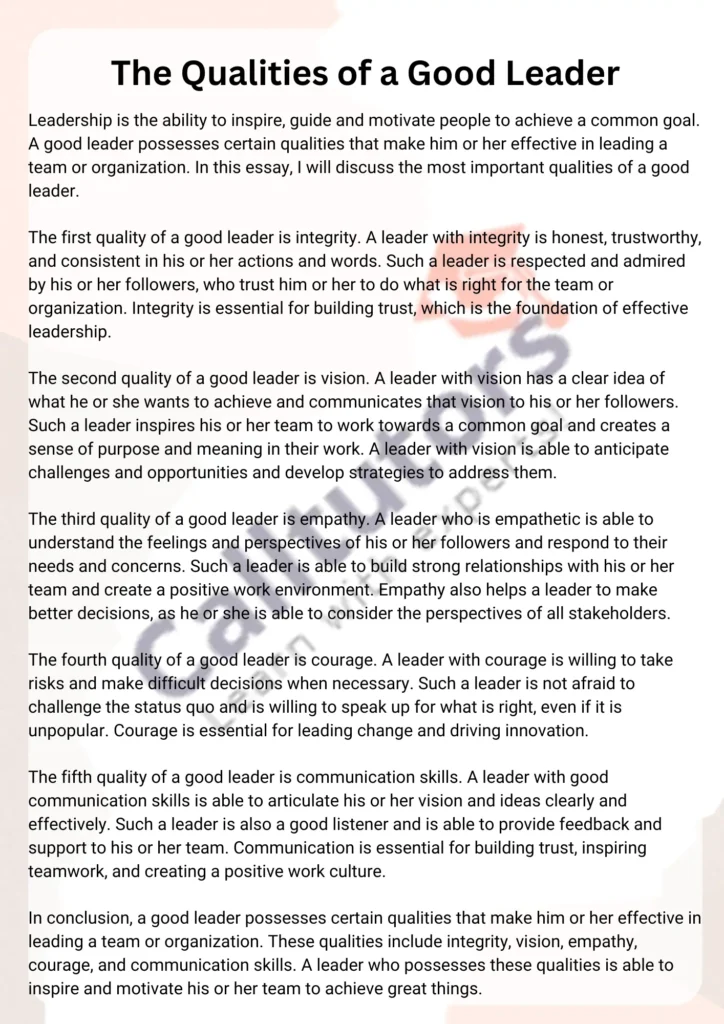 Create an Outline of a college leadership essay
Whenever you write a leadership essay in college, Therefore you should create an outline. Outline means the structure of your essays like an introduction, body paragraphs, and conclusion. If you create an outline, you can get good grades in the exam. The steps of an outline are given below.
Introduction
Give an overview of the leadership essay. You can not write more arguments in the introduction. An introduction is the major part of the leadership essay because the examiner checks your introduction first.
Body Paragraphs
You can write 3 to 4 paragraphs in the body with most of your arguments, focus ideas, and examples of leadership. Here is an example of the body paragraph. You can write original examples of leadership qualities.
Qualities of leader
Honesty and Confidence
Transparency
Creativity and Innovation
Decision-making capabilities.
Vision and Purpose.
Hard worker.
Conclusion
The conclusion is the Endpoint of the essay. A Conclusion is the most important part of your leadership essay. It is the last step to impress the examiner. You can write leadership thoughts, character, compassion, and courage.
key qualities Of Best Leader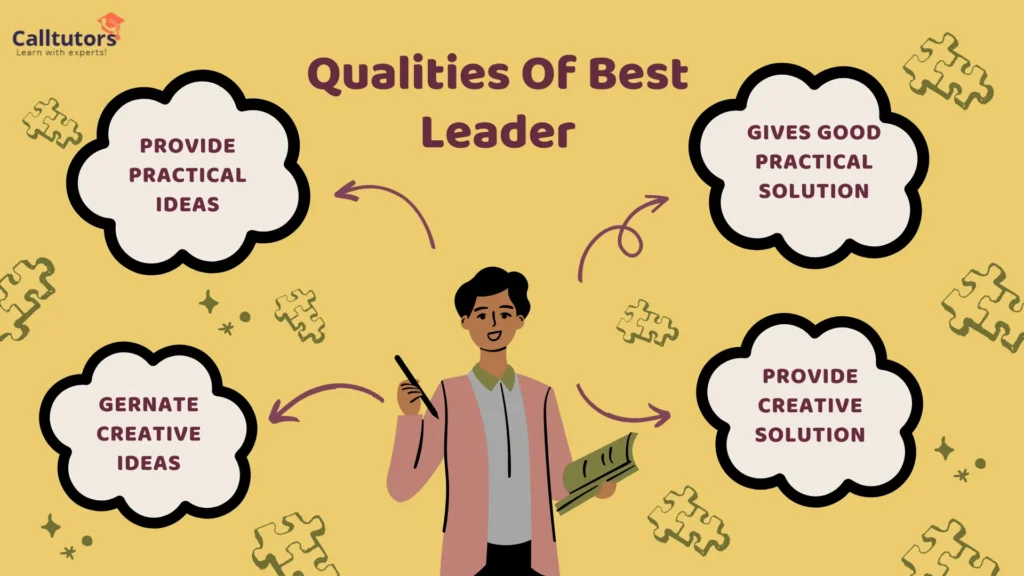 These are the major qualities of the best leader.
Provide practical ideas & Honest: Honesty is the cornerstone of the leader. All people love his honesty.
Confidence: A leader is full of confidence in his work and gives confidence to his followers or audience.
Decision making: A leader is well known for his decisions. Leaders always make decisions without any fear to achieve a goal.
Good communicator & gives the good practical solutions: A leader is always a good communicator because he shares an idea, listens to others, and pays attention to some cases and behavior.
Problem-solving with creative solutions: A leader is also known as a problem-solver. He solves many problems. Here is an example of a political leader who solves many problems in the country, city, etc. Leaders solve the problem in the following ways. Firstly Analyze the problem, communicate, develop solutions, and learn from mistakes.
Courage by generating good ideas: A leader can not fear anyone because he has a lot of courage to face the problem.
Positive attitude: Positive attitude means happiness, trying new things, and a mindset of any work. A leader works with a positive attitude, and he also encourages his members.
The examiner looks at the leadership qualities that you write. You can obtain the best grades in the exam if you write leadership qualities. You can write more leadership qualities in a college essay about leadership.
Conclusion
A leader is a person who inspires, motivates, listens to others, and works together. You can easily write a college essay about leadership. If you have any problem with the leadership essay, don't worry. We are available for you. Call tutors provide essay help online, We have a dedicated team of experts who are available 24/7 for customer support.
Frequently Asked Questions
What Is Effective Leadership Styles Essay?
The authoritative leader knows the mission. They are confident in working toward it and empower team members to take charge.
What Is Good Leadership Essay?
A good leader must certainly encourage others. A leader must be a role model for his followers. Also, he must inspire them whenever feasible. Furthermore, in difficult situations, a leader must not lose hope.
Why Is Leadership Important In Life?
Leadership is important because it encourages, inspires, and develops an instance for people to execute optimistic modifications in the world.