Are you one of those who get goosebumps after listening to assignment writing tasks?
We understand. Today, we will talk about the change in the assignment structure for college students and tell you how to make assignment for university.
When the students complete their school study, they enter the universities and colleges for their higher studies. They are totally new to the course material, assignment writing, practicals, and other study practices.
Some students have to struggle a lot because they don't know how to make a university assignment. So in this blog, we will tell the students in detail how to make assignment for university well. If the student makes his / her assignment through the teacher's guidelines, by doing so, the student can score good marks in their final exams.
Categories Of Assignment For University
In Universities, the students are asked to work on different kinds of assignments and projects that vary in nature. Some of the most common kinds of University assignments that students have to work on during the phase of the post-graduation degree have been highlighted below.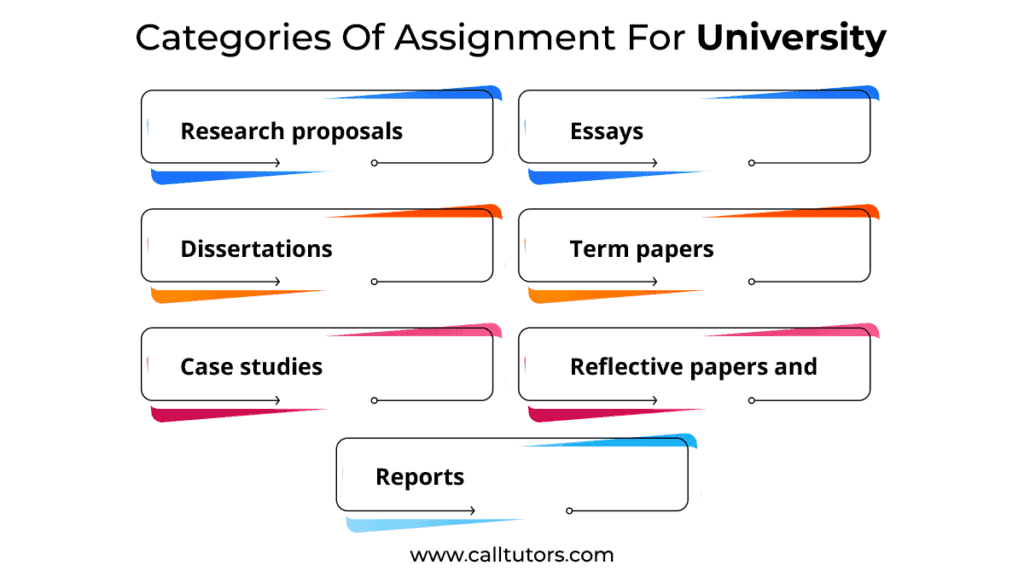 Research proposals- Research proposal is a document that is a crucial part of the application process. It expresses the research methodology.
Dissertations- It depends on the original research and takes a lengthy paper to cover all the aspects.
Case studies-It is a research methodology primarily used in social sciences and describes an event, person, and group.
Essays- Piece of writing that an author writes from his own perception and opinion.
Term papers- A research paper written by students in an academic term and expresses a student's achievements in a term.
Reflective papers and- You analyze the situation and experience through self-reflection and then write a paper.
Reports- It is a document where information is expressed in a structured way for a particular purpose and audience.
Why assignments are important for students?
Assignments are an important part of a student's university life because they help them improve their grades. You can't just ignore the tasks or write them in a careless manner. It must be accurate, stunning, and free of plagiarism. Students get assignment writing tasks on almost all the subjects.
Students also struggle with assignments because they require a lot of time, concentration, and research. Students who study topics that require more practical knowledge than theory are more likely to explore and gather data for their assignments.
Assignments help students in developing the following qualities-
1 It helps in developing focus on the tasks
2 Develop a habit of self-learning.
3 Students attain time management skills.
4 Know how to analyze the particular topic.
Mistakes students make while writing assignment-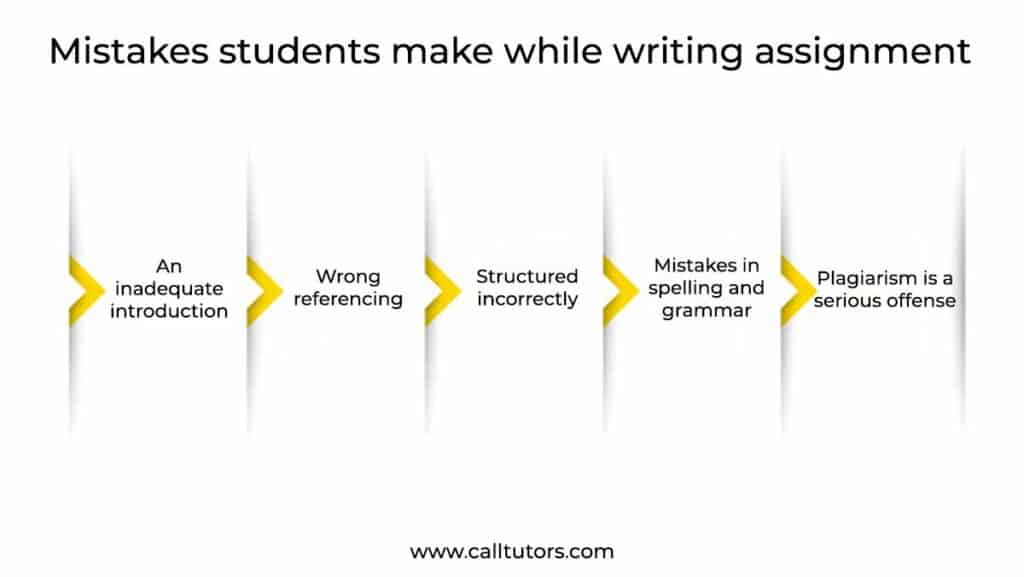 Usually, students make mistakes while writing university assignments because they don't know how to make assignments for university. Following are the mistakes students make while writing assignment-
An inadequate introduction
One of the most common mistakes students make is writing an inadequate introduction, which results in low grades on assignments. Instead, students can write proper content and create a relevant image to keep readers interested until the end of the assignment.
Incorrect referencing is another big mistake made by students. We understand that accurate reference is a difficult task for students, and this will lead them to assignment failure. A minor error in references will cost you a lot and result in a grade reduction.
Another major blunder that reduces your assignment grades is the poor structuring of the assignment's writing. Your concept's structure ties it together and ensures that it flows seamlessly throughout the assignment, which includes (introduction, body, and conclusion). Professor would have expected students to adopt a specific writing format, but they failed to do so.
Mistakes in spelling and grammar
Misspellings and grammatical errors may make the difference between a pass and a fail. It is not always accurate to rely on spell-check; it may miss a few spells that your professor will not appreciate. As a result, there is a loss of grading in tasks.
Plagiarism is a serious offense.
Plagiarism is one of the biggest errors students make while composing an academic assignment or essay. The majority of institutes use online tools to check for plagiarism.
All these are the mistakes students make while writing assignments for university. We are sure that students want to know how to make assignment for university. Don't worry! Here we mention tips on writing assignments effectively.
Tips for How To Make Assignment For University
Disciplined Planning Of Time
First of all, we have to plan with a proper disciplined to make our assignment. While making the assignment, we have to take special care of all the things while planning so that there is no mistake in making the assignment. So this is the first and main point in which we will know how to make assignment for university.
While making the assignment for the university, first of all, we have to research the topic given by our teacher. After doing the research, all the data and all the information related to the found topic has to be collected. After that, all the collected data was properly sequenced and written as final words in its assignment.
Researching And Gathering Appropriate Information
After proper planning to make the assignment, we move to the first process, in which we have to research the topic given by the teacher. It is considered very difficult to research the given topic. Because we have to collect all the data and information according to the topic and understand and choose the right one for our assignment.
We should know how much information is appropriate for the given topic so that we can make our university assignment in the right way. If we get good research and proper information on our topic, then we will be easy to know how to make assignment for university. Because of which students can score good marks in their final exams.
Going Through The Gathered Information
After collecting the related data from the topic, the students have to make a note by choosing the very best lines and paragraphs related to it from their topic. It is then to write only the whey lines and paragraphs in those notes that we want to use in our assignment.
To make university assignments, students have to make notes very well after collecting data in a very good way so that the student's assignment is the best and different. And the teacher should execute his assignment very well. By doing this you can learn how to make assignment for university.
Preparing Notes
Now we have to move to the next point in which students have to prepare notes. Notes preparation means as much as the data collected is related to the topic assigned by the teacher. It has to be taken as a note in your language. When we have to write the data in the notes after data collection, we have to write it according to our language means in a very simple language to easily understand the assignment.
We only have to make it as one of the rough notes so that if any correction is to be made, it will be in these notes. If we go on making proper notes, then in reality we will not have to face any kind of problem while creating assignments so that students can know how important these points are on how to make assignment for university.
Interpretation Of The Assignment Topic
Our next point is the Interpretation of the assignment topic. Interpretation of the topic given by the teacher in this way means that students have to put some questions in the assignment related to their topic so that the reader gets answers to the questions in the assignment.
By doing this, the reader will always read the assignment with interest because he has to answer some questions from that assignment. If the students make their assignments with the questions in a very good way, their assignment will not go bad and the students will be able to score good marks in their final exams.

Quick Link: Write My Assignment for Me Cheap
The Relevance Of The Thesis Statement
The name of this point is the thesis statement which means to represent the goals and objects of your assignment as assignments in simple language. We have to prepare it completely in simple language so that the reader can read it easily.
The thesis statement should be written mostly in an analytical tone. All arguments and all points should be made around the thesis statement so that the content is written or what is written in the assignment can be in a second link. By following this, you can know how to make assignment for university.
Framing Of The Introduction
Now we are going to tell you about the point which is written first on the assignment, which is called Introduction. In the first part of the assignment, the introduction of the topic given by the teacher has to be given. This is the most main and first part of the assignment, students have to write some interesting lines related to the topic in simple language to keep the interest of the reader in reading.
In the introduction, we have to tell a little bit about the interest as well as all the main points of the topic, so that the reader can know what he will get to read in the entire assignment. This is the first part of the assignment that the student will write first. By following this properly, students will be able to know how to make assignment for university. And students can also get high scores in their final exams after doing it properly.
The "Discussion" Section
Now let's move to the section of discussion after the introduction. In the discussion section, we have to present all the main points rallied from the topic we found. This is the second part of the assignment in which we will explain in detail all the points related to the topic.
We can also call the discussion section as the body part because everything related to the topic has to be explained in detail. In a way, it is the most important part of the assignment because all the points are explained in it, so the reader has to read it all. This part is very important, by doing it well you can know how to make assignment for university.
Conclusion Or Summary
Now we have reached the last part of the assignment, which is named the conclusion. The conclusion means what we get to learn from whatever we have written in the whole assignment or in an article. If we say in the simple language then conclusion means to squeeze.
In this, we find out what we have told in the whole assignment. In the introduction, what was going to be told, and in conclusion what is it that has been told. And this is the last part of our Assignment. After doing it well, you can know how to make assignment for university.
Factors affecting the assignment writing that you should consider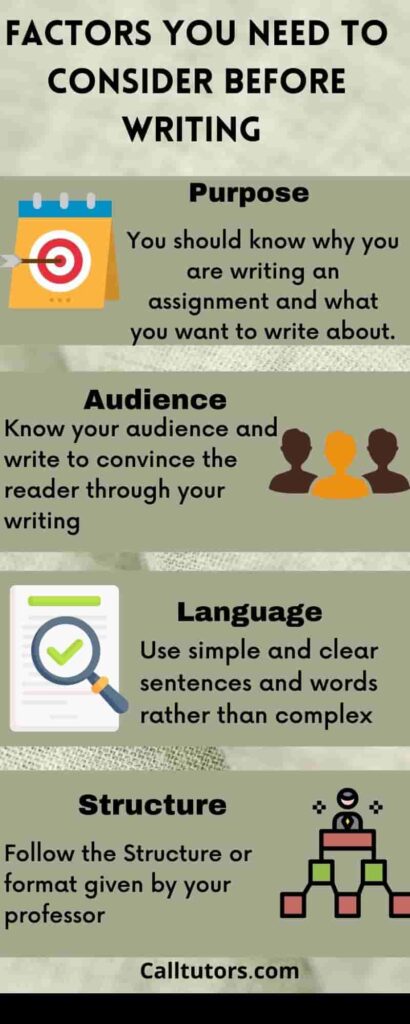 Final Words
In this blog, we have told that when students take admission from school to colleges, then there are many changes in their studies. There are also some of these changes that directly affect our assignments. So that's why we have told in this blog how to make assignment for university. Because the way to make assignments in school is something else and the way to create assignments in college is something else. So, we have given some tips which students can learn by following how to make an assignment for the university.
We hope that with the information given above, all of you will have come to know about making university assignments correctly. But if there is still any regret, then you can get help from our calltutors experts for Cheap Assignment Writing Service for your college assignment help.
Frequently asked question-related to assignment writing-
1 How much time is required to complete the assignment?
It is totally based on the assignment complexity. It may vary from hours to days. You can also give a deadline to yourself, or your professor gives it. We advise you to complete it before the deadline so that you can have spare time for proofreading.
2 What is the main purpose of assignment writing?
The main purpose of assignment writing is that students can understand the topic and improve their writing skills. Professor will evaluate students' understanding level of the topic.
3 Is there any professional writer help available?
Yes, you can take the guidance of the professional writer online. They will provide you with guidance on how to make assignment for university. With the help of them, you will be able to write it efficiently.