In today's scenario, everyone prefers online working or online studying. Now everything is possible online. Because of the situation of COVID-19, the teachers are teaching their students from the online medium. They are giving lectures, taking tests, and giving the task of writing assignments, etc. Every student has to write assignments in their academic tenure. So they have to submit it online, but they don't know about it. They think about how to submit an assignment on canvas (online).
Most teachers will ask you to make an assignment(a composition paper) on your computer in a word processing system (Microsoft Word) and then save the file to your computer (usually in My Documents).

Once the file saves on your computer, you can upload and send the document to a Canvas assignment page. Before submitting your assignment, it is necessary to review all of the teacher directions for every assignment page.
How to submit an assignment on canvas?
Using multiple submission forms, you can submit online assignments on Canvas. Teachers may select which type of online submissions they would like you to utilize. If your teacher allows, you can also have the right to resubmit assignments.
Though, you can not remove the file after it has been submitted as a request. The files are save in the Submissions tab.
You may require to evaluate all assignment data, like the rubric assignment, if any, before submitting an assignment.
As part of your assignment, your teacher will include a rubric. The Rubric is a set of parameters that will be used by your teacher to evaluate your assignment. Before submitting your task, you can apply the Rubric to determine your work and to ensure that your assignment meets the criteria of your teacher.
This study demonstrates how to create a regular online assignment. See how to present an assignment on peer review.
Your teacher may request that you submit a peer review of the assignment to another student. To complete the assignment, you need to review the assignment of the student and add a review in the comment sidebar.
If the teacher uses a rubric, which is a planned framework of how the grade of an assignment will provide, the Rubric must be used by you to give a score. Your teacher may, however, also demand you to drop a comment in the comment sidebar.
Some peer reviews can also be anonymous, meaning you would not be able to see the name of the student whose assignment you study. Also, when you leave a comment to complete the review, the student can not see your name as the reviewer.
Submission of assignment through third-party file:
You can send tasks via your desktop computer from Dropbox, another third-party service, or Google Drive in one of two ways:
Download the data to your PC or present it as a file upload.
Give the file, copy the file URL, and send it as a URL for the Website.
Submission of assignment through mobile:
You can also use your Android or iOS app to submit the assignment.
Points to be remembered while understanding how to submit an assignment on canvas:
Every file form cannot be available for your task, depending on your teacher's, select the type of assignment submission.
Your assignments can not all be submitted online if you are unable to view the Submit Assignment connection, your teacher may require you to submit your assignment in another process, or the time of availability has crossed. For instructions, see the information about the assignment or communicate with your teacher for help.
Canvas doesn't approve uploads of files greater than 5 GB.
If allowed within your account, when you submit an assignment on time, Canvas will play an animation for the celebration. However, this function option can be disabled in your user settings if you prefer.
Here are some steps of how to submit an assignment on canvas:
1. Open assignments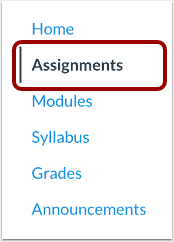 Click the assignments link in the course navigation.
Remember: You can also use your dashboard, Syllabus, Gradebook, Calendar, or Modules to access your assignments.
2. See assignments related to your course:
Click on the assignment name.
3. Submit your assignment: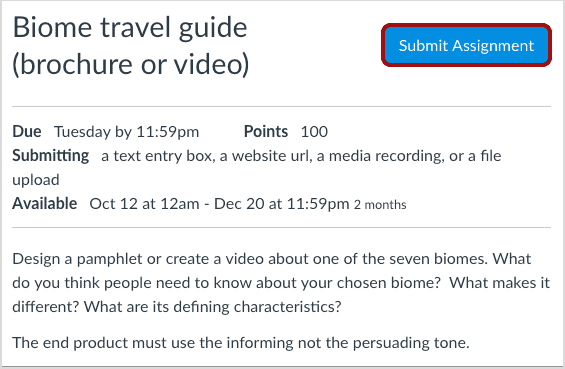 Click on the submit assignment key to give your work for the submission of an assignment.
Remember: If you are unable to access the submit assignment key, your teacher doesn't allow you for the online submission of the assignment, or the time of availability is gone. For instructions, see the information about the assignment or communicate with your teacher for help.
4. Check the number of attempts for submission: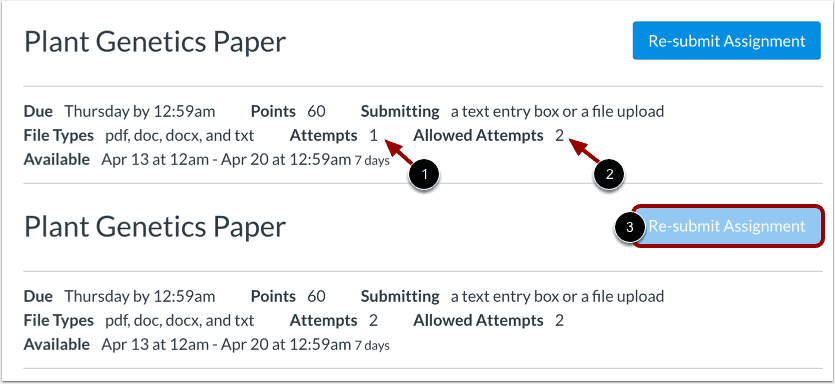 Your teacher can restrict the number of attempts to apply for an assignment you are given to write. If you have a limited number of submissions in your assignment, then you can confirm the number of submission attempts you made, as shown in point 1 and the number of submissions permitted for the assignment[point 2].
When you have finished all of your attempts for assignment submission, the button for submitting assignment shows as disabled [point 3].
5. Check notice for the final grade:
An emblem may seem over your assignment to show that the assignment has been eliminated from complete grade calculations by your teacher. Though, this setting does not affect submissions for the assignment.
6. Picked the type of submission:
Your teacher also determines the types of submissions that are suitable concerning every task. The four forms of submission are there: submit a text entry, upload a file, enter a URL for the Website, or submit media.
Remember: For your assignment, not every file forms can be available depending upon the type of assignment submission your teacher has selected.
7. Submit through the file upload form:
Select the File Upload tab to upload a folder from your pc and send an assignment as your task.
8. Submit through the text entry form: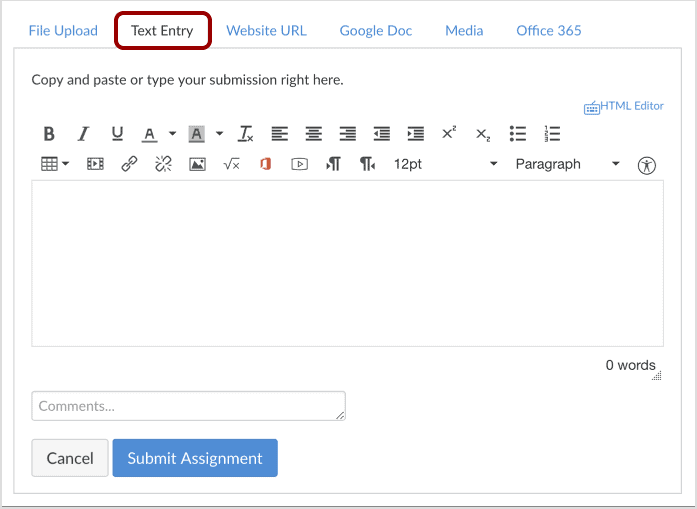 To request an assignment for the text entry, select the tab Text Entry.
Remember: The Rich Content Editor assignment submission contains a word count indicator under the text box in the bottom of the right corner.
9. Submit through the website URL:
Click the Website URL tab to submit a URL of the Website.
10. Submit through the media recording:
Click the media tab to submit a media recording.
11. Submission of an assignment:

Click the assignment submit button while you are able to submit your task.
12. Check the submission of the assignment:
After submitting your work, you can see details about your submission in the sidebar [ point 1 in image]. For file uploads, a connection to your submission is given in the sidebar for download, if necessary.
By utilizing the assignment Re-Submit button [ point 2 in image], you can resubmit other variants of your task, if you like. Only the specifics of your most current submission can be viewed in the sidebar, but your teacher will be capable of seeing all of your submissions.
When the teacher has evaluated your submission, a grading indicator appears on the Grades page in Course Navigation.
Information about links to additional reviews and your assignment can also find on your Grades page.
The above steps help you in solving your question on how to submit an assignment on canvas.
Checking assignment status:
The right sidebar will display the task status when you click on an assignment name:
It will display the time and date it was applied in (if it were submitted late, then the date would be in red).
It will give links to details of the submission and a link to the initial submission.
If it is evaluated and graded, then it will indicate the potential score and complete score.
You can obtain more details on an assignment's status by using the Grades link, which will discuss your grades portion in more detail.
Conclusion:
From the above discussion, you get the answer to your question of how to submit an assignment on canvas. So follow the above steps while submitting your assignment and take a breath of relief.
If you have any issues related to the online assignment help and best assignment help, then you can take our experts' help for it. We can provide you high-quality content along with the plagiarism reports. We can also provide instant help to you as we are accessible 24*7, and we also provide the assignments with well-formatted structures and deliver them within the slotted time. All these facilities are available at a reasonable price.