A topic is the heart of a dissertation, and before choosing a dissertation topic, we should consider some parameters such as time boundations, research interests, data availability, and scope and significance of the research.
We can use it to highlight its role in dissertation writing. As dissertation writing is a time-consuming task that can take up to months, choosing the right topic will help you. It will keep you to have the right power, energy, and commitment to complete the dissertations.
These days dissertations determine not only students' graduation level but also their future careers. Therefore for writing the perfect Dissertation, read our given tips and suggestions till the end.
The management subject includes extensive knowledge of the various phases of business management, like organizational behavior, employee management, risk management, and much more.
Do not forget to answer the following questions before finalizing any topic for your dissertation writing:
Quick Link: dissertation writing help
Is my topic trendy and relevant?
Is it effective?
Is it educational?
Is my topic in line with the current trends and issues of business management?
Is my topic explaining the research question?
Is my topic considering the aims and objectives of the research?
Is the topic perfect for the dissertation?
Will the readers find it interesting?

What do you understand about Management Dissertation?
Management is considered as the coordination and administration of an organization. It is a process of creating and managing a business environment where members of the organization collaborate and achieve business objectives efficiently and adequately.
It involves all aspects of supervising and managing business operations. It is an act of allocating resources to accomplish objectives and goals effectively; it includes preparation, staffing, organizing, leading or directing, and managing an organization.
Why is a Dissertation important?
Every student is assigned with the Dissertation in their academics to prove the knowledge they have obtained during the course. However, to pass final exams, a student must need to submit a dissertation.
When it comes to writing a management dissertation, one must identify his area of interest in this field because of various aspects.
Also, students should be able to do in depth research of a subject, define appropriate questions, and use suitable research tools.
An effective dissertation includes fresh ideas for the discipline. Students must have a proper understanding and extensive knowledge of their topics.
Tips to Choose a Dissertation Topic?
Undoubtedly, choosing the perfect management dissertation topic is quite complicated for students because of the sea of possibilities in this subject.
While selecting a topic for your management dissertation, Be sure to consider the various topics you're exploring that cover both the theoretical and practical knowledge of management.
If you are confused about how to start your writing, we have explained the tips that help you select a perfect topic for a management dissertation.
Consider Your Requirements- First of all, you should go through your dissertation requirements carefully. You can learn a lot about your Dissertation from the instructions provided by the college. Every college has its own guidelines, like some of them have only restrictions in terms of word count and timeframe. But, these days, most universities provide certain guidelines for choosing the dissertation topic.
Identify your Area of Interest: To select a Management dissertation topic, students must identify their area of interest. Writing a dissertation is time-consuming and needs a lot of effort. So choose the specific area of research and analyze it.
Check some Sample Dissertations: Go through with some sample dissertations, check a few articles and journals. This will help you to gain some knowledge about topics, and you will get an idea about what to choose for your management dissertation.
Choose a research method- Check the methods of data collection and your approach towards analyzing that data and choose a research method.
Some Good Dissertation Topics
A very usual question students ask is, What are the perfect topics for a Dissertation?
The answers depend on what you would like to write, which field you study, your preferences, your interests, what topic you want to deepen, and how willing you are to use research resources.
In the end, it should come down to what you want to research. Even so, some dissertation topic ideas are very popular with students.
There are many interesting subjects and topics to take into consideration when writing a dissertation. According to your decisions, you make how much time you will spend working on that and how perfect it will be in the end.
If you get stuck, you can request management dissertation topic help, but it's important to pick an exceptional and insightful topic even then.
Obviously, as you already know, some topics are more interesting than others. Therefore also more common and chosen by pupils, so you have to be careful about not repeating the topic that others are facing. Reading the same things could be boring for a reader.
So choose a unique and original topic for your Dissertation. Here we have listed some trendy and unique topics which help you in writing a perfect dissertation:-
Management Dissertation Topics
Business
If you need some oriented topics regarding business management. Here you will find excellent examples of dissertation topics, these topics are unique, and you will find several resources to get the best and relevant research data. These dissertation topics fully examine the fields of management in small and big businesses.
Various types of Strategic Human Resource Management and how they impact the business
Leading a business that employs the millennial and X generation
How the productivity of the employees and the business hit the employee benefits?
Circumstances that determine the integration of technology in the SCM sector
Gender equality over businesses – what management approach supports females in masculine businesses?
How did the BAE system achieve strategies through people management practices?
The socio-cultural context in management and how it moderates the leadership relationships
Consequences of the Brexit declaration on UK-based companies management of EU operational sites
A success or a failure? Emotion management in business:
Outsourcing as a business practice
Bonus:
During the rainy days of covid-19, you can consider the business management dissertation topics related to this pandemic.Such as how covid-19 have affected the business all around the world etc.
Covid-19 Management Dissertation Topics
A student can include the covid-19 scenario in the management dissertation writing. You can write on the effects of covid-19 on businesses, employment, education, economy, and management tactics. Below are the topics you can take as management dissertation titles.
Bonus:
During the rainy days of covid-19, you can consider the business management dissertation topics related to this pandemic.Such as how covid-19 have affected the business all around the world etc.
Economy Management During covid-19
Study Aim-
Highlight the factors that affected the economy of all countries due to the spread of this disease.
Government Policies Management During covid-19
Study Aim-
Consider the different policies made by the authorities and their success rates.
Crisis Management
Study Aim-
Enlist and define the strategies by the ruling powers to tackle the crisis.
Business management In pandemic Time
Aim-
You can do research on in what ways corona disease becomes a menace for the businesses.
Hospital and medicine management
Study Aim-
You can study how hospitals and medicine departments managed their terms and conditions. It assists you to understand how hospitals handle the corona patients and other patients.
Education System Management
Study Aim-
You can do research on the education level during this period. This study will help you to count the challenges students and educational institutes faced during covid-19.
Vaccination Management

Study Aim-
In this management type one can consider the factors that help the vaccination management. The aim of study is to record the responses of people after vaccinations, side effects of vaccination etc.
Vaccination Types Management
Study Aim- This research will assist you to work on different vaccine types such as covishield and covaxin by India, Sputnik by Russia etc. It considers the factors on which these vaccines work and are effective to take.
Employment Management in corona time
Study Aim- This study tells you the reasons behind the increase of unemployment in corona time. How it affects the families and individuals.
Crime and Corruption Management During covid-19
Study Aim- This study addresses the accelerating crimes and corruption cases due to corona disease and other factors behind these issues.
Knowledge Management Dissertation Topics
The study of knowledge management focuses on the assessment of the strategies of knowledge creation in an organization.
Apart from this, it also considers the approaches used to share the created knowledge to the willing people to improve the organization's visibility.
Below we have enlisted some knowledge-related management dissertation topics; a student can take them as their Dissertation writing topics.
You can include research on how an organization could use knowledge management to lead the market.
What advantages do knowledge management capabilities bring to an organization?
Impacts of knowledge management on businesses.
How knowledge management is contributing in Sustaining organisation's performance technological advancement era.
What challenges does an organization face while developing a framework of organizational knowledge management?
Describe how the knowledge management process plays a role in an organization's operations.
Address the scope of knowledge sharing between the organizations.
How do organizations handle their customers, and how do they learn from their mistakes?
Compare the approach to knowledge management capabilities between two groups.
Application of knowledge management in technology groups.
Organisational Culture Management Dissertation Topics
The study of organizational culture management covers the issues like practices, expectations, and values that come from the operations in an organization.
In addition, research on organizational culture aims to describe how values impact the organization's performance in the market. Have a look at the organizational culture dissertation topics.
How does organizational culture affect its performance?
Describe the relationship between change in organizational culture and new management.
How organizational culture impacts the implementation of a fresh management team?
Compare the approaches of one organization and its competitors.
Which approach do organizations use to develop a strong organizational culture?
How does organizational culture influence the talent of employees in a company?
An evaluation of conflicts takes place due to the differences in organizational culture.
How do two companies merge their organizational cultures and manage both cultures?
Effects on organization culture on the employee's motivation.
How organizational culture influences the organization's competitiveness in the market.
Marketing Management Dissertation Topics
Research in marketing management reveals the trends and patterns in the demand and supply equation and other changes introduced. Following topics, you can take into account your dissertation writing.
Is advertising responsible for the consumption of tobacco among teens?
What new marketing strategies does social media require?
Reveals the ethics in marketing and how they affect the consumers.
What is the role of efficient marketing in the small business sector?
What are the impacts of packaging on the sales of cosmetic firms?
How Traditional and digital marketing are different, enlist the advantages and disadvantages of both methods?
Is a comedy or memes-based advertisement strategy more attractive and effective rather than other strategies?
How is marketing related to the economy of any nation?
Reveal the different types of marketing strategies.
What amendments are needed in the marketing strategies?
Writing Structure of a Management Dissertation
Along with the topic knowledge, you should know about how to write a management dissertation and what we need to include. Here we are providing you the general structure of dissertation writing and what you need to involve in the heading of the writing.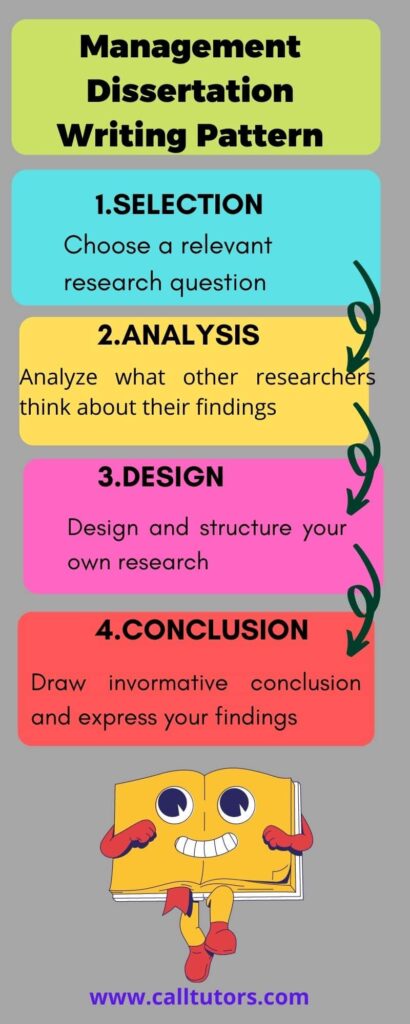 You need to write about-
Title Page
Acknowledgment Page
Abstract or executive summary
Table of content
Chapters of Dissertation
Reference List
Appendix
1. Title Page
A title page is the first impression of your writing, and you should invest some time before finalising a title. Before choosing a title, you need to check if it covers the below points or not.
It should not be too lengthy.
It should be clear, not vague
It must be relevant to your research question.
2. Acknowledgment Page
The acknowledgment page is the chance to be thankful for the people who helped you in your research and writing. You can mention the names of your professors, dissertation supervisor, family members, friends, etc. But don't make the name list too long, and you also can skip this page because it is optional to include.
3. Abstract or Executive Summary
It is the summary of your dissertation research results and the last part to write. Remember, your abstract should be short but explained. In this part, you need to introduce the reader with an overview of the research findings without reading the whole content.
Your abstract content should cover-
Aims and Objectives– In include all primary ideas, theory areas, themes.
Methodology: It is all about the processes followed in the analysis of research results.
Boundaries: It appears at the dissertation context and background. It reveals the areas and theory of business features that we need to focus on.
Result: It should involve the research's main result and findings.
Conclusions: It evaluates the important summation point of the entire Dissertation to make the reader understand what you solved.
Recommendations: You have to recommend some solutions to the problems you described in your writing.
4. Chapters of Dissertation
Introduction: The introduction is the first chapter of a management dissertation. It addresses the background of the research.
It should focus on three vital areas-
Context to the study
Why are you conducting the study?
Dissertation's Organization.
Literature Review- is the second chapter of a management dissertation and includes important analyses of existing bodies of knowledge in a specific study area such as journal articles. In the literature review areas the writer should focus on-
Providing Research context to understand the environment of past studies.
Revealing your existing knowledge.
Making an evaluation rod to evaluate Dissertation.
Creating a platform to test the validity of the study.
Exemplifying a deep understanding of critical variables.
Methodology: It is the third chapter(Methodology) of the management dissertation and briefly addresses the processes employed in providing the research results. It should start by highlighting the study aims in the beginning.
Apart from this, the explanation should be clear, and the reader should understand the philosophy behind the study processes applied in the Dissertation.
Findings: This chapter will express the Preliminary research findings extracted from the study. It must Include the most robust set of evidence with credible and reliable data. The writer should use visual representation methods of data such as pie-chart, bar graphs etc.
Discussion: It involves the analysis of data revealed in the findings. The research should focus on answering the questions of management. The discussion should be less descriptive and more analytical as it is the core of the Dissertation.
Conclusions: This is the last chapter of the Dissertation and explains how the study aims and objectives are accomplished.
5. Reference List
6. Appendix
Conclusion
Writing a dissertation topic can be a complex task for many students. But choosing the right topic for the dissertation in which they have an interest. Therefore this can minimize your work to half.
Students have to do a deep investigation before choosing a topic to have enough information on this topic. Moreover, it would help if you didn't start writing your dissertation at the last moment. Start your dissertation as early as you can. I hope this blog will help you to choose a good dissertation topic.
If you need Management Dissertation Help related to above topic contact calltutors expert.
FAQs
What are the 5 chapters of a dissertation?
Five chapters of a dissertation includes-
1. Introduction.
2. Literature review.
3. Methods and designs used for research.
4. Results / presentation of a research.
5. Conclusion/summary.
Name some current controversial topics in Business management?
1. Bureaucracy
2. Lack of diversity
3. Remote work
4. Mergers
5. Basic pay and bonuses
6. Downtown revitalization.
How much does it take to write a dissertation ?
On average writing, a dissertation takes a minimum of 13 months to 20 months. But it may sometimes take years to complete.