From the past five years, excel is still going strong. On the other hand, a Tableau is a cool tool – so cool that you do not need to do any coding to perform any function. But the question is; How does Tableau compare to Excel? What can Tableau do that Excel can not? What's the difference between them? Etc.
Tableau Vs Excel is so much more in demand because both tools are very important topics for the students. Students want to learn about them and want to know what Tableau and Excel are and their differences or similarities, if there are any, in both of the software. And such is what we will discuss here in our blog, i.e., Tableau vs Excel. So, let's continue with the blog and start with discussing the definition of the topic: Tableau vs Excel.
Overview of Excel
Excel is spreadsheet programming. The spreadsheet programming is electronic worksheets that show the information in a simple arrangement. Excel contains a number of columns and rows, where every intersection of a column and a row is a "cell." And the information can be controlled by physically set methods.
The best part of Excel is, it is an incredible instrument for data representation. It is used in almost all business functions and at several companies, whether small or big. The primary use of Excel includes Data Entry, Data Management, Accounting, Programming, Financial Modeling, Charting, and Graphing, etc.
Excel is used for different kinds of computations in math. Aside from that, it is additionally used for some tasks and solving complex data.

Overview Of Tableau
Tableau is also one of the most remarkable software. It is widely used in businesses to carry out raw data analysis. It is very useful in online investigative handling and examination. It is the best among the best analysis devices.
Tableau displays information in a pictorial or graphical view. It is helpful in finding examples, patterns, or connections between data. It allows clients to connect different sorts of dashboards in Tableau and graphs that encourage intuitive examination.
The best feature of Tableau is it is compatible with other software to provide more accurate data. Apart from that, it has an easy-to-understand application, similar to transfer highlights or drop-down lists. It permits clients to investigate data adequately.
Difference Between Tableau and Excel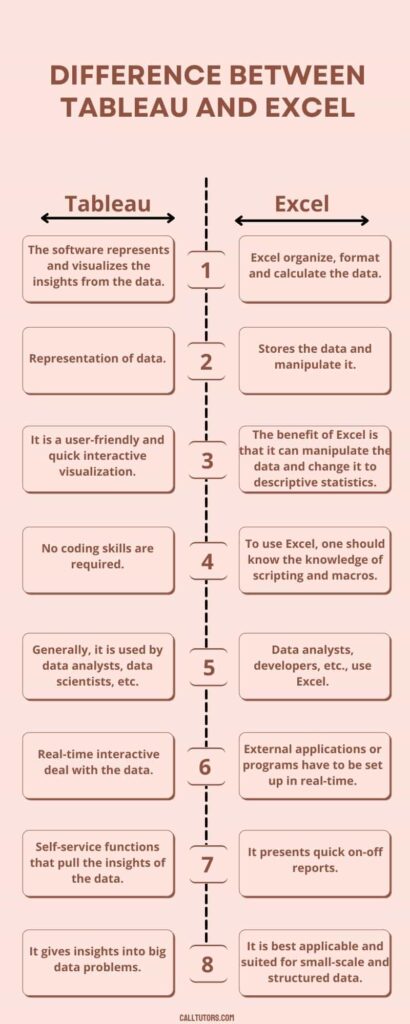 Strengths of Tableau Vs Excel
Tableau

Analyze a large amount of complex data by a visual interface.

Ability to join and merge data.

It can manipulate large datasets.

Fast and robust presentation of outcomes in beautiful and intuitive charts.
Excel

Use built-in functions to generate computational solutions.

Ad hoc data management.

Small-scale, user-developed programming for scenario analysis.

Tables and Charts for reporting.
Core Difference Between Tableau and Excel
Data Discovery
Data discovery helps companies to remain competitive in the market. The skills to explore data and find insights is completely vary in Excel and Tableau.
While working with Excel, you already know where the data leads you to find critical insights. Excel saves the data in tabular form. Thus, to get data insights, you have to analyze the information, build formulas and visualization and map out your answer. This causes the process of exercising the data to be less flexible and makes it harder to explore information at a granular level.
On the other hand, Tableau allows you to explore the data freely. With the features of drill-down and data blending in Tableau, you can find correlations and trends and then dig down to understand what made them happen if there is another way.
Automation Functionality
Several companies depend on the latest data to make critical decisions. Both Tableau and Excel can deal with static and live data from various sources.
Excel worksheet includes manually programming processes or creating macros that automatically update the worksheet's data when you open the file. However, creating advanced macros or manipulating existing ones needs VBA ( Visual Basic Application) knowledge. Creating macros can be time-consuming, but it reduces the time it takes to complete repetitive tasks in the long run.
Tableau is a little bit more automatic with creating processes and calculations. For instance, when creating calculations in a tabular format, the formula can be typed once. It is stored and applied to all rows about that source. This makes it easier to create and use systematic methods. Tableau's flexibility also enables users to build custom formulas that are not available in Excel's Power Pivot Table.
Visualizations
It is a great way to highlight the essential data. In Excel, firstly, you have to manipulate the data on the cell level and then manually create visualizations like graphs, charts, PowerPoint presentations, etc. To deep understanding of how the features of Excel work.
Tableau visualizes the data from the start. It allows you to see the significance. It differentiates correlations using color, size, labels, and shapes.
Usage
The crucial usage of Excel is to store the information and control the data using different tasks. It stores the data into the spreadsheet using cells. In any case, you can sort out the information into the cell.
Aside from that, you additionally use Excel to speak to the information in an eye-snappy way. You can use tables and diagrams to serve the data to better expectations. Moreover, it gives different sorts of graphs to speak to your information.
The basic usage of Tableau is information representation. As we probably are aware, it is the best information representation programming. It additionally offers the best easy-to-understand interface that permits clients to perform information studies.
The best piece of Tableau is, you can incorporate it with other programming and devices to get the raw information. And afterward, predict this raw data easily.
Business reason
Organizations usually use Excel to deliver Quick on-off reports. Since it is very simple to create the report. It offers a spreadsheet where the business investigator can put the information and afterward control the information using some measure. Lastly, make the report in the most limited time without having the coding knowledge.
Then again, Tableau is an extraordinary device to get bits of knowledge from the data. The information investigator uses Tableau to get an understanding of the raw data. Usually, Tableau naturally imports information from different sources.
Ease of utilization 
Excel is easy to use. It offers a spreadsheet application, which is very simple for the learners to put the information and play out some essential mathematical computations.
While tableau is offering the best graphical UI. It provides a drag and drops application. It means you need to have the coding abilities required to use Tableau.
Applications 
Excel is broadly used in data entry, data management, accounting, financial analysis, charting and graphing, etc.
On the other hand, the tableau is widely business intelligence, data blending, data collaboration, real-time data analysis, etc.
Excel is not the most remarkable programming for a vast industry. Consequently, it is best appropriate and suitable for the little scope partnership. Moreover, it is additionally used for organized information. You can not use it for unstructured data. Since it will get overpowering for you to process the unstructured data in Excel.
Tableau is an incredible tool to get understanding from the large data issues that are being spoken to. In addition, it is additionally utilized in huge investments, and you can likewise use unstructured data in Tableau. It can process unstructured data efficiently.
Quick Links
Conclusion
So, this was all about our topic, which was Tableau vs Excel. We hope that you have liked what you have read about Tableau vs Excel. What you can do is you can share this with your friends and colleagues. So that they can read about Tableau vs Excel too. We have that you have learned something from this. If you are facing an issue regarding your Excel Assignment, you can contact to our experts. Get Excel Assignment Help or Excel Homework Help from our experts now.
Frequently Asked Questions
1. Do accountants use Tableau?
Answer: Nowadays, several accounting firms and private businesses use Tableau as a part of their everyday operations.
2. What makes Tableau unique?
Answer: Tableau is easy to connect to different data sources. It can be connected to more than 40 various sources. Thus, you can add an Excel spreadsheet and upgrade it with awesome visual dashboards.