At the start of the process of thesis writing, I spent so much time researching. Look at so many articles, spending sleepless nights, mainly facing the issue: "what is thesis writing and how to write it." When it comes to my academic writing abilities, I never faced such kind of a problem. I feel so insecure, frankly, feeling lost. Many students face a similar problem when they have to write a thesis. Many students need expert guidance in it. Here, we attempt to provide complete information on thesis writing.
Among all, we understand that thesis writing is a tiresome and lengthy task for students. Each student pursuing a degree has to write a thesis within the given time. That is why they think of taking thesis help from professional writers. According to professional writers, students must understand that they must know what is thesis writing, its writing steps, and tips for making it strong. So that they can get A+ grades and impress the professor as well.
Know: What is thesis writing?
A thesis is the main part of college writing tasks. A thesis sentence is the main idea of the paper; it includes your argument, insights, or perspectives formed into one or two sentences. It is not only helpful for the audience to know the objective of the paper but also helpful for the writer as well. It helps the writer in writing the whole matter around the main purpose of the paper. So you have to get a good hold on the thesis concepts to write them effectively.
The thesis includes two basic points-
What is your topic, and
What are your viewpoints
There are two sections to a thesis statement that consider the above basic points-
The thesis topic shows what you are going to write.
The thesis angle shows what your viewpoints are regarding the topic.
How to write an engaging thesis statement?
Your paper's thesis is the central point that you want your readers to understand. It would help if you supported it with the reasons and evidence. Writing a good thesis needs proper planning and execution.
Follow the following steps to write an engaging thesis for your writing-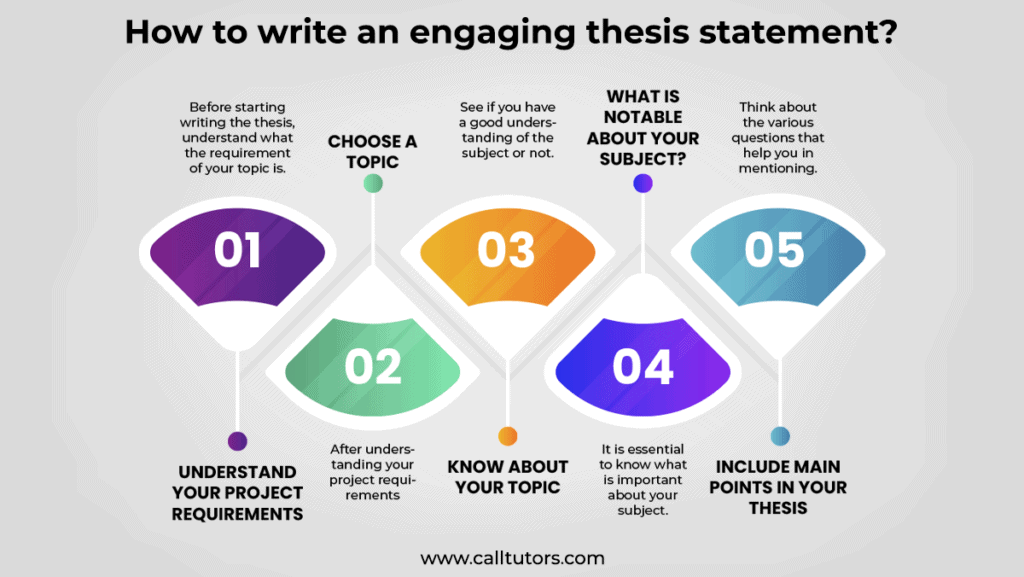 Understand your project requirements
Before starting writing the thesis, understand what the requirement of your topic is. Go through it so many times. Try to understand it clearly and write it in your wordings. If you are not able to understand the requirements of your paper, then discuss it with your professor or peers.
After understanding your project requirements, you can decide what overall subject you can choose for your assignment.
See if you have a good understanding of the subject or not. If not, then this will be your chance to discover more about the topic. Decide to visit the library and check out online sources. Analyze your readers and find out what they understand or do not understand of your topic.
What is notable about your subject?
It is essential to know what is important about your subject and why the audience must consider what you are writing. Keep in mind that you are writing your paper, not for marks only, but you are writing it to show your learning about the topic. Think over the problem, and mention your ideas clearly and convincingly.
Include main points in your thesis
Think about the various questions that help you in mentioning your viewpoint clearly in your thesis sentence. Choose which questions mention the information you have regarding the topic.
The above steps help you in writing your thesis effectively. Follow them all and create an engaging thesis that helps readers to know what information you include.

What is thesis writing: Tips to write an excellent thesis
Following are the tips that help you in writing a good thesis-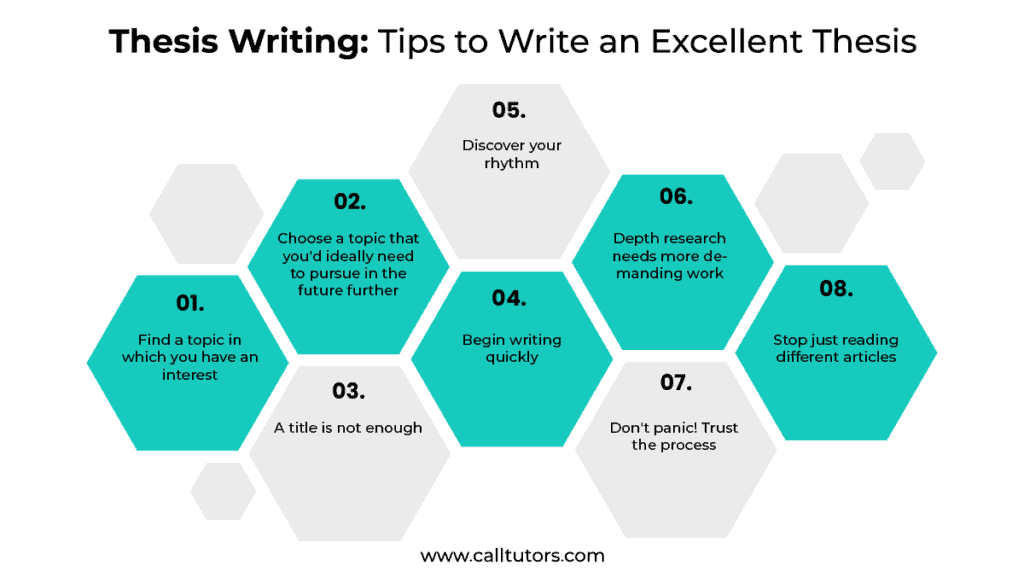 Find a topic in which you have an interest
Frankly saying, while picking the topic in which you will see so many topics you will find boring as you don't have interest in it. But some interest helps you in choosing the topic and make all the things a little bit easier. If you can discover some topics in which you have a passion or inspired you, reduce the low result risk. Before you perform, be sure that adequate, appropriate sources exist and that you have access to them.
2. Choose a topic that you'd ideally need to pursue in the future further.
Everyone knows time is precious, so use it well. Be it academically, in your professional practice, or in your free time, use it to do the productive thing. When it comes to thesis writing, use your time wisely in choosing and writing the thesis. Please make sure this will further motivate you so that you will find the appropriate matter for it.
3. A title is not enough.
After you select the topic, you write in broad terms and then focus on creating your thesis structure. Think of what you are going to include? Do they connect with the whole content of the paper? Creating a structure that helps in explaining the importance of your content both in theoretical and practical terms.
4. Begin writing quickly
I have seen that online persons suggest that you must do deep research before you begin writing your first draft. This approach does not help everyone. Some people find it helpful, and some prefer to organize their thoughts and create connections between various sources that helped them structuring the thesis. It is like solving the pieces of the puzzle and fit them together.
When you start writing, it doesn't mean that you just start keeping notes. You have to start writing a thesis and include tour ideas in it.
5. Discover your rhythm
If you want to be more productive, then you have to set a daily word objective. Five hundred words are quite good for starting to do your work. It is good for a day. If you chase unrealistic goals, then you are going to feel frustrated. Having achievable objectives motivates you to do better, and while doing it, you will enjoy it. If you will not succeed, you just start with 300 but don't lose hope.
My final goal is 15000 words, so if i put my focus only on research or not on writing, it means that i can't achieve it. So you have to do both write and research; after that, you can achieve it within a month. And of course! It does not work if you will take days off or cut the words while editing. But if you continue to work for thirty days of writing 500 words, then it is more manageable. You can achieve your 15000 words target, and it really helped both psychologically and practically.
6. Depth research needs more demanding work
The more you study the subject deeply, the more your work is in deep research. Writing ten thousand words requires more work and research. Additionally, if you won't get away from the distractions, then you will not be able to write it effectively.
7. Don't panic! Trust the process
Just relax! Take a deep breath. You have done this work before. If you follow the proper schedule, make a structure, do proper research, you will achieve your goals. You can utilize your time well while writing a thesis. Some know what is thesis writing, and some don't know. Writing a thesis is putting one word after the other by clearly putting your viewpoint. Don't panic! Trust the process, keep going, and you're going to inch ever closer to the end.
8. Stop just reading different articles
Don't just keep reading the post, like how to write a thesis or essay, etc. Instead of too much reading, just properly start your working process. We are pretty much sure that it is a way of procrastination. We are not saying that it is all about the thesis writing. We know reading is good only if you read the material related to your topic you are researching.
All the above tips and discussions help you achieve your thesis writing goals and understand what is thesis writing.
What are the elements of a thesis you must include for getting an A+?
So, without any delay, just read all the elements mentioned below-
Assuring research topic
As per professional writers, when students get a thesis writing task, they always dream of scoring good grades by completing it on time. To achieve this goal, you have to involve the matter of the promising research topic. From this, we mean you have to research your topic efficiently and collect the data appropriately and create your matter strong.
In case if you do not know how to do research effectively, then you can take the help of professional writers. They all are available for your help and make sure they conduct in-depth research. Also, collect all the relevant information that helps you in getting A+.
2. Title must be eye-catchy
If we think about the must-have element of thesis writing, then without thinking of an eye-catching title, the thesis writing will never end on a positive note. You have to understand the title's importance in thesis writing. With the use of a perfect title, you can easily achieve your goal of impressing the professor.
Most of the time, students face problems in making good titles. So, if you face the same problem, you can take help from professional writers. They will help you in making an eye-catchy title because they have years of experience in thesis writing. With the help of them, you can get A+.
3. Make a perfect structure
One of the main elements of thesis writing is structure. You have to know that you can't achieve your goals without perfect structure at the time of evaluation if you make it as per university guidelines. To structure it perfectly, you have to plan everything in advance about everything you want to include in your writing.
The points mentioned above are the elements that help you in thesis writing. It would help if you considered it. We understand that applying to all the elements and including them in your writing can easily get you A+. In case you still have any doubts related to anything, then you can seek a thesis writing service at any hour of the day.
Wrap up-
From the above discussion, now we hope you understand what is thesis writing and how to write it. The above steps and tips help you in writing a thesis efficiently. Also, we mentioned the elements as a bonus point that you must consider while writing it. Keep all the points in your mind and write an excellent thesis and achieve your dream of getting an A+ grade.
Mostly searched questions regarding thesis writing-
What is the place of the thesis statement in the paper?
It would help if you mentioned the thesis statement early in the paper. Normally, it includes the two-sentence or final sentence of your introduction. It will help the reader know what direction of your paper overall.
Without a thesis statement, is essay writing possible?
Sometimes, it is possible to write an essay without a thesis statement, but the lack of a thesis statement may sign an essay writing without a road path. So, it helps your reader to know the main idea of your essay.
 How can i make my thesis strong?
Follow the three steps and make your thesis strong-
1. Ask yourself a question about your topic. 2. Create your first answer. 3.Develop your thesis and include your ideas.