Want to know the differences between SPSS vs Stata? Then don't worry! Here I will tell some of the main differences between both.
SPSS and Stata are two of the most popular statistical software packages which are used by researchers and analysts for data analysis.
SPSS was developed in the 1960s by norman H. Nie, and it is owned by IBM. on the other hand, Stata was first released in the 1080s by StataCorp, and it has since become a leading software package for social science research.
SPSS and STATA offer many statistical tools and techniques for data analysis, including inferential statistics, descriptive statistics, regression analysis, data visualization, and more. But there are some differences between both software packages.
That's why many students are confused about which one should they choose for research or analysis. But you don't have to worry about it because, in this blog, we will explore the key difference between SPSS vs STATA.
So, let's get started.
SPSS
Statistical Package for Social Sciences (SPSS) was created in a university in the year 1968. SPSS Inc. was founded, after a few years, and the company was founded entirely based on the SPSS. IBM eventually purchased the SPSS in 2009. SPSS is currently known as IBM SPSS.
It is a statistical software tool for interactive statistical analysis that performs the analysis in batches. It is a licenced software, however with the help of (Software as a Service) SaaS, you can use a trial version of it. SPSS may be run on a variety of operating systems, including Linux, Windows, UNIX, and Mac OS.
IBM SPSS is the world's most popular statistical software. To find the customer or end-user data insights it helps in it. This tool is comes with a wide range of statistical tools, and it is one of the fantastic tools. It facilitates statistical analysis and allows you to integrate open source software.
Pros And Cons Of SPSS
Pros
Cons
SPSS is a comprehensive statistical software.


Many complex statistical tests are included as standard features.


The interpretation of results is relatively simple.


Displays data tables quickly and easily.


It is expandable.


Quick and simple to learn.


Capable of handling large amounts of data.


Excellent user interface
SPSS can be costly for students to purchase.


Usually, additional training is required to fully exploit all available features.


The graph features are not as straightforward as those of Microsoft Excel.


Functionality is limited.


Excel-like in many ways.
Stata
Stata is a statistical software tool that can be used for a variety of purposes. It's a popular tool for statistical analysis. It was created by Stata Corp in 1985. It is a licenced product. It is one of the best statistical software. It also works with a variety of operating systems, including Linux, Windows, and Mac OS.
It is one of the most effective options for data science requirements. In Stata, retrieving and manipulating data is easier. It offers to generate helpful reports by visualising the data models. It is one of the most powerful data management, data analysis, and graphics software tools that are available.
Pros And Cons Of Stata
Pros
Cons
Stata is cross platform compatible.


Stat/Transfer software facilitates data transfer between Stata and other statistical software.


Even if you are unfamiliar with the syntax, you can quickly learn how to use Stata.


It is easily extensible.


For the visual learner it is very user friendly.


There are numerous free online learning resources.
Stata did not support some specialised statistical analyses, such as structural equation modelling or item response analysis.


Using Stata to create graphs still takes a long time.


An annual licence for an individual can range between $125 and $425.


Restricted to specific types of data.


You cannot program new functions into Stata.
SPSS vs Stata: Companies Which Use
Here in SPSS vs Stata, you can see some companies which uses them:
SPSS
Stata
Nike


ICF


Edward Jones


BMO Financial Group


PenFed Credit Union


Texas Health & Human Services Commission
BROOKINGS INSTITUTION


URBAN INSTITUTE


George Mason University


Federal Reserve Bank of Philadelphia, Inc.


CHAMBER OF COMMERCE OF THE UNITED STATES OF AMERICA
Difference between SPSS vs Stata in tabular form
There are so many differences in between SPSS vs Stata. And some of them are shown below: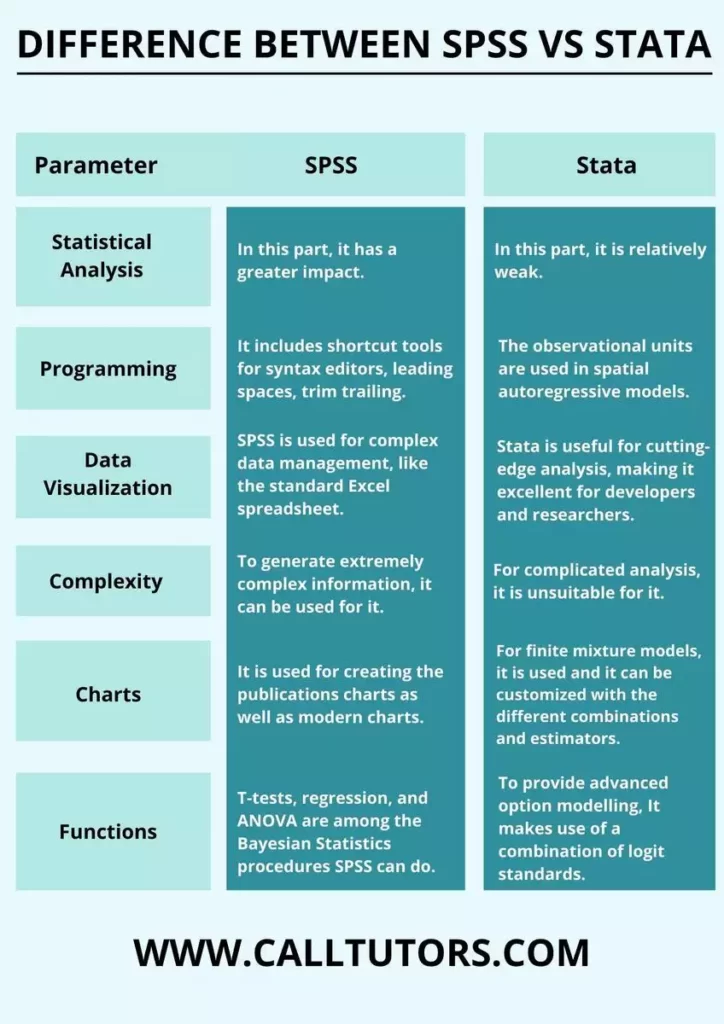 | | | |
| --- | --- | --- |
| Terms for comparison | SPSS | Stata |
| Statistical Analysis | In this part, it has a greater impact. | In this part, it is relatively weak. |
| Programming | It includes shortcut tools for syntax editors, leading spaces, trim trailing. | The observational units are used in spatial autoregressive models. |
| Data Visualization | SPSS is used for complex data management, like the standard Excel spreadsheet. | Stata is useful for cutting-edge analysis, making it excellent for developers and researchers. |
| Complexity | To generate extremely complex information, it can be used for it. | For complicated analysis, it is unsuitable for it. |
| Charts | It is used for creating the publications charts as well as modern charts. | For finite mixture models, it is used and it can be customized with the different combinations and estimators. |
| Functions | T-tests, regression, and ANOVA are among the Bayesian Statistics procedures SPSS can do. | To provide advanced option modelling, It makes use of a combination of logit standards. |
| Analysis | For massive amount of data or information, it can be used to achieve the multi-variant analysis. | It gives the standard one analysis method. |
| Applications | It is used in the fields of medical and social sciences | In econometrics, it is often used. |
| Development | To construct the agile development life cycle, it is used. | For large-scale development, it is used. |
| Advantages | To create the results in the records, it has the ability for it. | It contains a very useful documentation feature as well as a command-line. |
The Best Ever Comparison Between SPSS vs Stata
1. Data Visualization
By using the SPSS, the data can be summarised. It also presented data and provided ready-to-use analyses. SPSS allows us to export a variety of documents, including Excel, PDF, and others.
As we compared it to Stata. Stata includes endogenous covariates. And also, to ensure the long-term positive outcomes, it includes the sample selection and endogenous treatment models.
2. Measurements
For measurement levels, SPSS uses the traditional approach. The key parameters which are used by the SPSS are the Nominal variable, an internal variable, and the Ordinal variable. The metric variables are all of these variables.
As we compared it to Stata. For performing the powerful linear regression models, Stata is one of the best tools. And to determine the power, most effective size, sample size, we use it.
3. Key Features
For users, SPSS offers a wide range of features. It includes forecast trees and decisions on data, as well as custom tables, base editing, and advanced statistics. And you'll also have access to an add-on package that includes statistics and charting capabilities, as well as complex sampling. In SPSS, you will also have the testing add-on.
As we compared it to Stata. Stata has a variety of add-on packages. And the Latent class analysis, Spatial AR models, finite mixture models, nonlinear multilevel models, endogeneity, threshold regression, markdown, and so on are some of the packages available.
4. Statistics Functions
SPSS is now more powerful than it has ever been. New Bayesian Statistics functions are available in the newest version of SPSS. ANOVA, t-tests, and Regression are among the functions which are available in it.
As we compared it to Stata. Stata uses the mixed logit models. And in this model, it provides the choice modeling which is the advanced one, to introduce the random effects by making dozens of selections per day.
5. Charts
The one of the finest software for creating charts is SPSS. And with the help of it, you can design modern charts attractively as well as quickly. After that, for editing, you can use Microsoft Office tools. If you use the native methods, this is a difficult procedure to complete. The chart builder feature in SPSS allows you to quickly generate publication standard charts.
As we compared it to Stata. Stata has finite mixture models. And this model gives the continuous, categorical, ordinal, binary, censored, count, and truncated outcomes. With the help of estimators and other combinations, we can customize it also.
6. Complexity
To model the high level of complicated data, we use SPSS. With SPSS, you can model any level of data complexity. And also, SPSS makes it simple to model complex data. For large amounts of data, we use multivariate analysis procedures.
As we compared it to Stata. Stata is well suited to complicated data analysis. Stata can be rather intimidating when it comes to analysing complex data. The reason for this is that it includes standard analysis processes. Stata should not be used if the complexity of your data is high.
7. Advanced Features
Advanced features, such as solution outcomes with the random effects, are available in SPSS. It also has error handling that is both strong and standard. And the profile plots with error bars are also offered by it.
As we compared it to Stata. Stata is based on the LCA (Latent Class Analysis). The data groups which are unobserved, Stata discovers and understands them.
8. Programming
Editor shortcut tools in SPSS allow you to modify and edit syntax. With a simple keyboard shortcut, you may combine duplicate lines, delete, remove, and move lines up and down. With the help of several shortcuts, you may effectively trim trailing or leading spaces.
As we compared it to Stata. Stata has spatial autoregressive models. This model makes use of observational units.
9. Functions
There are alot of functions which are in the SPSS. It includes the SPSS Modeler, SPSS Analytic Server, SPSS Statistics. Also, there are some other different variable formats and types which it includes.
As we compared it to Stata. Stata has its own word document which is unique one. To more efficiently automate the reports, these documents developed in order. And also the results which it generates are in the form of graphs in tabular as well as the text formats.
10. Special Functions
For doing the simple statistical comparison tests as well as the appropriate test, the SPSS is the best statistics software choice.
As we compared it to Stata. Stata supports the multiple-level regression. And for interval measured outcomes, this multilevel regression is used. In a number of ways these outcomes are recorded. And the ways are the groupings, aggregation, averages, and also thousands of other measures.
11. Uses
From the sample designs of complex data, SPSS is used to calculate the statistics and standard data errors. It's also what we utilise to analyse data from multi-stage designs.
As we compared it to Stata. In Stata, there are some features which will be automatically applied to the pages you developed with Stata. Stata allows you to produce the web pages, graphs, reports, regressions, results, texts, etc.
SPSS vs Stata: Applications
Here in SPSS vs Stata, you can see some of the main applications:
SPSS
Stata
Transformation of data.


Collection and organisation of data.


Output of data.
Analyze statistics


Statistical methods that are cutting-edge.


Structural equation modelling has a lot of built-in support.


Models can be created using either syntax or a path diagram.


Large, active online community.
Conclusion
The above information defines SPSS vs Stata effectively. And we hope that now you should know all about SPSS vs Stata. From our point of view, we can say that when complex data analysis is required, you should choose the SPSS. On the other hand, when the data is not complex in research then you can choose the Stata.
But if in any case, you want our help with spss or stata assignment help, then contact us without any hesitation. We are 24*7 available here to help you.
FAQs
Is SPSS easier than Stata?
SPSS is a statistical software tool that includes a comprehensive range of statistical tools, simplified statistical analysis, and open source integration. Stata is essentially a data analysis and statistical software that gathers and manipulates data, visualises data models, and develops or delivers relevant reports to meet data science demands.
Is SPSS difficult to use?
The fundamentals of SPSS are simple to understand, but knowledge and awareness of subtle details are required to build efficient and elegant syntax.