In this digital era you do not need to appear physically in front of your teacher for homework checking, because google classroom is there to help you. In the pandemic time of covid-19 when it led to the closure of schools and colleges, online platforms are the only option to the students for their study. Hence we can say that it is a fascinating platform to submit your homework to your teacher.
It allows teachers to create and assign assignments. I'm the form of homework to students and for that he can either upload a common assignment for all students in the classroom or he can create separate homework for all the students with their name written thereon. And thereafter students can upload their assignments in the Google classroom only.
Thus, the teacher reviews such assignments. And then can give reviews thereon and can give grades also in the Google classroom only. But many students find it difficult to submit their assignments. So they always search about how to upload homework in the Google classroom.
If you are facing issues in uploading your homework. Then don't worry follow the given steps and learn it in easy ways. If you face issues in uploading your homework, don't worry and follow the given steps and learn it easily.
Top reasons: Why should you use google classroom?
If you are using Google classroom at the time of Covid-19, then you must have a question that comes to mind that why it is a good thing to use. The reasons why you should use google classroom are as follows-
Google Classroom can be reached via Google Chrome on any computer or via any mobile device, despite the platform. On Google Drive, all files uploaded by teachers and students are saved in a Classroom drive. The classroom can be accessed at any time and from any place.

The classroom will help you save a lot of time. Teachers will have more spare time to complete other activities because all of their resources are in one place, and they can access the classroom from anywhere. Teachers and students can use their phones or tablets to join in Classroom since it can work on mobile phones.
There is no need for paper.
The classroom is totally paperless, so teachers and students won't have to shuffle a lot of paper. Teachers save tasks and tests to Drive at the same time as they submit them to Classroom. Students may use Classroom to complete tasks and tests, and their work is saved to drive. Students can view work that has been missed due to absences.
Communication is important.
Communication with students and parents is a breeze thanks to built-in software. Teachers and students will communicate via email, post to the stream, submit private comments on assignments, and provide input on their work. Teachers have complete authority over the feedback and posts made by their students. They can also connect with parents through personal emails or Classroom email summaries, including important class announcements.
Steps of how to upload homework on Google classroom
Method 1 – through browser or chrome
Open google browser or Google Chrome first.
Sign in to the Google account as google classroom is a tool of gmail only and can be accessed through that only. So you have sign-in if you already have an account or you can sign up in easy steps just by filling the details required.
When you have signed in the Google account then you have to navigate to the Google classroom. For that you find an option in the right corner of your chrome screen nearby the Gmail account symbol. Then you can find google classroom there only. Open that to proceed with other steps. The other way is that you can download the Google classroom as an application from the web only for your computer. Signing in in the google classroom is a mandatory step in how to upload homework on google classroom.
As soon as you open the Google classroom you will have an options to choose one either student or teacher. So there you have to choose as you are a student. Then it will redirect you to the appropriate page where the other class students and There will be present.
Now you have to choose the class for which you are required to submit the homework. It will take you that class page only and there you can keep an eye on all the class activities.
There your teacher must have submitted a homework assignment for you. You have to find the assignment due for you.
After getting your homework, you can either do the homework there only and the teacher can check your progress. Or else you can work on other documents also which you can attach and upload afterwards.
Then the next step in how to upload homework on google classroom is to attach the file you want to upload.
Now you have to check the type of the homework to determine the method of submission. The best part about google classroom is that it supports multiple homework assignment formats like Google forms, pdf, excel sheet etc.
Google Form Format:- If your homework is to fill a google form then you can directly fill it there only and then you have to click turn in. It will automatically be submitted.
Google Drive:- If your homework is more extensive than you can click open assignment. Thereby you can attach a file from the google drive by clicking attach. Thus , you have to create a new attachment through the create option and then select the type of assignment. And lastly turn it in.
The last step in how to upload homework on google classroom is to click the turn in option available at the bottom of the browser page. It is not applicable on google forms as there you will get the option of turn in in the form itself.
Method 2 – Through Mobile phone
If you are struggling with how to upload homework on google classroom on mobile phone then don't worry follow the given steps to submit your home work from mobile phone.
Download the application of google classroom from Google Play on the mobile phone.
Open the google classroom after its installation on the phone. And then sign in the app through google account.
After signing in, you will have to choose between student or teacher then you have to choose student option.
Thereafter you have to choose the class of which you have to upload homework.
After that, choose your homework assignment problem which your teacher would have already attached in the google classroom only.
Now you have to submit your homework. So if your homework is to fill a google form then you just have to fill that form there only and you will get a turn in option in that form. So after filling the form select the turn in option and your google form will automatically be uploaded.
If your homework is in the form of an extension like pdf or word document or excel sheet then you have to click the attached link below your assignment problem. Thereafter you have to choose the homework file you want to submit from google drive or you can choose a file from phone documents also.
After selecting the file click attach.
Thereafter you have to touch the turn in option available in the bottom of your phone screen and thus your homework is uploaded. Thus the issue of how to upload homework on google classroom is resolved.
Quick Links
How To Create Assignment In Google Classroom
How To Add An Assignment In Google Classroom
How To Attach Assignment In Google Classroom
How To Submit Assignments In Google
How To Delete An Assignment In Google Classroom
The persons who think google classroom is beneficial for students at the time of corona virus?
69 % people think it is beneficial
22 % think it is not worth it
9 % is not sure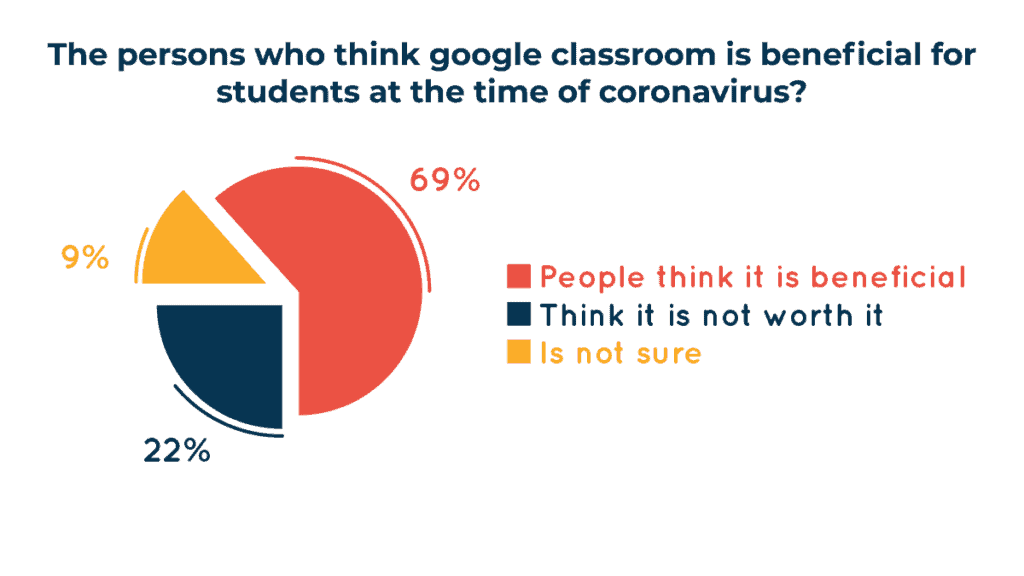 Conclusion
Google classroom is a platform built for schools and colleges to work on assignments or homework in the google classroom. Whereby a teacher and students both are present and the teacher can review the progress of your assignment.
Many students struggle with how to upload homework on google classroom as many students don't know how to attach files in google classroom and so on. You can upload your homework through both mobile phone and google browser. If you still finding it difficult then get the best homework help from our experts. They will guide you step by step procedure on how to upload homework in google classroom.
Frequently Asked Questions
What is a material assignment in Google Classroom?
As a teacher, you can post syllabus, resource material, classroom rules, reading data related to the specific classwork page. Like different types of posts on the Classwork page, materials can be coordinated by subject, reordered, and planned to post later.
Can teachers see what time you submit on Google classroom?
Yes. The teacher will see the time you submit. The teacher may likewise set a time limit to submit the task; if somebody submits an assignment, She/he will get a notification through email.
Can teachers see Unsubmitted files on Google classroom?
I want to share that all the documents turned in assignments by students get saved to the Drive folder of the Classroom. Teachers can view, edit, delete documents in google drive and Classroom.
Why can't I make a copy for each student Google classroom?
When you add a doc in Google Drive and select "Make a copy for each student," be aware that you are creating a file copy. Copies do NOT update when you edit the original doc file.