There is always a question in students' minds 'how to do your homework faster' when they face difficulty while doing homework. Well, we already know that homework is essential for students' academic growth. But, students feel mentally exhausted after attending school. They do various activities after they get free from school. Therefore, they may not be able to complete their academic work within the slotted time.
Nowadays, learners are required to do various responsibilities during their academic sessions. So, students do not have sufficient energy to perform their work. That is why numerous learners need to understand the practical answer for how to do homework faster. So what should the students perform to finish their work in virtually no time? Don't get worried; the following are amazing tips on how to do your homework faster.
Importance Of Homework
Homework is a vital part of a learning's learning experience. The following picture shows the important reasons why you need to take homework seriously.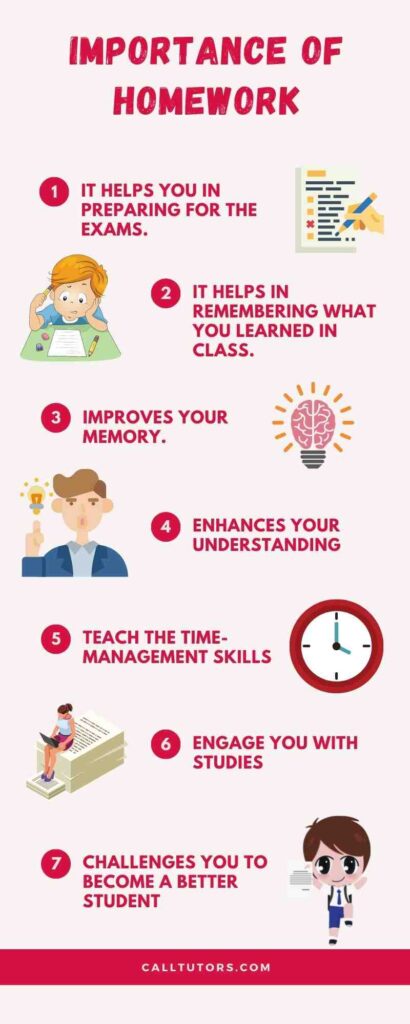 Strategies for how to do your homework faster
Make an effective timetable and follow it strictly
Systematic habits support the learners in being more productive without using as much power and energy. When the learner has a lot of work to complete, a learning routine can help you prioritize your homework accordingly. For this, you need to sit down, write sufficient time, focus, and stay concentrated until you finish a small task that is on first priority.
Organize notes and study material as per the requirement
Now prioritized work needs to be done as per the requirement. Have lists and put the necessary material for the top priority things, such as your class notes, book, and much more. Then work on it that one needs to be done first.
Make suitable deadlines to finish your homework within the time limit.
If the professor has already given the deadlines for a particular subject's work and assignment, put new deadlines on your own at the earliest dates. It assists the students in being more disciplined, determining how to do your homework faster, and prioritizing each day to work on the different subjects of their course.
Search distractions and quiet free place
Numerous students favor doing their work in front of the TV by watching their favorite programs. This is the biggest distraction for learners. This leads them to distract their focus from their homework. That is why they are required to discover a peaceful and distraction-free place to do their work.
Observe a peaceful place where one can complete their work without any disturbances. If one has a study room, then they must do their work in that study room. This can be a very beneficial strategy for how to do your homework faster.
Prefer to study with your classmates/friends
It is one of the best methods to motivate yourself to complete the homework faster. Sometimes, learners hold a competitive feeling with their friends; therefore, they try to do their homework more quickly than their friends. One can compete with their friends or do the work along with them by doing each other's help.
You can also review each other's work to see whether you are obeying your teacher's pattern or not. If one finds some errors and needs any changes in their work, you can make this at night or the last minute before submission. It aids the students in knowing the relevant solution to how to do your homework faster or at the last minute.
Isolate yourself to improve concentration
Students must isolate themselves from their social media, family, and other social activities when working on homework. This can be the best strategy for how to do homework faster. Once you isolate yourself personally, you can enhance your attention to work.
Utilize the Internet as much as you can
The internet has a sufficient role in students' work. If one does the normal use of the internet, it might help the students in doing their homework faster. Most learners do not have any idea about how to do your homework faster and how the internet can help students do their work quickly by giving valuable details from a single site. One can use the internet to explore work-related content and materials. There is a lot of online support that can aid the students in doing their work quickly.
BONUS POINT
Statistics Related To Homework
Facts Related To Homework
Almost 50% of high school students get frustrated because of their homework.

73% of parents admit that homework is the most common reason for family arguments.

Primary School Students spend 30 minutes daily doing their homework.

Conclusion
In this blog, we have included all the details of how to do your homework faster. This blog has different strategies that can help students complete their work before the slotted time limit. So use the technique as mentioned above and do your work more effectively and accurately.
If you have any problems regarding your programming and any other assignments and homework, you can ask for our experts' homework writing service. We can provide you high-quality content along with plagiarism reports. We can also provide instant help to you as we are accessible 24*7. Besides this, we provide online homework help with well-formatted structures and deliver them within the slotted time. All these facilities are available at a minimal price.
FAQs
1. Who invented Homework?
Answer- Roberto Nevillis invented homework when he felt that students lost the essence of his teachings when they left the class.
2. Where is Homework Illegal?
Answer: In Finland, there is no homework, and it has not been for years.