The essay introduction is the major part of the essay. This shows the overall essay summary and what you will explain in your whole essay. If you don't know "how to write an essay introduction" and write it poorly, then it's not engaging your reader directly with your whole essay.
If you want to connect the reader with your essay, keep your introduction very interesting. Because your "First impression is the last impression." It's obvious! Every writer wants to connect the reader to their complete essay. For it, you have to make your essay introduction interesting.
If you also don't know how to introduce a topic in an essay. Don't worry, we are discussing here the best essay introduction tips with easy examples.
What is an Introduction in an Essay
The essay introduction is a crucial part of your essay. It is a roadmap for the entire essay. The initial paragraph sets the tone and path for the paper you will present to your audience. The best introduction to an essay grabs your reader's attention and makes them engaged in reading the essay from the very start of the essay.
An introduction in an essay is the first paragraph or section that sets the entire essay's tone and direction. It is usually the first thing a reader will see when they start reading an essay, and its purpose is to grab the reader's attention and provide them with a brief overview of the essay's topic and purpose.
The introduction should include several key elements, including a hook or attention-grabbing opening sentence, background information about the topic, a clear thesis statement that outlines the main argument or point of the essay, and a preview of the main points or arguments that will be covered in the essay.
Features of an effective introduction
The features of an excellent introduction to an essay are as follows-
Grabs the reader's attention
Presents the topic's background information
Describe the basic idea
Create a thesis statement
Influence the readers on your point if you are writing a persuasive essay.
If you want to write a good introduction, include the features mentioned above in your essay to make it a remarkable paper.
What is the objective of an introduction?
There are two objectives of an introduction which are as follows-
1. To create reader interest
It creates an interest of the reader in the topic. Also, it encourages them to read your points.
2. To give a road map
An introduction works as a road map for the reader. It includes what you will explain, and the reader follows this map to know what the essay is about.
A powerful introduction makes your reader go through the whole essay.
What is the appropriate length of an essay introduction?
It is based on the overall length of your essay. There is no particular rule regarding introduction length. For a two to three-page essay, the proper length of the introduction is one paragraph. For a four to five-page essay, two paragraphs are considered more relevant. A common rule is that the introduction must be between five and ten percent of the overall essay length.
It may be useful to think of the introduction as a signpost to what is coming up next in the essay; with this in mind, it is often written last. It is usually about 5-10% of the word count (100-200 words long for a 2000-word essay).
Often, authors write introductions that are too long. Sometimes journals specify how long an introduction should be. Science, for example, doesn't want you to write more than one or two paragraphs in a Research Article. And they don't mean those paragraphs that fill a whole page.
4 Best Tips On How to Write an Essay Introduction?
Writing an essay introduction can be challenging, as it sets the tone for the rest of the essay. Here are four best tips on how to write an essay introduction:
Tip 1:- Brainstorm Ideas For the Introduction
Your introduction should grab the reader's attention from the start. You can do this by starting with an interesting fact, a quote, a rhetorical question, or a surprising statement related to your essay's topic.
(I) Start With A Hook
Identify your audience. It is the most crucial step your very first sentence should put the reader into your essay. As a writer, you will always want your reader should read your essay to be fascinated, intrigued, or even outraged. It can't happen without knowing the likely readers of your essay. There are two ways to do this.
The first one is most of the time, the students make this mistake. When they write a paper for a class, they automatically assume the instructor is their audience. And the second one is to reverse sense your audience based on the subject you've chosen for your essay.
Suppose your essay topic is bodybuilding in the men's study class. Then you will find your target audience as you men in the age range most affected by the issue.

(ii) Use The Examples
It is the best method to grab your reader's attention at the friction of a second. In this method, we use shocking statistics that can grab the audience's attention by immediately teaching something interesting to them, something that they are not aware of it.
Start with new informative sentences for the audience; it will also create interest among the students that where they will go next.
(iii) Tug at Your Reader's Heart-Strings
In the case of personal or political essays, use your hook to get your reader emotionally involved in the subject matter of your essay story. Let me explain it with an example.
If you are writing an essay that proposes a change in traffic laws, you might open the story with how the citizen's life will be affected by this change.
(iv) Offer a relevant example of an anecdote.
We often cross an entertaining or interesting anecdote while reading and researching for the essay. The anecdote may be related to your essay, but most of the time didn't fit in the essay's body. But it works great as the hook of your essay.
Let's understand it with an example. Suppose that you are writing an essay about a celebrity. Then you can use his/her odd personal habit as a hook for your essay. Humorous anecdotes work better as a hook than other types of anecdotes.
(v) Ask A Thought-Provoking Question.
It is the most potent method only If you're writing a persuasive essay. You can use a relevant question to draw your reader in. It also helps get them to think about your essay's subject actively.
Let's understand it with an example: "What would you like to do if you became the president of your country for a day? Most of the leaders of tiny islands always want to answer these kinds of questions.
Avoid clichés and generalizations. Generalizations and clichés are not helpful for your essay. Most of the writer uses generalizations and clinches to contrast with their point. It makes your essay unoriginal or appears you as a lazy writer.
Tip 2:- Creating Your Context
fter grabbing the reader's attention, you should provide some context for your essay. This can include historical background, definitions of key terms, or an explanation of why the topic is important.
(I) Relate Your Hook To A Broader Topic
The next step is to ensure your hook connects with the rest of your essay. Start with the broader and more general scope to explain your hook's relevance.

Because if you prove to your audience the relevancy of your hook, they will read all of your essays. The most prominent way to do this is to use appropriate transitional words or phrases, such as "however" or "similarly," It helps you move your anecdote back out to a broader scope.
(ii) Provide Necessary Background Information
Everyone wants to keep things still relatively general. Allow your readers to know anything necessary for them to understand your main argument. Also, let them know the points you're making in your essay. For example, if your essay is related to the first world war. Then your introduction should describe where and when the first world war was committed.
(iii) Define Key Terms of The Essay
It would help if you had the art that is used to define for your reader. The introduction is not about repeating the basic dictionary definitions. On the other hand, if you have the key term within your essay, then let the readers know how you're using that term.
Here is an example: you can't modify or change the definitions of the scientific topic because the average layperson can't understand the scientific terminology.
(iv) Move From the General To The Specific.
You should always think that your introduction as an upside-down pyramid. Your hook should be placed at the top of your essay. Apart from that, your introduction also welcomes the readers to the broader topic of your essay.
If you're using 3 or 4 sentences to describe the context of your essay, then you should try to make each one of your sentences a bit more specific. Let's learn it with an example.
If you're writing an essay about sup[pose that you're writing an essay on drunk driving fatalities, then you might start with an anecdote about a particular victim. Then you could provide the national statistics about drunk driving, then narrow down your topic further by giving the statistics of the specific gender or age group.
Tip 3:- Presenting Your Essay
Your thesis statement is the main point or argument of your essay. It should be clear, concise, and located at the end of your introduction.
(I) Make Your Point
After setting up the context on which you are making an argument. It is time to tell your reader the point of your essay. Use your essay statements to directly communicate the unique point that you will attempt to make through your essay.
Be assertive and confident while writing your essay, and it should be reflected in the essay. Don't you ever try to use fluff in your essay, such as "In this essay, I will attempt to show. Always try to make your outline specific, unique, and provable.
(ii) Describe How You're Going To Prove The Point
Also, round out your introduction with the help of providing your readers with the essential roadmap of what you will say in your essay. In most cases, the round-out should not be more than a sentence.
(iii) Transition Smoothly Into The Essay Body
In most cases, you'll find that you can move straight from the introduction to the first paragraph of the body. Some introductions require a short transitional sentence at the end. It helps to keep the flow naturally into the rest of your essay.
You can do this by figuring out that by reading the introduction and the first paragraph aloud. If you feel pausing between the paragraphs, work on the transitions needed to make a move smoother.
Tip 4:- Bringing It All Together
While you want to provide enough information to set the stage for your essay, you don't want to overwhelm the reader with too much detail. Keep your introduction concise, and to the point, so the reader knows what to expect from the rest of your essay.
(I) Read the essays of Other Writers In Your Discipline.
A good introduction depends on the subject matter. A suitable introduction may work well in one academic discipline but may not work well in another.
Keep these things in your mind; if you're writing a class assignment essay, then you should ask your instructor to provide you with a well-written essay example.
You can take advantage of that example by noting down the point of conventions that the writers commonly use in your discipline. Also, make a brief outline of your essay based on the information presented in the introduction.
(ii) Keep Your Introduction Short And Simple.
Keep in mind that you should keep your essay introduction short and simple. Your introduction should be between 6 and 10 percent of the overall essay length.
Suppose you're writing a 20-page paper; then your introduction should be approximately two pages long. For shorter essay, likewise, 1000 words essays, the introduction should be between 100 to 200 words. You can also take the help of your instructor for the essay length.
(iii) Write your introduction after you write your essay
Always try to write the body of the essay first, then write the introduction. You should write the introduction at the finishing stage of essay writing. It would help you to present a summary of your essay efficiently. You can do that by jot down the things to include it in your introduction. You can also mention the most important term of your essay on your introduction.
Always revise your introduction. The writer likes to write an introduction at the initial stage of the essay. If you've done the same, then go back and make sure your introduction provides and check that your introduction is complimenting your completed paper.
In this stage, you have to delete any unnecessary language and jargon. Try to keep the sentences short and easy to understand for the users.
(iv) Structure Your Introduction Effectively.
Most essay introductions have the same essential elements regardless of the subject or academic discipline. It should be short and convey a lot of information to the users. Keep these things in your mind while structuring your introduction effectively.
The hook is the crucial element that will help you to engage your readers. Therefore you should use the hook within your first sentence. After creating the hook, the next few sentences should be a bridge between your hook and the rest of your essay.
All these steps help you in knowing how to write an essay introduction. Follow them while writing an introduction.
Another important learning in this blog of how to write an essay introduction is about things you should avoid and take care of while writing an introduction.
Essay Introduction Example
This is a example for the essay introduction, that's given below.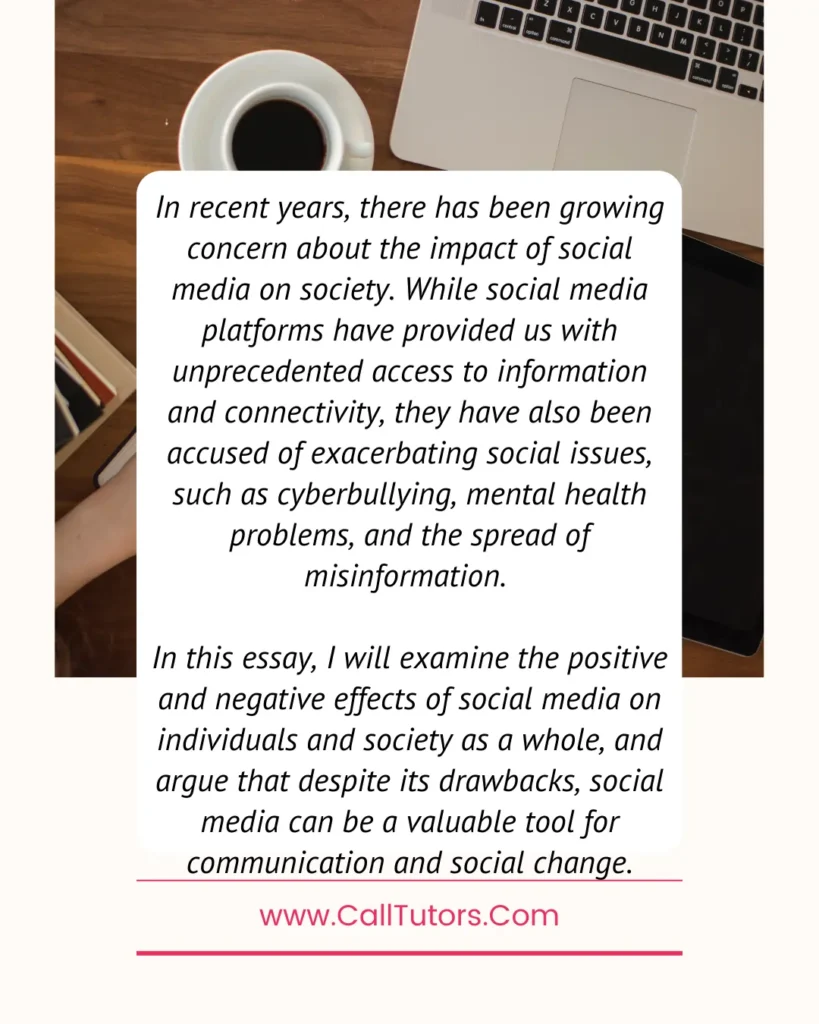 Things to avoid-
Do not divide this paragraph into different parts as it contains three different subparts, but all should be in a single paragraph.
Do not explain points related to your topic in this paragraph (give basic information about the upcoming discussion).
Avoid making too complex and long sentences, as it can lead to an explanation.
Avoid using more additive connectors such as furthermore, moreover, what's more, because these are the connectors that we often prefer while explaining and discussing ideas in depth in body paragraphs.
There are also many things you need to do to make your introduction more impressive for the reader.
Things to do-
Try to mention basic information about your upcoming ideas to keep your reader reading your content interestingly.
Write simple, concise, and informative sentences.
Follow the universal format of writing an essay intro. It will save you time and energy to create something new. Also, this format is recommended by most academicians.
Keep your intro paragraph under the given word limit.
Let's wrap up
Writing an essay introduction is an art. We hope from the above discussion, you get the answer to your question about how to write an essay introduction.
If you are going to follow these tips, then you will definitely master this art. But if you're still finding it difficult to write an essay introduction. Then we are here to provide you the best essay writing help at nominal charges. We provide the best assignment help in Melbourne.
FAQs
What is a good introduction example?
Posing a question, defining the key term, giving a brief anecdote, using a playful joke or emotional appeal, or pulling out an interesting fact are just a few approaches you can take.
What are the 5 sentence openers?
In this lesson, you have learned to use several sentence openers: dependent clauses, prepositional phrases, infinitive phrases, -ing word groups, and transitional words.
Why are opening lines so hard?
After all, opening lines carry much weight, both because of popular perception and because they act as your reader's first glimpse into your story.