Has your instructor asked you to write an essay in APA Format? Then you need to learn how to write an essay in APA Format so that you can organize your work. If you have never used this format before, you may find it a bit daunting. In this article, we will be discussing APA in detail.
What is APA format?
APA stands for American Psychological Association. APA format is the official writing format of this association. This format is used to write papers in Psychology, education and social sciences. In psychology and other social sciences, it is important to write in APA format. It is because writing in a particular format allows readers to know what they look for. Also, the psychology writers can easily communicate their ideas and experiments in this format.
Four Major sections of the essay in APA format
When you write an essay in APA format, it should include the following sections:

Title Page– Title page is the first page of your essay. It must contain a running head, title, author name, and school affiliation. The main aim of writing this page is to let readers know the topic and author of the paper.
Abstract– Abstract is a brief summary of your paper. This page is placed just after the title page. According to APA, the abstract should be no more than 150 to 200 words.
Main Body- The main body includes the main content of your writing. If you are writing an essay, the main body should include the essay itself but in APA essay format. If you are writing any paper then it can include further subsections.
References- This section includes all the sources from where you have gathered the information.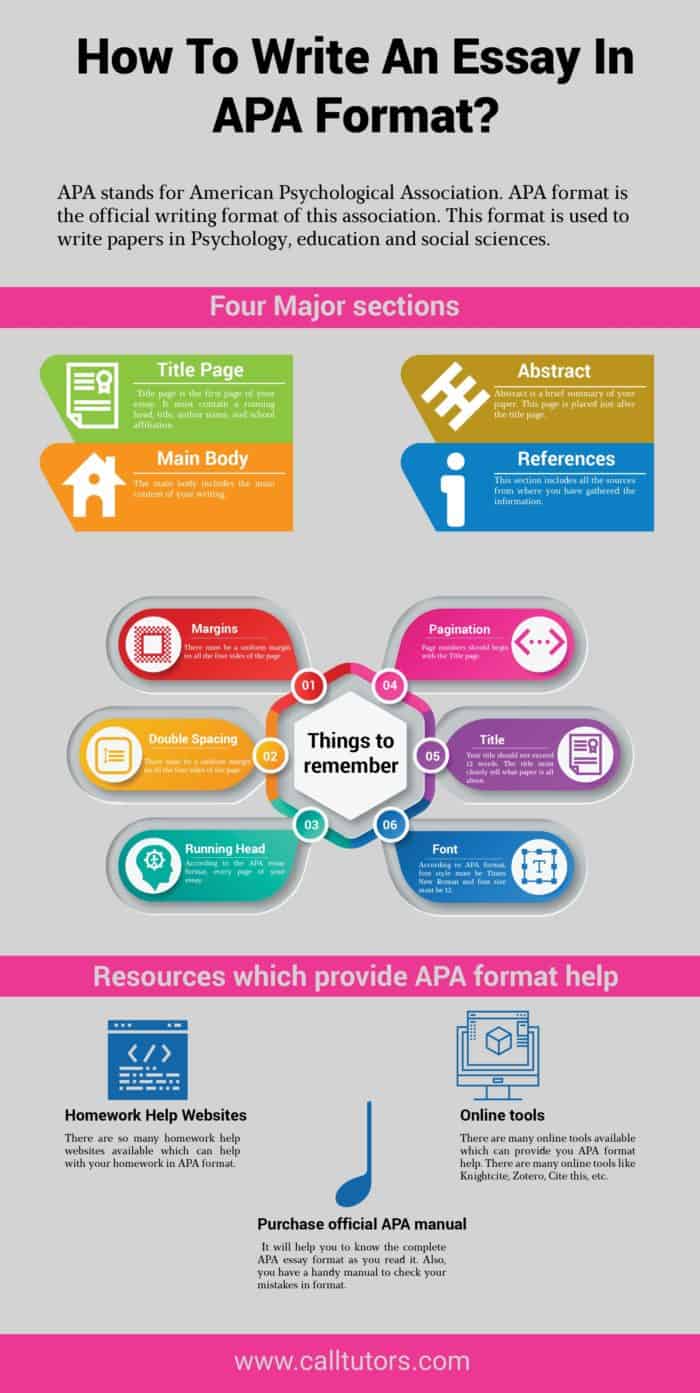 Things to remember about APA Essay Format
Margins- There must be a uniform margin on all the four sides of the page. The margin should be of at least one inch.
Double Spacing: It means there must be two spaces after each sentence.
Running Head: According to the APA essay format, every page of your essay must contain a running head on the top left. Running head is the shortened form of the title. It should be no more than 50 characters.
Pagination: Page numbers should begin with the Title page. Every page of your essay must contain page number on the top right corner.
Title: Your title should not exceed 12 words. The title must clearly tell what paper is all about.
Font: According to APA format, font style must be Times New Roman and font size must be 12.
Paragraph Indent: The first word of each paragraph must be indented one-half inch. Avoid paragraphs of one sentence.
Reference List: This list must contain each source from where information is collected.
Numbers: The numbers less than 10 must be written in words(one to nine). Numbers more than 9 must be written in Arabic(10-100000 and so on).
Citation: Citation must be done in a proper format. For this, you must use author name followed by the date of publication.
Format: (author,publication date).
Hyphen use: APA essay format recommends writers to use fewer hyphens. So, do not over-hyphenate your content.
Italics: All the titles should be in italics. Especially the titles of books, newspapers, magazines, brochures, periodicals, journals etc.
Language: Do not use biased or pejorative language. For example: do not use the word "disabled child", in its place use "child with disability".
Abbreviations: APA recognizes only seven acronyms that do not need definition. These are HIV, AIDS, ESP, REM, ACTH, NADP, and IQ. If you want to use other abbreviations also then define them once before using. For example- "___Stock Keeping Unit (SSU)___".
Quotes: Try to avoid the use of quotes. If necessary, use the quotes of less then 40 words and explain that in your words too. Quotes of 40 words or more are considered as blocked quotes.
Tips to make your writing in APA format easy
By using APA essay format, your content looks organized. To make your writing process easy you should follow some tips given below:
At first, you should choose a good topic to write. The topic should not be too specific and also not too general. If your topic is too specific, then you will face difficulty in finding good sources of information. And if the topic is too general then you will be overloaded with information. So you should choose a topic that is specific enough so that you can fully explore the topic.
After that, start doing research. Do not waste your time. Start reading basic books and content about your topic. After that start listing all the books, essays, journals and other sources from which you are going add into your essay.
After collecting sources of information, start writing your essay. While writing, make the list of all the sources that you cite. Make sure to write each and every source in your references. Also, make sure to not to add any extra source in your references. There must be no citation mentioned from which you have not cited.
After making your first draft, revise and review your work. Editing and proofreading are two very important tasks before making your final draft. Also, review the format before the final draft.
Resources which provide APA format help
Homework Help Websites: There are so many homework help websites available which can help with your homework in APA format. These websites provide you APA format help in pocket-friendly prices. You only pay them and tell them to complete your assignment in APA format And they will give you your assignment before deadlines. The most trusted homework help website is CallTutors. They have a team of experts who will give you APA format help by completing your assignment in APA format.
Online tools: There are many online tools available which can provide you APA format help. There are many online tools like Knightcite, Zotero, Cite this, etc. which acts as an APA citation machine. These tools create an APA format referenced and help you to organize your references. But always double check their work.
Purchase official APA manual: It will help you to know the complete APA essay format as you read it. Also, you have a handy manual to check your mistakes in format.
I hope, you like this article, and after reading this article you all have understood How to write an essay in APA format. If you are having any query do tell us in comments section below.