Do you ever wonder, when you are going for a road trip, what exactly helps you in heading towards your destination? Or, in the building construction, how do constructors begin the building? The answer to both questions is they need a plan that helps them in achieving their goals. Those going for a trip need a road map, and constructors need a blueprint for construction. Similarly, if you want to write an essay, you are required to create an essay outline.
Some students don't know how to write an essay outline. First of all, they have to understand what it is and its importance in essay writing. Here, we discuss the essay outline in detail.
Let's begin our journey on how to write an essay outline!
What is an essay outline?
When professors assign students essay writing tasks, they start writing immediately. It is not the proper way to write it. Firstly, create an outline. But many students don't know about an essay outline. Here they will get their answer-
An essay outline is like a blueprint of how to write your essay and how it appears. It is essential in essay writing as it works as a guideline to write your essay.
Also, it creates your flow of essay systematically. The structure of your essay must be appropriately formed. And, for this, you need an outline.
Why is an essay outlining important?
Normally, students want to know how to write an essay outline, but they never wonder why an essay outline is important? Yes, it has its own importance. Let me explain to you.
An essay outline explains to you all the relevant points to be covered in an essay, specifically in a particular order. It gives the way you must utilize while writing an essay. The benefit of writing an essay outline-
All the main points are well-organized;
Maintain the essay flow naturally;
The flow is easy to follow;
All the points can arrange logically with a proper plan;
The professor likes the essay, which is systematically organized.
How to write an essay outline?
Essentially, outlining must involve every necessary detail that helps in writing your essay shortly and coherently. It must be brief yet complete. Students must try to acquire these skills with understanding and practice. Here we mention the process that students must follow for creating an outline-
Preparation and research.
Your research must be the first step of every task. You should read through the instructions carefully and follow them strictly. Check the word limit, essay size, resources, and citation style for your essay.
You will be assigned a topic or provide the option to select from a list of choices. You could come up with some brilliant ideas as a result of your research.Make an effort to choose the right one in which you have an interest.
Find the intent of your task.
In most cases, you are aware of the intent of your task, but you may forget in the midst of the process. Determine your goal ahead of time — proving a point or writing a report.
Identify your target audience.
While writing the essay outline, you must know about your target audience. We recommend that you determine an assignment purpose, whether it is meant for industry professionals, friends, classmates, or the general public. Knowledge of the target audience helps create the desired result, the selection of suitable terminology, and the selection of an appropriate title for an essay, and so on.
The benefit of knowing your audience-
You know what kind of terminology used;
Creating engaging titles for essays;
Maintain the essay structure;
Know the research pattern;
The response that you will expect after the audience reads your essay.
If you comprehend all of the above steps, you are prepared to write an essay that will help you get the highest score. Now is the time to start the work. Begin by formulating a thesis argument. It must be created in a paragraph separately. It ultimately informs others about the subject and intent of your essay.
The General Structure of an Essay Outline

I. Introduction
a) Tell about your topic
b) Create a thesis statement

II. Body paragraph (1)
a) Explain your topic (the argument for your opinion)
b) Support your argument with evidence and examples
c) Describe how they correlate with your thesis statement

III. Body paragraph (2)
a) Explain your topic (another argument for your opinion)
b) Support your argument with evidence and examples
c) Describe how they correlate with your thesis statement

IV. Body paragraph (3)
a) Explain your topic ( different argument for your opinion or mention a counterargument)
b) Support your argument, or justify your opinion with evidence and examples
c) Describe how they correlate with your thesis statement

V. Conclusion
a) Compile all essential points
b) Re-explain your opinion
c) Try to mention a call to action (Inspire your readers to do a particular action after they go through your essay )
Examples of writing an essay in MLA and APA format-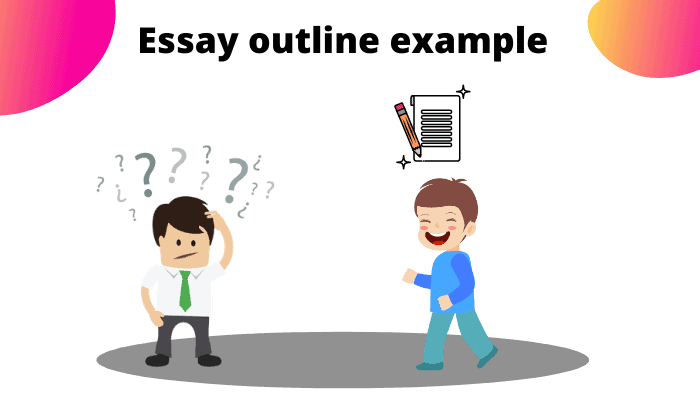 How to write an essay outline in APA format?
It all comes down to structuring while writing an outline in APA format. The outline's key headings are written in Roman numeral letters, while sub-headings are written in capital letters. If you need to keep on in the subheadings, use lower case letters or Arabic numbers mentioned below in brackets. The following is an example of an APA outline:
I. Select the appropriate thesis-

A. Begin research for your thesis
1. Search for evidence or examples that help in proving your thesis appropriately.
2. Plan and outline your thesis before beginning writing.

II. Begin writing your essay

A. Create an effective introduction paragraph

B. Begin creating an outline of your essay
Create the paragraphs
a. The powerful example that proves your thesis must be in the first paragraph
(1) The next examples are organized as per priority
(2) Utilize Upto three arguments to prove your thesis
b. Use counterargument
(1) Make sure you mention debated argument
c. Utilize a personal story to explain your point
d. Review your outline

III. End your essay with a conclusion
A. The last paragraph must re-explain your viewpoints
Create conclusion convincing
a. Do not restate in detail but summarize the most essential points
b. Use simple language with powerful sentences

IV. Must proofread the essay and ensure that it is written in a good way and free of grammatical errors.
In the outline, you can use entire sentences or only words. Another choice for outlining an essay in APA format is to use the decimal method. It is occasionally used, although the professor will make sure it is mentioned in instructions.
How to write an essay outline in MLA format?
When writing a thesis, definite research is important if you wish your essay to be fully recognized and understood by the audience and professor. It is excellent research that can make the essay sound compelling, credible, and professionally written.
I. Do proper research of the thesis you have selected
A. Try to find the solid arguments that will support your opinion
B. Find controversial counterarguments
C. Recall a story that proves your opinion

II. Create your outline draft

A. Revise your arguments or thesis finally
Remove the arguments that are not convincingly
Organize your arguments as per importance

B. Examine the reliability of the arguments you have selected for the last time
Do proofreading the outline
a. Remove your mistakes: Grammatical and language
(1) Reread the outline for the final time
Conclusion
A well-formatted outline helps you in presenting your essay logically. If you have a problem outlining the topic, then think about your topic again. You will get help in writing the outline by following the steps we mentioned above. Go through the examples of MLA and APA essay format to get clarity on writing an outline. We hope this blog helps you answer your question on how to write an essay outline.
If you are still facing problems in doing it, then you can take the guidance of professionals. They will guide you regarding the essay outline.
Mostly asked questions-
1 Is an outline and a rough draft both the same?
Yes, both are the same. In it, you will write the structure and main points of the essay. 
2. Should I write my essay as per the outline strictly?
It will help if you follow the outline sincerely. However, if you find new ideas while writing and think it is more useful, then you can add them to the essay.
3. Is outline helpful in essay writing?
Yes, of course! An outline is like a road map, and it helps you write the essay effectively with clarity.