Want to know the best solar system project ideas? The solar system, a vast and wondrous celestial playground, has captured the fascination of students, educators, and space enthusiasts for generations. Engaging in solar system projects is an excellent way for students to deepen their understanding of the cosmos, ignite their curiosity, and develop various skills.
In this blog, we will go through 189+ captivating solar system project ideas that encompass different fields, all aimed at inspiring and educating students about the mysteries of our solar neighborhood.
You May Also Like: 100+ Good Supply And Demand Economics Project Ideas
What Is a Solar System Project Ideas?
A solar system project idea is a creative and educational task that encourages students to explore and learn about our solar system. These projects can take various forms, such as model building, scientific experiments, art, technology applications, or educational resources. They provide an opportunity for students to delve into astronomy, physics, engineering, and other related subjects while fostering critical thinking, problem-solving, and presentation skills.
How to Choose the Right Solar System Project Idea
Selecting the perfect solar system project ideas can be an exciting yet challenging endeavor. To help you make the best choice, consider the following tips:
1. Interests and Passions
Encourage students to explore topics that genuinely interest them. Do they have a preference for planetary science, space exploration, astrophotography, or even space-themed art? Start with their passion.
2. Grade Level and Complexity
Take into account the age and academic level of the students. Choose a project that aligns with their current knowledge and skill levels. Some Solar System Project Ideas may be more suitable for elementary students, while others may challenge high school or college students.
3. Available Resources
Consider the resources available. Some projects may require specialized equipment, materials, or technology. Ensure that students have access to what they need or can adapt the project to available resources.
4. Learning Goals
Identify the learning objectives you want to achieve. Is the goal to teach the scientific method, improve research skills, or enhance creativity? Different Solar System Project Ideas emphasize different skills and knowledge areas.
5. Presentation and Communication
Projects should include a component for students to present their findings or creations. This fosters communication skills and enables them to share their newfound knowledge with others.
The 189+ Best and Most Interesting Solar System Project Ideas
Following are the most interesting and good solar system project ideas for students are given below.
Good Solar System Projects For Students
Scale Model of the Solar System: Create a scale model that accurately depicts the sizes and distances of the planets in our solar system, including the Sun.
3D-Printed or Clay Models of Planets: Craft detailed 3D models of each planet, paying attention to surface features and characteristics.
Mobile Model of the Solar System: Design a hanging mobile that showcases the arrangement of planets in the solar system, which can be used for educational displays.
Orrery: Build a mechanical model that simulates the movements of the planets and demonstrates their orbits around the Sun.
Paper Mache Solar System: Create a paper mache representation of the planets and the Sun, complete with sizes and details.
Planet Distance and Temperature Correlation: Investigate the relationship between a planet's distance from the Sun and its average temperature.
Greenhouse Effect on Venus: Study the greenhouse effect on Venus and compare it to Earth's atmosphere to understand its impact on the planet's climate.
Model Demonstrating Planetary Orbits: Construct a model to illustrate planetary orbits and explain Kepler's laws of planetary motion.
Geological Features of Mars: Research and present the geological features of Mars, including impact craters, volcanoes, and the potential for life.
Comparison of Planetary Atmospheres: Compare the compositions and characteristics of the atmospheres of different planets in the solar system.
Solar Wind Study: Investigate the concept of solar wind and its effects on the space environment, including the Earth's magnetic field.
Phases of the Moon: Research and explain the phases of the Moon, creating a lunar phase calendar as a visual aid.
Best 3d solar system project Ideas
Solar System Orrery: Build a mechanical model of the solar system that demonstrates the orbits and relative positions of planets using gears and moving parts.
3D-Printed Solar System Models: Utilize 3D printing technology to create accurate and detailed 3D models of the planets, the Sun, and other celestial objects.
Hanging Mobile Solar System: Design a hanging mobile that showcases the arrangement of planets suspended in mid-air to provide a visual representation of the solar system.
Interactive Solar System VR: Create an interactive virtual reality experience that allows users to explore and interact with a 3D representation of the solar system.
Kinetic Solar System Sculpture: Craft a kinetic sculpture that incorporates movement to illustrate the orbits and rotations of planets in a visually captivating manner.
Solar System Diorama: Construct a 3D diorama inside a box or display case that showcases the solar system's planets and their relative positions.
Solar System Planetarium: Develop a portable planetarium that projects a 3D representation of the night sky, including the stars, planets, and constellations.
Solar System Pop-Up Book: Create a pop-up book that unfolds to reveal 3D representations of planets and their features when each page is turned.
Solar System in a Shoebox: Build a miniature solar system model inside a shoebox, with planets, orbits, and labels to explain key details.
Solar System Augmented Reality (AR): Develop an augmented reality application that uses a smartphone or tablet to superimpose 3D images of the solar system onto the real world, allowing users to explore and interact with it.
Interesting solar system project Ideas for 4th graders
Paper Plate Solar System: Create a visual representation of the solar system on paper plates. Have the students color and label the planets and the Sun. They can hang these paper plate models in the classroom.
3D Model of the Solar System: Encourage students to make a 3D model of the solar system using craft materials like foam balls or Styrofoam. They can paint the planets and arrange them in order from the Sun.
Planet Posters: Assign each student a planet and have them create informative posters about their chosen planet. Include facts such as size, distance from the Sun, number of moons, and unique features.
Planet Fact Cards: Make flashcards with information about each planet. Students can use these cards for studying and quizzes.
Solar System Mobile: Have students design a mobile that represents the solar system. They can use hangers, string, and small planet models. This project combines art and science.
Planet Research Reports: Assign a planet to each student and have them research and write a short report about their planet. They can also give a brief oral presentation to the class.
Create a Planet Book: In this project, students can create a mini-book or booklet about the solar system. They should include information and illustrations of the planets.
Planet Playdough Models: Provide students with playdough and ask them to sculpt models of the planets. This hands-on project helps reinforce the characteristics of each planet.
Solar System Board Game: Challenge students to create a board game centered around the solar system. The game could involve questions, facts, and space-themed challenges.
Space-themed Artwork: Allow students to get creative with space-themed art projects. They can paint or draw scenes of the solar system, astronauts, rockets, and more.
Good solar system project Ideas for 5th graders
3D Solar System Model: Create a hands-on, 3D model of the solar system using craft materials, emphasizing planet order and relative sizes.
Planet Fact Posters: Design informative posters for each planet, featuring key facts, illustrations, and their place in the solar system.
Phases of the Moon Viewer: Craft a model that demonstrates the phases of the Moon by rotating and illuminating it as it orbits the Earth.
Astronomical Trading Cards: Develop trading cards with information and illustrations of planets, moons, and other celestial objects.
Planetary Science Fair Display: Create a display board for a science fair with research and visuals about a specific planet or celestial body.
Solar System Mobile: Build a hanging mobile featuring the planets, allowing for a visual representation of their arrangement.
Lunar Crater Experiment: Investigate the formation of lunar craters using impact simulations and various materials.
Astronomy Scavenger Hunt: Organize a scavenger hunt where students find and learn about objects in the night sky, such as constellations and planets.
Planet Research Presentation: Research and present information about a chosen planet, focusing on its unique characteristics.
Solar System Poetry: Write poems about the solar system, exploring the beauty and mysteries of space through creative expression.
Great solar system project Ideas for 6th graders
Scale Model of the Solar System: Create a three-dimensional scale model of the solar system that accurately represents the sizes and distances of the planets, as well as their relative positions.
Planet Research Reports: Assign each student a planet to research and create a comprehensive report. Include information on size, distance from the Sun, atmosphere, moons, and interesting facts.
Interactive Solar System Model: Build an interactive model with a central light source (representing the Sun) and orbiting planets. Students can manipulate the planets to simulate their orbits and rotations.
Space Exploration Timeline: Create a timeline that highlights significant events in space exploration history. Include missions, discoveries, and key figures in the field.
Planetarium Project: Design a portable planetarium exhibit that displays the positions and movements of planets and stars. Students can present their exhibit to the class.
Planet Poetry Anthology: Encourage students to write poems about the planets, their unique features, and the mysteries of space. Compile the poems into a class anthology.
3D-Printed Planets: Utilize 3D printing technology to produce detailed and accurate 3D models of the planets in the solar system. Students can paint and label each model.
Virtual Reality Solar System Exploration: Develop a virtual reality (VR) experience that allows students to explore the solar system in an immersive way, providing facts and interactive elements.
Historical Space Mission Posters: Have students choose a historic space mission and create informative posters about it. Include details on the mission's objectives, achievements, and impact on our understanding of space.
Space Travel Brochures: Challenge students to design travel brochures for future space tourism. They should include information on potential destinations, accommodations, and unique attractions.
Cool Solar Project Ideas
AR Solar System App: Develop an augmented reality app for exploring the solar system with 3D models and information.
Exoplanet Travel Brochures: Create travel brochures for fictional exoplanets, considering conditions and attractions.
Space-Themed Escape Room: Design a space-themed escape room challenge with astronomy puzzles.
Alien Species Creation: Design and draw imaginative alien species for life on other planets.
Extraterrestrial Habitat Design: Plan a habitat for human life on celestial bodies.
Interactive Planetarium Show: Present the solar system and astronomical discoveries in a digital planetarium.
Solar System Astronomy Club: Observe the night sky with telescopes and share findings.
Cosmic Art Installation: Collaborate on a large-scale art installation featuring space themes.
Sci-Fi Short Films: Produce science-fiction films set in space.
Solar System Jewelry: Make solar system-themed jewelry with planet charms.
Easy & Simple Solar System Project Ideas For Middle School
Mission to Mars Proposal: Plan a hypothetical mission to Mars, including spacecraft design and mission objectives.
Interactive Solar System App: Develop an educational app with solar system information and quizzes.
Model of the Solar System to Scale: Create an accurate scale model of the solar system.
Space Travel Brochure: Design travel brochures for space tourism destinations.
Astronomy Photography Exhibition: Display student astrophotography of celestial objects.
Space-Themed Science Fiction Writing: Write science fiction stories set in space.
Exoplanet Research: Investigate and present information about exoplanets.
Solar System Board Game: Create a board game for solar system exploration.
Lunar Habitat Design: Plan a habitat for the Moon.
Space-Themed Art Gallery: Showcase student space-themed artwork.
Space Exploration Timeline: Create a timeline of space exploration milestones.
Planetarium Show: Present a planetarium show on the solar system.
Edible Solar System Project Ideas For Elementry School
Paper Plate Solar System: Create a visual representation of the solar system on paper plates, coloring and labeling planets.
Planet Fact Cards: Make flashcards with planet information for studying.
Solar System Mobile: Design a hanging mobile displaying the arrangement of planets.
Planet Posters: Research and create informative posters about individual planets.
3D Solar System Model: Craft a hands-on 3D model showcasing planets and their orbits.
Planet Coloring Pages: Provide students with coloring pages featuring planets and space.
Space-Themed Story Writing: Encourage creative writing with stories set in space.
Astronomy Puzzles: Develop space-themed puzzles and crossword challenges.
Solar System Playdough Models: Sculpt planets out of playdough to reinforce learning.
Lunar Phases Calendar: Explore the moon's phases and create a lunar calendar.
Simple science fair solar system projects
Planet Atmosphere Comparison: Investigate and compare the atmospheres of different planets in our solar system, focusing on composition, density, and effects on the climate.
Orbital Mechanics Simulation: Develop a computer program to simulate the orbital mechanics and gravitational interactions within the solar system.
Meteor Impact Crater Experiment: Create a model to study the effects of meteor impacts on planetary surfaces, considering factors like impact velocity and target materials.
Solar System in a Shoebox: Construct a miniature, to-scale solar system model within a shoebox, demonstrating planet orbits and distances from the Sun.
Lunar Phases Interactive Display: Build a hands-on exhibit illustrating the phases of the Moon and how they change as the Moon orbits Earth.
Exoplanet Habitability Study: Research the conditions necessary for habitability on exoplanets and analyze newly discovered exoplanets for potential life.
Solar System Kinetic Sculpture: Craft a kinetic sculpture that visually represents the orbits and rotations of planets around the Sun.
Astronomy Data Visualization: Create interactive data visualizations of astronomical data, allowing users to explore celestial bodies and phenomena.
Space-Themed Art and Exoplanets: Present artwork inspired by exoplanets and their imagined landscapes, combining creativity and scientific knowledge.
Robotic Mars Rover Simulation: Develop a simulated Mars rover that can navigate and collect data while facing challenges similar to those on the Martian surface.
Solar Space Health and Medicine Projects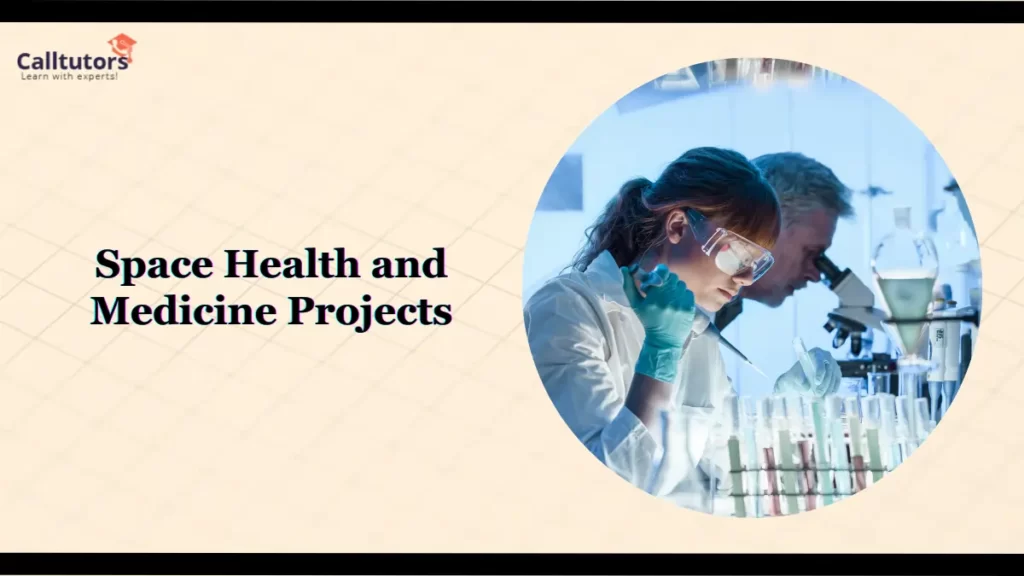 Investigate the effects of microgravity on the human body, considering issues such as muscle atrophy and bone density loss.
Study space medicine and healthcare in space, focusing on medical equipment, diagnostic tools, and health monitoring.
Create a project on astronaut fitness and training, exploring exercise routines designed for space health.
Research the challenges of providing healthcare during long-duration space missions, including telemedicine and remote diagnostics.
Investigate the psychological challenges of space travel, addressing issues such as isolation, confinement, and stress management.
Space Robotics and AI Projects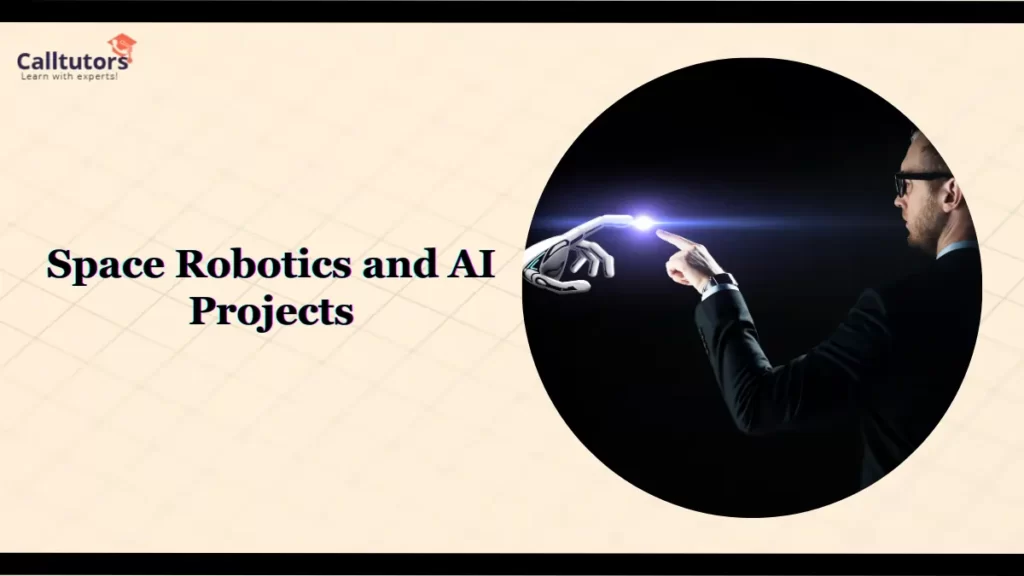 Study the use of robots in space exploration, including robotic rovers, landers, and spacecraft.
Create a project on AI and machine learning in space missions, emphasizing their role in autonomous navigation and decision-making.
Investigate the challenges of autonomous spacecraft navigation in deep space, considering the lack of real-time communication.
Research the use of drones in space exploration, addressing their applications for planetary surveys and data collection.
Study the development of humanoid robots for space missions, such as the Robonaut and the European Space Agency's Haptics-1.
Space Communication and Data Projects
Investigate space communication systems, including the role of satellites, ground stations, and deep space communication.
Study the data transmission challenges of deep space missions, considering factors like long distances and limited bandwidth.
Create a project on the search for extraterrestrial intelligence (SETI), emphasizing radio telescope efforts and the Drake Equation.
Research the history of space telemetry and tracking, exploring the evolution of tracking technology and practices.
Investigate the development of quantum communication for space, considering the potential for secure and faster data transfer.
Space Ethics and Philosophy Projects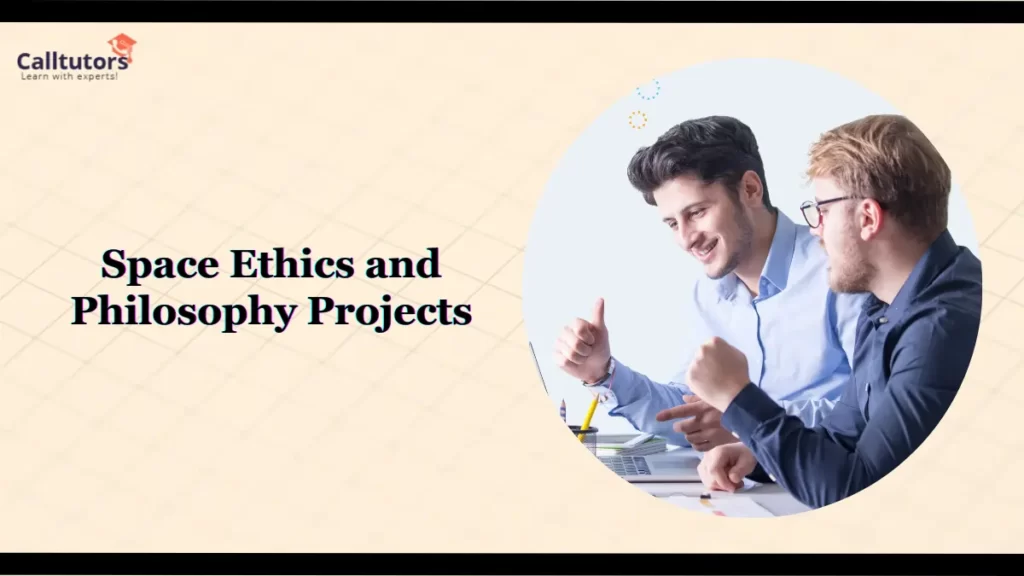 Explore ethical considerations of space colonization, including issues of planetary protection and interference with extraterrestrial ecosystems.
Study the philosophy of human expansion into space, addressing questions about the purpose and significance of space exploration.
Create a project on space ethics in terraforming, considering the ethical dilemmas of transforming celestial bodies for human habitation.
Investigate the ethical implications of space tourism, such as the potential consequences for indigenous peoples and the environment.
Explore space philosophy and the meaning of life beyond Earth, delving into existential questions about our place in the cosmos.
Space Sustainability and Environmental Projects
Investigate the impact of space debris on the environment, focusing on the dangers of space junk to satellites, spacecraft, and the ISS.
Study the sustainability of space resources and mining, considering the potential for resource depletion and ecological balance.
Research the environmental impact of space tourism, exploring the emissions, safety measures, and sustainable practices.
Create a project on the space environment and space weather, emphasizing space weather's impact on Earth's technology and communication systems.
Investigate the potential for space-based solar power and its environmental benefits, including reduced reliance on fossil fuels and reduced greenhouse gas emissions.
Space Archaeology and Heritage Projects
Study space archaeology and historical space artifacts, exploring items such as space suits, lunar lander modules, and rovers.
Investigate the preservation of space heritage sites, including the Apollo lunar landing sites, and the importance of preserving historical space artifacts.
Create a project on the cultural significance of space exploration, addressing how space exploration has influenced culture, art, and human identity.
Research the challenges of preserving space history and artifacts, including issues related to conservation and documentation.
Explore the concept of space museums and heritage sites, showcasing the history of space exploration and human achievements in space.
Space Social Sciences and Economics Projects
Investigate the social and economic aspects of space colonization, considering issues related to governance, property rights, and trade.
Study space economics and the potential for space-based industries, including tourism, asteroid mining, and in-space manufacturing.
Create a project on space governance and international cooperation, emphasizing the importance of diplomacy and collaboration in space activities.
Research space education and outreach programs, exploring the impact of space outreach on public engagement and awareness.
Investigate the impact of space exploration on society, considering its influence on culture, science, technology, and global perspectives.
Space Law and Policy Projects
Study space law and international agreements, such as the Outer Space Treaty, the Moon Agreement, and the liability conventions.
Investigate the role of space agencies and their policies in space exploration and scientific research.
Create a project on space diplomacy and governance, exploring the role of diplomacy in resolving international space disputes.
Research space policy and regulations, addressing the evolving legal framework for commercial space activities and the role of regulatory agencies.
Explore the legal challenges of space tourism and the future of commercial space activities, addressing issues like liability, insurance, and safety regulations.
Space Poetry and Literature Projects
Write space-themed poetry or haikus, capturing the beauty and grandeur of the cosmos in verse.
Create a space-themed short story or novella, immersing readers in captivating space adventures.
Study the use of space symbolism in literature, examining how celestial motifs are used to convey deeper themes.
Write a space-themed novel or collection of essays, delving into the wonders of space science and the human experience.
Create a project on space-themed mythology and folklore, exploring ancient tales of the heavens and the gods.
Space Filmmaking and Animation Projects
Produce a space-themed documentary or docudrama telling the story of space exploration and scientific discovery.
Create a space-themed animation or animated short film, using visual storytelling to engage and educate audiences.
Design a space exploration film or television series, focusing on the drama and excitement of space missions and discoveries.
Study 3D animation techniques for space visualization, creating realistic and immersive space animations.
Create a project on space-themed virtual reality experiences, allowing users to explore the universe in a virtual world.
Space Music and Sound Projects
Compose a space-themed music album or symphony, featuring captivating and ethereal compositions inspired by the cosmos.
Create a musical score for a space documentary or animation, enhancing the storytelling with emotional and captivating music.
Study the use of synthesizers and electronic instruments in space music, employing unique sounds and effects.
Research the history of space-themed music and soundtracks, exploring iconic compositions and their influence.
Collaborate with astronomers, space scientists, and educators to create space-inspired music, connecting art and science in a harmonious union.
Why Solar System Project Ideas Are Great for Students
Solar system project ideas are exceptional tools for student engagement and learning for several reasons:
Inspirational Exploration: These Solar System Project Ideas ignite students' passion for space, fostering an appreciation for the wonders of the universe.
Multidisciplinary Learning: Solar system projects touch upon various fields, from astronomy and physics to art, technology, and philosophy.
Hands-On Learning: Students can engage in practical activities, promoting creativity, problem-solving, and critical thinking.
Effective Presentation Skills: Many Solar System Project Ideas include presentation components, allowing students to develop public speaking and communication skills.
Personalized Learning: With a wide range of project ideas, students can choose topics that align with their interests, tailoring the learning experience.
Cross-Generational Interest: These projects bridge generations, capturing the fascination of both young and mature learners.
How to Make Solar System Projects
The process of making solar system projects can be broken down into several key steps:
Choose a Topic: Begin by selecting a solar system project ideas that interests you and aligns with your grade level and available resources.
Research: Gather information about your chosen topic, delving into books, articles, and online resources. Understand the key concepts and facts.
Plan Your Project: Create a project plan outlining the steps you need to take, materials required, and a timeline for completion.
Gather Materials: Collect the necessary materials and resources for your project, whether it's art supplies, research materials, or technology tools.
Create and Build: Begin the practical work of your Solar System Project Ideas. This may involve model building, data collection, writing, or creative artistry.
Test and Experiment: If your project involves scientific experimentation, follow the scientific method to collect data and analyze your results.
Prepare Presentation: If your Solar System Project Ideas require a presentation, prepare visuals, notes, or other materials to help convey your findings.
Present and Share: Share your project with classmates, teachers, and even your school or community, depending on the scope.
Reflect and Learn: After presenting your Solar System Project Ideas, reflect on what you've learned and how it has contributed to your understanding of the solar system.
Explore Further: If you're passionate about space exploration, consider further projects and exploration in the field.
Solar System Projects on Poster Boards
Poster board presentations are a popular and effective way to share solar system projects with an audience. When creating solar system projects on poster boards, follow these tips:
Organize your information logically with sections for introduction, research, findings, and conclusion.
Use visuals such as images, diagrams, and charts to enhance understanding.
Include concise text that highlights key points and findings.
Use colors, fonts, and layouts that are visually appealing and easy to read.
Practice your presentation in advance to ensure clarity and confidence.
Conclusion
Solar system project ideas are a fantastic way to educate and inspire students about the wonders of our cosmic neighborhood. With these projects students have a wide array of opportunities to engage in hands-on learning, develop critical thinking skills, and foster their creativity. Solar system projects are not only informative but also an enjoyable and accessible way to explore the universe's mysteries.
By selecting the right Solar System Project Ideas based on the student's interests, grade level, and available resources, educators can nurture a lifelong passion for space and science. Furthermore, the multidisciplinary nature of these Solar System Project Ideas ensures that students gain insights into diverse areas of knowledge, from astronomy and physics to art, technology, and philosophy.
Whether it's constructing detailed models, investigating scientific concepts, or creating space-themed art, these projects offer students a hands-on approach to learning about the solar system.
FAQs
Can solar panels be a DIY project?
It's possible to install solar panels on your own, but DIY solar installation requires serious know-how and tools.
Are DIY solar kits worth it?
DIY panels can be an excellent option for going off the grid and some small home applications.
How many watts of solar to power a house?
With a 1000-square-foot home, you can expect to need about 300 to 400 kilowatts of power. That means you are likely to need around 10 to 12 solar panels that produce 375 watts each for this size of home.