If you want to become a creative writer then you have to take your writing skills to the next level. Well, in this blog you will find different types of writing styles that will help you in getting your dream writing job or for fun. As a writer, you should adopt different writing styles for different situations and audiences. Besides, we will help you in learning the types of writing styles with the help of this blog. Majorly, there are four different patterns of writing styles; narrative, persuasive, expository, and descriptive.
Apart from this, to become successful writers you need a lot of patience and practice in your typing skills along with a great laptop. Those skills will teach you in this blog along with successful tips which improve your skills no matter which of the different writing styles you want to do.
Top 5 Types Of Writing Styles and Know Reasons to Learn Each
In this blog, you will find five different types of writing styles. Thus, each of these writing styles has a specific purpose to use. Sometimes a single text may include more than one writing style. However, knowing all five different types of writing skills and their usage is important for any writer.
Here are the different categories and learn why should you master each:
1. Persuasive Writing Style
In this type of writing pattern, a writer's goal is to convince the reader to agree with your deliberated argument. To fulfill this goal, you have to employ various argumentation techniques like presenting, supporting evidence for your point of view. However, you should lay out your opinions in a logical order so that they can grab the reader's attention. Moreover, you can also tell a story that uses emotion to support the argument.
How does it work?
Well, the persuasive writing skill withstands with the author and asks the reader to agree with his or her opinion.
Moreover, this also asks the reader to do something which is called call-to-action.
However, it is also equipped with a lot of opinions, arguments, justifications, reasons, and so on.
Examples of where and when you should use Persuasive writing
Letter of complaints
Reviews
Editorial newspaper pieces
Opinions
Letter of recommendation
Cover Letters
Advertisements
Let's look at an example of persuasive writing. Your persuasive writing might look like this: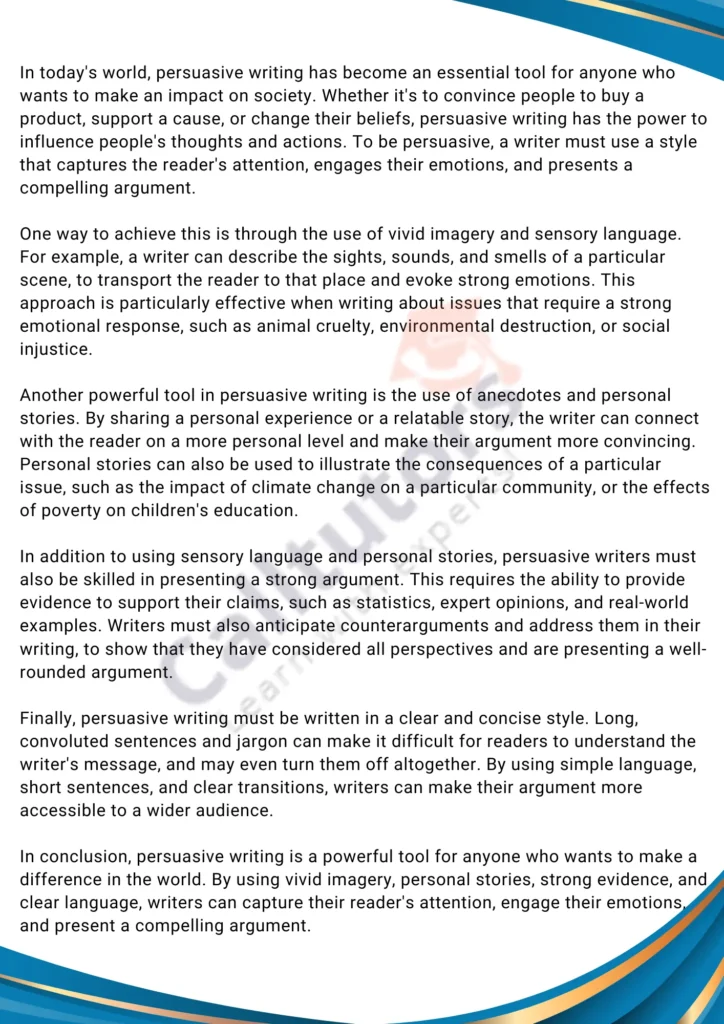 2. Narrative Writing Style
Before starting your content, try to narrate an imaginary story. However, stories are everywhere and this provides enough opportunities for you to express your imagination. Usually, in narrating writing style, you have to tell a story by making sure that it is 100% genuine and truthful.
In addition to this, when a reader starts imagining a story by reading your content then it boosts the power of story fiction and the reader's enjoyment. Moreover, this opportunity enhances your way of expressing your imagination which reaches the reader's mind and emotions.
How does it work?
Make sure that it should have a definite ending and logical beginning along with intervals
Also, ensure that your story should have characters and dialogues
Be sure that the story should have motivational events, disputes, and conflicts and their solutions at the end of your story.
Lastly, make sure that there should be a person present who tells a story or an event.
Examples of where and when you should use Narrative writing
Short stories
Novels
Oral histories
Anecdotes
Novellas
Biographies
Autobiographies
Poetry
Let's look at an example of narrative writing. Suppose you want to write a short story about a young girl who finds a lost dog. Your narrative writing might look like this: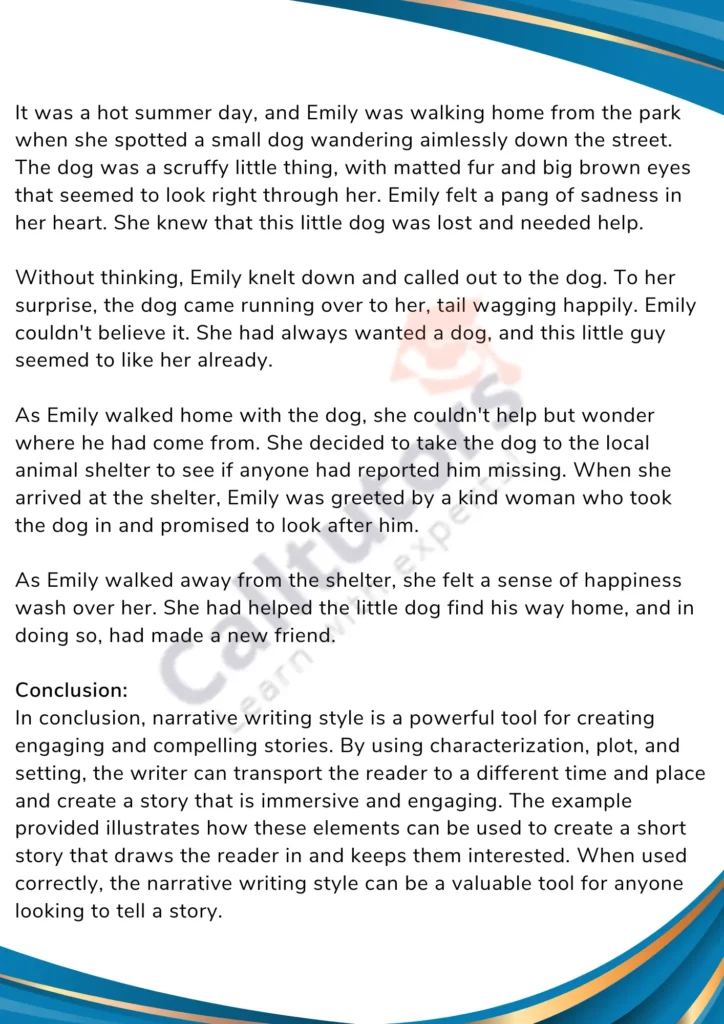 3. Expository Writing Style
Well, Expository Writing majorly focuses on providing genuine facts and figures to the readers. However, in that case, the writer should make sure to do the appropriate research before writing on any topic. However, you should explore and expand the idea by using factual statements.
When you start writing this style then your goal is to explain something to the reader in a balanced or objective way. However, you don't need to prove or persuade a point.
How does it work?
Usually, the Expository Writing Style helps in explaining something which is in process.
Make sure the information you provide should be in a logical order or sequence.
Be sure that your blog should be informative and equipped with facts and figures.
Examples of where and when you should use Expository writing
Recipes
Textbook writings
Business, scientific, or technical writing
How-to-articles
News Stories
Expository writing is a type of writing that aims to explain or describe a particular topic or subject in a clear and concise manner. Here is an example of an expository essay on the topic of renewable energy:
4. Descriptive Writing Style
Descriptive writing usually overlaps with other writing styles in the list. However, this method is one of the common methods of writing content. Thus, it is very helpful for school or college-going students. The essential part of descriptive writing is to show, not tell. Instead of saying what happened, you can paint a picture to show the answer and reasons for how. Also, avoid making grammatical errors in your content, as you should know the importance of grammar in English Writing.
Examples of where and when you should use Descriptive writing
Hyperbole
Irony
Metaphor
Foreshadowing
Smilies
However, you have to choose a point of view so that the readers can relate to their situations. Make sure that the first and the second person should be informal, and the third person should sound formal and objective as compared to others.
Let's look at an example of descriptive writing. If you want to describe a beach at sunset. Your descriptive writing might look like this:
5. Content Writing Style
Well, the content writing style is somehow similar to the copywriting style. In the content writing style, a writer should write about blogs, ebooks, guides, and articles for online businesses and companies. Moreover, they can also write social media posts and YouTube video scripts.
However, they can charge per word rate from their clients and the rate usually lies between five to ten cents. Well, it depends on the complexity of the topic. Thus, this style of writing has become popular among freelancers.
You can simply generate or increase traffic or revenue for your SEO-optimised articles by publishing numerous pieces of content. Lastly, you just need to be sure that your site requires a team of knowledgeable content writers which helps in achieving revenue goals.
Let's look at an example of effective content writing. If you want to write an article about the benefits of regular exercise. Your content writing might look like this: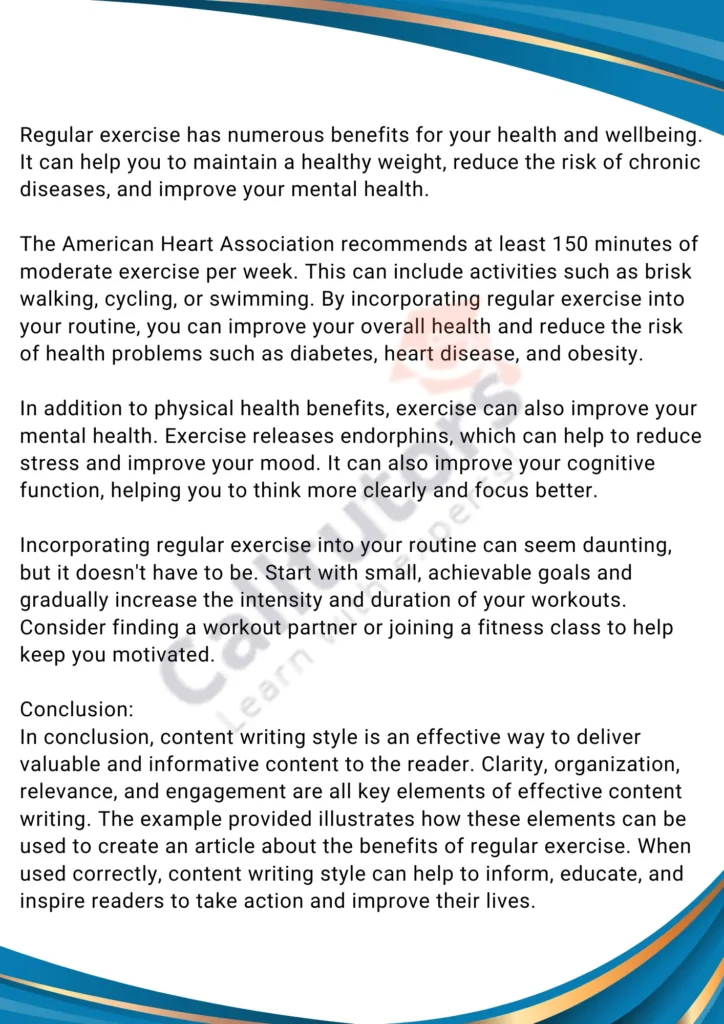 Conclusion (Types Of Writing Styles)
Well, there are so many types of writing styles, from creative to commercial. As a writer, you should select the right style for your articles and make sure that it should fulfill the writing goal. There is a benefit of attempting more than one writing style is that you never get bored with one pattern. However, you can always try another for flex or to fun your creativity. Besides, a writer must know different writing styles which help in identifying the purpose of his or her writing and ensure to write something the audience wants to read.
FAQs (Types Of Writing Styles)
How Can I Discover New Writing Styles?
Take note of how the author draws you in, develops their key ideas, and engages you as they go. After that, practice and request criticism from a person—preferably another writer.
What are descriptive writing styles?
When an author writes in a descriptive style, they are painting a picture in words of a person, place, or thing for their audience.
How many basic writing styles are there?
There are four main types of writing styles persuasive, narrative, expository, and descriptive.