How many essay writing assignments do you get every year during your academic tenure? As usual, we can expect the answer, "You will say unlimited." An assignment that is based on an essay is a bitter truth of student life. Students get tasks of writing a variety of essays every other day.
They get assignments on various types of essays, such as persuasive, descriptive, argumentative, analytical, etc. When it comes to argumentative essay writing, then many students get confused about how to write it.
It is not easy to write a good argumentative essay until students don't know the actual procedure. It is a particular type of essay in which the writer mentions an argument and convinces his/her audience. Do you want to know how you can create a good argumentative essay? If yes, continue reading the blog.
What Is an Argumentative Essay?
An argumentative essay is that type of essay writing in which the writer takes a stance on a problem. In this essay, a writer tries to convince readers to know and support their viewpoint regarding a topic. In it, the writer provides evidence that helps in support his/her stance.
Argumentative essay writing is a general assignment that high school and college students get. Commonly, argumentative essay topics are associated with every field. For example, technology, science, politics, and health care, etc.
Mostly asked question: When I will come to know it is an argumentative essay?

Students will get essay assignment writing tasks at the tenure of their high school or college. The students make sure that the prompt will mention in the assignment to argue for a particular point or include the terms like "argument" or "argue." Professor can ask you in a question form.
We explain it with the help of an example-

1 Argue from two-sided

The increasing trend of online study is putting a positive or negative impact on education? Back up your argument with proof.
2 One-sided argumentative essay

What are the challenges people face related to employment today?
Three main methods to write an argumentative essay and how to use these-
There are three methods you can use while writing an argumentative essay. Please select one of them and start writing like a pro-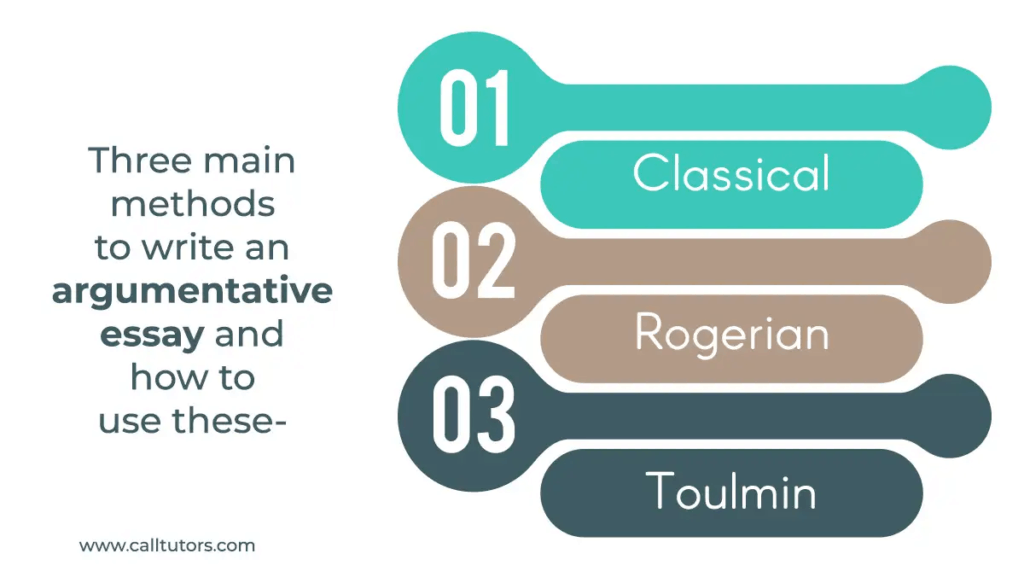 Classical

Mention the main argument, express your viewpoint, and do your best to persuade the reader that your point of view is correct. This technique, also known as Aristotelian, is the most famous strategy for creating an argument because it is the simplest to adopt.
When your audience doesn't know or have a clear opinion about your subject, it's successful because it simply lays out the facts.
Rogerian

Present the issue, accept the opposing viewpoint, state your position, and clarify why yours is the most useful to the reader. Because it admits both sides and introduces the middle ground.
Toulmin

It displays your claim, then provides evidence to support it. Finally, demonstrate that the evidence is connected to the claim.
This type of method is also successful for polarising subjects. Still, instead of presenting both sides, it only presents one, relying on facts presented in such a manner that the claim is harder to deny.
What are the main elements of argumentative essay writing?
What type of assignment tasks professor loves to assign? It is a type of essay aiming to persuade the reader on a particular point of view or argument. So, if you examine this further, it appears to be a good chance to learn the art of influencing.
The ability to persuade others is crucial. You'll have no trouble persuading someone on your viewpoint.
Do you want to know how to make the best one? Do you want to convince your professor with an outstanding essay? Let's take a look at the components of an argumentative essay first.
Following are the argumentative essay components-
The stance you are taking on something is the first component. You are either in favor of it or opposed to it. Let us use an example to illustrate this; you can either support tobacco advertising or argue against it.
The next component is logic. Your argument would be useless if it is not supported by logic. It would be beneficial if you provided evidence to support your claim. It would help if you gave reasons for whatever stance you take. If you are against tobacco, you must offer reasons such as it is bad for your health in the example above.
Evidence comes next, and it's the most significant. Is it possible to persuade someone without proof? No way! Your allegation will be backed up by evidence from outside sources. The writer can use citations to support the claims. Health magazines, for example, can be useful evidence in the current situation.
A counterargument is one of the most ignored aspects of an argumentative essay, despite the fact that it is something that can make your essay stand out from the crowd. The opposing viewpoints are the counterarguments. It would help if you repeated them after presenting them. It will also strengthen your claim.
You are incorrect if you believe that writing an argumentative essay is a difficult task. All you have to do is follow a few easy steps. Your essay would be able to persuade the reader if you follow the quick steps.
Your essay can be divided into four sections: introduction, body paragraph, conclusion, and citations.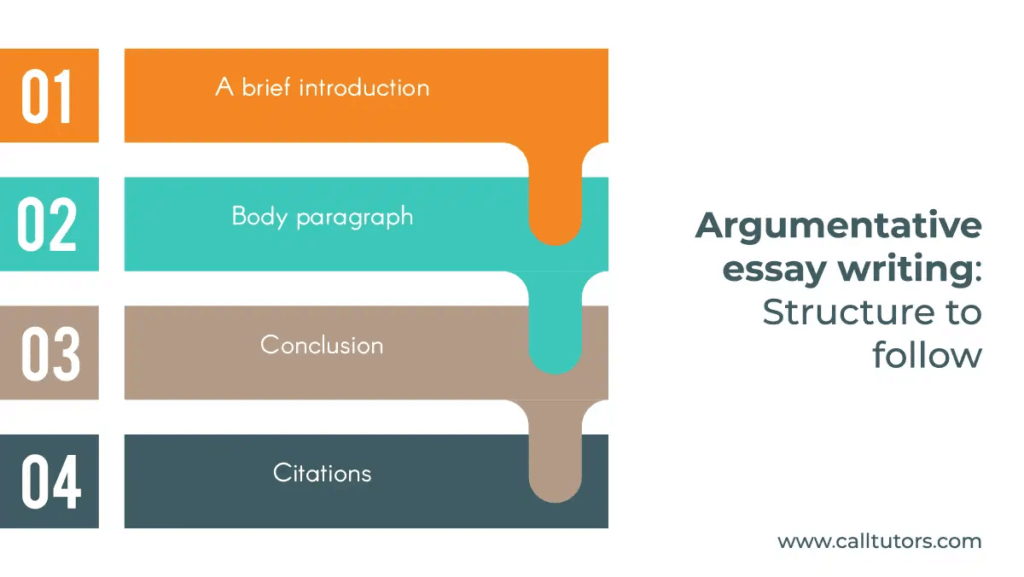 A brief introduction

Keep in mind! The tone of your essay will be set by the introduction. It's a teaser for how the essay will be written as a whole. Make your introduction memorable because it will set the tone for the rest of your essay in the minds of your readers.
Consider your introduction to be a sneak peek into your essay. Design your introduction in such a manner that the reader understands the essay subject.
Another thing to remember is that the first paragraph must create the reader's interest. Remember to include a thesis statement in your introduction to make it more interesting.
It's normally found at the end of the introductory paragraph. Make sure, though, that your thesis statement clearly defines your argument. An effective thesis statement carries the idea of the entire essay.
Body paragraph

The body of the essay supports the introduction. All you have to do in the body is elaborate on your topic and provide evidence to back up your claim. The essay's body is often divided into several paragraphs.
So, how can the essay's body be made understandable and compelling? Here are a few hints. Every paragraph in your body should clarify a single subject.
Each paragraph should begin with a topic sentence that is expanded throughout the paragraph. Keep in mind that each paragraph should support the thesis.
Do not write paragraphs that have no connection or transition between them. Let me add one more suggestion: use transition sentences between paragraphs in your essay to ensure a smooth flow.
Cite outside references to make the body of your essay and content more successful and compelling. You're well aware that there can be no convincing without external evidence. You must make an in-text citation for this purpose.
Conclusion

You have come so far. Take a deep breath and exhale slowly. There isn't much that has been left out. You've already submitted your arguments with proof and evidence to back them up.
All you have to do now is restate your thesis. Bring your focus back to the major point you made in the thesis by wrapping up what you've written in the body of the essays.
Don't forget to summarise everything you said in your essay.
Are you facing a problem in writing your essay's conclusion? No worries; just read your essay once, and you'll see what I mean.
So you've reached the conclusion of your essay, and your reader has been impressed and persuaded. That's fantastic! You've done it!
Citations

Remember to include a citation section in your essay to demonstrate all of the references you used. Here, you would use the reference style that your teacher has requested. The majority of the time, it's MLA or APA.
Lastly, make sure you PROOFREAD your paper. If you can't do it yourself, get your friends' help, please don't miss this step.
Final words

From the above discussion, I hope now you understand what argumentative essay writing is. Follow the proper structure mentioned above, and don't forget to take care of the components.
It will help you in writing an argumentative essay effectively.
Students get argumentative essay writing tasks during their academic tenure. They have to write to get good grades. So, you can write it well by following the structure and components mentioned above.
It will help you in writing it and increase your writing skills.
Mostly searched questions related to argumentative essay-
1 What is the appropriate structure for an argumentative essay?
For those who are searching for the answer to this question comes to the right place. We have mentioned the proper structure above. Your essay can be divided into four sections: introduction, body paragraph, conclusion, and citations.
2 How the argumentative essay is different from an expository essay?
In an argumentative essay, you have to take a stand from a particular point of view. Also, mention evidence to support your argument.
In an expository essay, you will explain the topic clearly and concisely. It is a type of essay in which we just explain the topic deeply.
3 How argumentative essays help students?
Argumentative essay writing helps students in putting their viewpoint in front of the audience. Through it, you come to know how to influence your readers and also defend your viewpoint.