Why homework should be banned? Many students are troubled by this question. Teachers, according to research, assign more homework in a single night than the average student can handle (almost 2 hours of work)! We'll go over more than seventeen reasons why homework should be banned.
A high level of homework has characterized the twenty-first century. Homework covers a large part of a child's life. Kids work on book reports, arithmetic puzzles, and scientific posters all day and night. As a result, homework is an inevitable part of the learning process.
People still fight over the necessity of homework after decades of debate. It is viewed as "wrecking kids" or even "killing parents" by some. These people are correct. Students' and parents' lives would be so much easier if they didn't have to do homework
17 Facts Why Homework Should Be Banned
These seventeen reasons why homework should be banned aren't enough to convince schools and universities to stop assigning homework after class:
Students are given way too much homework
School is a full-time job
Homework stresses students out
Homework provides no real benefit
Too much homework means not quite enough time for yourself
No family time
Normal sleep cycle
Downtime at home
Negative impact on tests
Threat to kid's nerves
Extra challenges
Lack of support
The way students perceive things
Writing has different effects.
No real impact on performance
Irrelevant content
More love, more care
Students are given way too much homework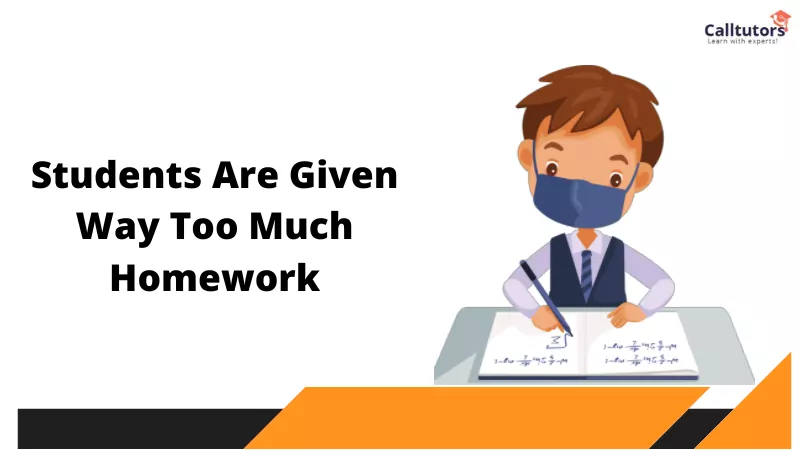 It is an important reason why homework should be banned. Homework is an important topic for being successful both in and out of the classroom. But too much homework can destroy your progress.
Students who invest too much time in homework may find it challenging to meet other demands such as staying physically and socially engaged.
The national parent-teacher association and The national education association have agreed on a "ten-minute rule" for how long students should spend on homework. The guideline specifies that children should work on homework for 10 minutes per grade level per night.
According to research by the University of Phoenix, students in grades 9 to 12 are given 210 minutes every night. These students are dealing with rising schoolwork and are spending nearly twice as much time on it.
Students will be motivated to complete their assigned tasks and feel more accomplished if there is less homework or none.
School is a full-time job.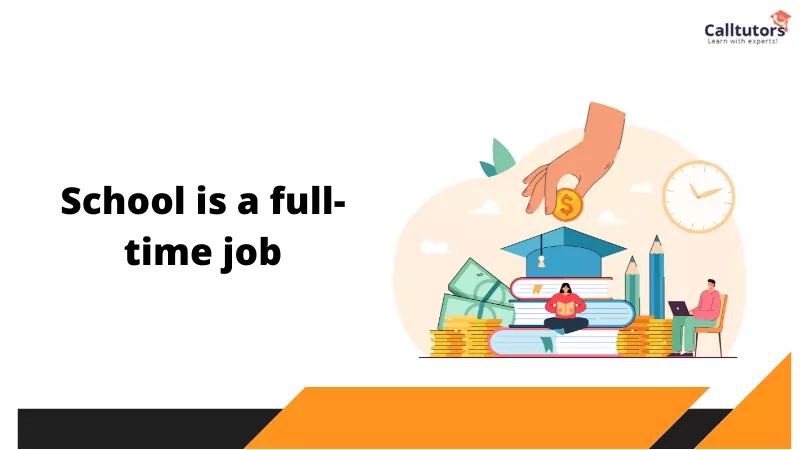 In Taiwan, most children's school days begin at 8 a.m. or even earlier and end around 5 p.m. or later. Every day, children spend approximately 9 hours of their time on their schooling. When you add in the extracurricular activities that kids are required to participate in to complete and thrive in society, such as cram school, studying musical instruments, and participating in sports, children might easily spend more than 10 hours per day on school-related activities.
Homework stresses students out.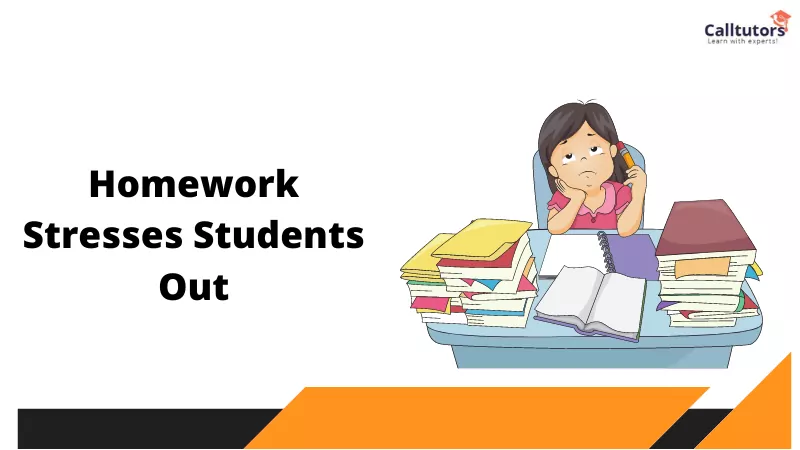 This is the third fact of why homework should be banned. Homework is a source of stress. According to a stanford university survey, 56 percent of students regard homework as a significant source of stress. In contrast, only 1% of students believe homework is not a substantial source of stress.
Furthermore, more than 80% of students exhibit stress-related symptoms such as headaches, tiredness, sleep deprivation, weight loss, and stomach issues. Homework is to blame for all of these irritating stress and health difficulties.
Without a doubt, no homework means no stress. Students don't have to waste their time sitting at their desks, burnt out, and wondering about whether or not they turned in all of their assignments if they don't have homework. As a result, having no homework is a student's dream come true.
Homework provides no real benefit.
This is the fourth fact of why homework should be banned. Teachers assume that giving students extra homework would help them improve and remember what they have learned faster. That is not the case, however. The more homework students have, the less motivated they are to learn. As a result, homework becomes a devil, driving students into a corner of worry rather than a tool for motivating them to learn more.
A decrease in academic performance has been connected to spending too much time on homework. Even though homework can help you achieve better marks, it usually has decreasing returns.
Too much homework means not quite enough time for yourself.
This is the fifth fact of why homework should be banned. Students who invest too much time in homework do not reach their developmental needs or develop other essential life skills. Students who have too much homework are less likely to participate in extracurricular activities such as athletics, musical instruments, and other activities.
Furthermore, if kids spend all of their time doing homework, they may be unable to gain essential life skills such as independence, learning to cook, time management, or even mingling with others.
Many students feel compelled to prioritize homework over finding and developing other abilities or talents. However, without homework, keds would be able to spend more time on their interests, such as dancing, playing video games, and drawing, while still functioning in society as adults.
No family time
This is the sixth fact of why homework should be banned. The most significant difficulty for today's parents is that they don't spend nearly enough time with their children. Kids begin working on their homework and projects as soon as they get home, and they barely have time to chat with their families because they're too tired. Those continuously working on homework miss out on family time, shared evenings, weekend activities, and dinners. However, without homework, there would be more time for family bonding, which would bring families closer together.
Normal sleep cycle
This is the seventh of why homework should be banned. When students are overburdened with homework and assignments, their sleep cycles become irregular, disturbing their biological clocks and decreasing the quality of their sleep. For example, they may stay up until two a.m. to finish a single report. Then they pass out when they arrive home the next night, only to wake up late the next night to complete their homework. These cycles frequently repeat in the lives of students.
Downtime at home
This is the eighth fact of why homework should be banned. 2 hours of homework after 8 hours in class is a punishment. Going outside, spending time with friends, joining hobby clubs, assisting parents, and yes, watching TV and playing video games all help children feel like children. Their professors should provide kids with more unstructured time.
Negative impact on tests
This is the ninth fact of why homework should be banned. Should schools ban students from doing homework to improve their exam grades? Yes, it is correct. Students risk failing to pass their exams if they focus on homework assignments. Complicated, time-consuming chores, as well as mobile gadgets, video games, television, friends, domestic responsibilities, and so on, appear to be distractions.
Threat to kid's nerves
This is the tenth of why homework should be banned. Why should homework in schools be prohibited for the sake of mental health? Teachers are unconcerned about the negative consequences of after-school activities on a child's brain and mental health.
Extra challenges
This is the eleventh fact of why homework should be banned. Students that combine business schedules with extracurricular activities, internships, or part-time work find it difficult to manage their time. They are tired and exhausted by the end of the day.
Lack of support
This is the twelfth fact of why homework should be banned. it is an essential part of why homework should be banned. One of the most compelling reasons for banning homework is that most teachers fail to communicate everything needed to complete the task during class. Parents are unable to assist with all functions. Friends of students do not have the necessary experience to assist, and they also have work to complete. The only companies that can assist students with any level of academic work are professional internet services.
The way students perceive things
These are the thirteen facts of why homework should be banned. Should schools ban students from doing homework? Another reason to say "yes" is that different students have various perspectives on things. While some students memorise and fully comprehend a topic by repeatedly reading the same material, others memorize and fully comprehend a topic by watching a relevant video.
Writing has different effects.
this is the fourteen fact of why homework should be banned. Some students have a good grasp of the subject. They risk failing the entire course due to a lack of writing or research abilities, and most teachers do nothing to help.
No real impact on performance
The economic cooperation and development (OECD) found that the extra time spent on education does not affect productivity in 4 hours of weekly home-taken assignments.
Irrelevant content
Homework should be prohibited if it has nothing to do with the topic or subject being studied. It is unethical to provide homework that students did not cover in class and expect decent reports.
More love, more care
Even the most strict parents agree that they do not visit their children on a regular basis. These generations are divided by work and education. Family members will have more time to spend together and receive more support as the number of after-class tasks is reduced. Learn how to complete your homework in less time. It will save you a lot of time and allow you to spend more time with the people you care about.
Should Homework be Banned Pros and Cons?
We will list why homework should not be banned below to show that this post attempts to assess things objectively. To be clear, we do not insist on homework being avoided at any cost. We try to figure out if youngsters would be better off alone with little responsibilities or hectic routines.
Minimizing screen time
Without homework, a student can spend up to 8 hours every day in front of the computer. The recommended average duration is no more than 3 hours: it makes young people lazy and damages their vision. The benefits of doing homework include improved study and living habits.
Improving time management
Every professional needs to be able to manage their time. It is hard to assign 24 hours per day without it.
Improved critical thinking
Extra assignments after class are the most effective technique to increase critical thinking and memory.
Developed sense of independence
The majority of children aspire to have more independence. The youngster is allowed to work independently while analyzing personal flaws and threats.
Sparking enthusiasm
What about a little additional motivation? Homework assignments allow parents to encourage their children to communicate more.
Enhanced research skills
To accomplish their tasks, students must conduct in-depth investigations. They will learn how to choose sources and gather proof.
Learning to multitask
A student develops multitasking skills by having several things to do in one right. A single task may necessitate research, writing, and analysis abilities, as well as computer knowledge.
Getting ready
It is not a good idea to assign homework the day before an exam. When assigned individually, after-class activities can help prepare and deepen knowledge; teachers should set aside some time before the tests to focus on them.
Do Students Get More Homework Than They Used For?
Yes. Teenagers today spend twice as much time on homework as they did in the 1990s. According to some research, even kindergarteners spend up to 25 minutes every day on homework.
For over a century, the concept of homework has been a source of heated debate. The anti-homework campaign grew so strong in California in 1901 that it banned homework in all schools below high school. Homework, it was argued, may be harmful to a child's health by causing too much stress.
The pendulum swung in the 1950s with the launch of Sputnik by the Soviet Union. Teachers in the United States were concerned that a lack of homework had caused their students to fall behind their students in other countries. Since then, educators have argued about the value of homework. There has been a trend toward more homework in the twenty-first century. However, the age-old debate rages on, with some schools or districts experimenting with eliminating homework.
Can Homework Kill You?
The downsides of homework are apparent to everyone: tiredness, frustration, loss of time to pursue other interests, and often a decrease in interest in studying." he said… "doing homework is similar to taking medicine. It has no effect if you consume too little. It can kill you if you consume too much, " Cooper explained.
There are numerous articles on the subject because practically everyone despises homework.
Denise Pope, a senior lecturer at the Stanford graduate school of education and a co-author of a study published in the journal of experimental education, commented, "our findings on the impacts of homework challenge the traditional notion that homework is fundamentally positive." – Stanford university news.
"To put it simply, too much of anything may be harmful," says Gerald Legendre, chair of Penn state's department of education policy studies. "What Harris Cooper has advised – and he is one of the leading researchers with some excellent, accessible books on the subject – is that it's best to have 10 minutes as you go up each grade until you're up to an hour and a half of homework by middle school."
Most studies conclude that homework is a waste of time that keeps people from doing things they want or need to do, such as sports or attending important events. Even if students have a legitimate need to participate in such circumstances or do not have enough time to complete their assignments, they are severely penalized.
Get Homework Help At Calltutors
Do you need help completing your homework? Calltutors can help as we can provide high-quality homework help within a given deadline worldwide.
Our provided homework has easy to understand and detailed solutions. So that students can easily understand the answer to their homework queries.
If you find homework a headache, request us to "help me with my homework,". Our experts provide effective and accurate solutions.
We also provide you with immense revision to the homework that can help you score A+ grades in your academics.
Conclusion
In this blog, you have learned why homework should be banned. I hope you have understood easily. And also if you are facing a problem writing your homework and you need help. Then you can contact our experts. If you want to pay someone to do my homework to get Java homework help. Our experts provide you the best services.
FAQ (Frequently Asked Questions)
Does homework kill brain cells?
Children with more than one hour of homework per night are overwhelmingly concerned about their capacity to accomplish their assignments. This tension can cause severe difficulties for a developing brain over time. This is especially harmful to children's brains, which are rapidly forming neural connections.
Is homework more harmful or helpful?
Yes, and the stories we hear about kids who are stressed out because they have too much homework-four or five hours a night-are true. However, data reveals that students from higher socioeconomic backgrounds receive significantly more homework than lower economic classes. This is harmful to one's bodily and mental health, as well as one's overall well-being.