You are working hard on your essay, Right! But don't get good grades because of formatting issues. Don't worry! Why suffer in getting grades because of improper formatting? We are here for your help.
Writing a college essay or paper requires in-depth research, proper planning or organization, and devotion. Students make sure that their essays must be logical, well-written. They should also follow the format according to the university guidelines.
The essay format APA style is a tedious task for students to deal with. They don't know how to follow the formatting rules. Therefore, we are here to help you with the same.
So, let's not waste a single minute and start working on it.
What Is APA format?
The full form of APA is an American psychological association. It was established in 1929 for the authors. The main purpose is to generate an original style for citation and quotation. Also, it is used to grip the reader's attention and provide the information with proper headlines.
APA is used for scientific records, written records, lab papers, etc. This language also has notable importance in academics.
What Are The common rules of Essay Format APA?
Following are some most common rules for essay format apa.
The writing should include double-spacing between lines in Times New Roman.
The topmost right side of every page has a numeric value with a short title related to the work.
The title should be in the center.
The note at the bottom of the pages should be double-spaced.
The list of references consists of bibliographies, and the longer record should include abstracts and much more.
The essay writer must place the list of references with the author's name on a particular norm: first writing the last name, then the first word of the name, and finally, the middle one.
There is the requirement of the capitalization of the regular publication title's initial word. It does not include any quotation symbol.
So students have to be acquainted with the reference rules of the American psychological association to produce a quality essay. Most of the students face problems in writing an essay in APA format. In this blog, we will give you information about the most effective essay format APA style.
Points to be remembered while writing an essay in APA format-

The introduction paragraph
It must include a thesis statement.

The body paragraph
It includes almost three paragraphs. Each paragraph includes different ideas. All these ideas must be supported by appropriate evidence.

Conclusion paragraph
This paragraph must sum up the whole idea and answer the thesis statement mentioned in the introduction paragraph. It includes no new ideas by the writer.

Step-by-step instructions to write an Essay Format APA:
Before writing the essay format APA, you have to understand what are you going to manage. The Publication Manual of the American Psychological Association (APA for short) is the style guide distributed by the American Psychological Association.
It is explicitly intended for social and behavioral sciences, yet it is additionally generally utilized in different orders, especially nursing. Like other style guides, it covers a broad scope of topics, including research paper organizing, tables, and figures, references, and grammar questions.
Here are a few points that are typically viewed as when you manage essay format APA style:
Step 1:- Margins
Utilize 1″ margins on each of the four sides of the page.
Step 2:- Space
Indent the beginning of a section ½ inch from the left margin; indent square citations 1/2 inch from the left edge also.

Step 3:- Textual style or font
Pick a standard and simple-to-read text style like Times New Roman. Likewise, the APA requires the utilization of text styles without serifs. (Serifs are the little bars put toward the end of the strokes of a letter. For instance, Times New Roman has serifs; however, Arial does not.)
Step 4:- Size
Utilize 12 point text style.
Step 5:- Page numbers
Number pages sequentially in the upper right-hand corner beginning with the title sheet. Try not to incorporate your name by the page number.
Step 6:- Spacing
Double-space the whole paper, including quotes (quotes longer than 40 words) and the references.
Step 7:- Title sheet
The APA style essay title page ought to incorporate the title of the essay focused on the page, trailed by your name and school alliance, additionally centered and double-spaced.
At the base of the page (likewise focused), you can incorporate a creator's note that gives specific data about the class or affirmations.
Step 8:- Running heads
APA designing requires a running head on each page. The running head is a short (under 12 words) summary of your title that shows up at the top of each page adjusted left.
The header on the title sheet should pursue "Running head: TITLE." All following pages should list the running head in all tops aligned left.
How To Write an Essay in APA format?
Now we will discuss the APA writing style essay, and it includes various rules through which you can improve your essay format. It facilitates your process of writing.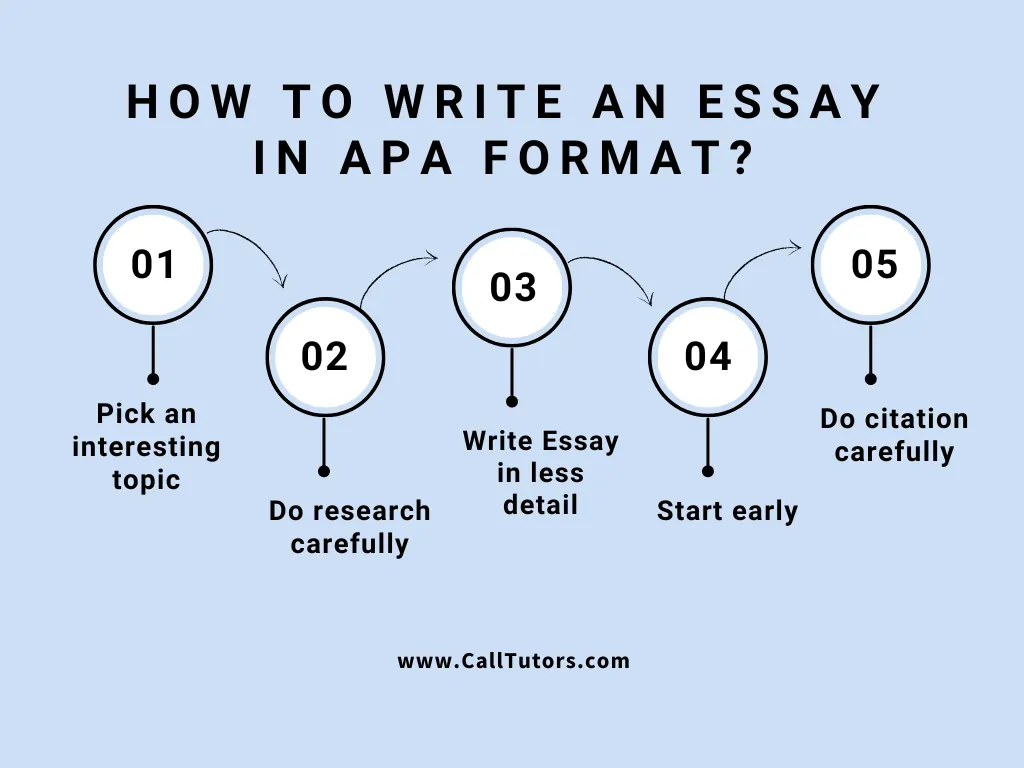 Step 1:- Pick an interesting topic
The initial step is to pick an interesting topic for the essay. You ought to be sure that it will draw the consideration or attention of the group of audience, and you will most likely pass on and investigate it in detail.
Step 2:- Do research carefully
Approach the research procedure carefully. If your topic is very detailed, you have to make sure you can discover all the essential and appropriate material. It will help you to ground your thoughts and proof well.
Step 3:- Write Essay in less detail
Remember that your topic shouldn't be excessively wide or limited. Else, the given information will overpower or the reader will not find enough information. It is not good. So, keep your essay details less and relevant to your essay.
Step 4:- Start early
Start your essay ahead of time. Maybe you should search for specific books, articles, and intriguing materials, and their preparation can require a great deal of time.
Step 5:- Do citation carefully
If you utilize any immediate citations, you are to design them properly and remember to refer to every one of them (the source) in your References part.
Step 6:- Make a rough draft
Draft your APA essay. It will enable you to stay away from any potential missteps. You will have a chance to edit your content and make any modifications quickly without the danger of getting a poor grade.
Step 7:- cross-check the rules
It is critical to see whether every part is similarly informative, profitable, and consistently organized as per the rules.
Additional quick tips on essay writing in APA style-

Tip 1- Check the structure properly
Tip 2- Check the formatting of the essay
Tip 3- Use in-text citation correctly
Tip 4- Always add the right references

Bonus point-
Types Of APA Papers
Now we mention the type of paper you are about to create an essay on it-
To generate research reports, it uses data from experiments and observations. It is distinct from other studies because it is not based on theories or ideas but on actual data.
These articles examine other individual's work. The objective is to collect data about a current problem and to describe where we are now. It puts light on problems and tries to fulfill those gaps with suggestions for future research.
These papers are slightly similar to literature studies. In this, the author gets, analyzes, and shares data about a current problem by utilizing others' research. It is distinct from literature reviews. In this, a writer tries to describe or explain a problem by giving a new theory. This theory is supported by strong evidence.
Case studies show data related to an individual or group. These subjects are examined for a particular reason, and the essay writer arrives at the method and outcomes from their research. The writer may also suggest future analysis, form possible theories, and explain a solution to a problem.
APA format essay example
Firstly, it might sound difficult yet when you see the APA essay format model everything turns out to be clear. You may know the golden rule of seeing once is superior to hearing twice.
This visual case of appropriate formatting may prove to be useful if you need to look at the example. And your very own content and check the accuracy of the essay format.
If you need to discover how to write an essay format APA. Then at that point, pursue the rule for the in-content citation. Also, consider the points mentioned above.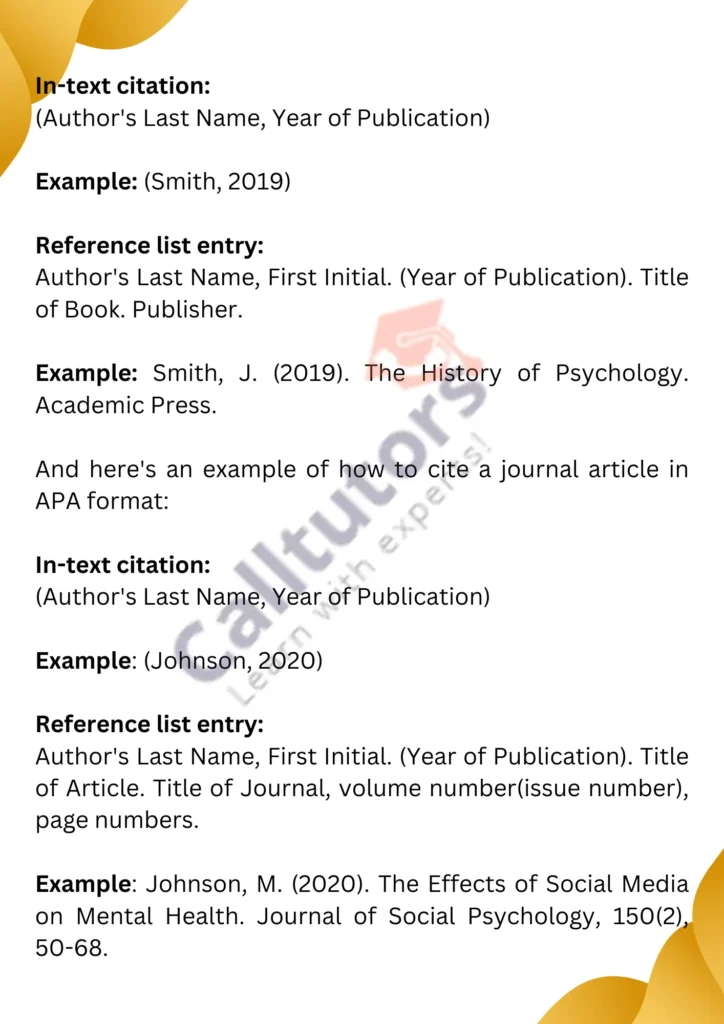 Quick Links
Conclusion
So, all these are the very easy steps to the essay format APA. You can follow all these steps to make your writing style with the APA essay format good.
If you want to have a high-quality essay format APA style, we will help you. At Calltutors, we provide the best essay format APA to the students at nominal charges. We have skilled and experienced editors to check the content. They also discover that your paper is perfect, from the essay format on the APA page to the References page. Please submit your requirements with us to get the best essay writing help now!
Frequently Asked Questions
Why is citation important?
It is important to provide information about your research to your readers and used to give credit to other authors by using their ideas.
How is APA different from MLA?
There are so many differences between them. One of them is that APA formatting is utilized for writing science and social sciences papers.
Who Uses the APA style?
It is highly used by professionals, students, and researchers. They all are pursuing fields like education, psychology, and business.