Just like photo essays and traditional essays, video essays tell a story or make a point. The only difference is that it presents the information or story in video form.
However, how to make a video essay is a general question in today's time. As the development of technology and easy access to the internet has changed the traditional method of narrating a story through written essays has to be video essays. It is quite easy to connect with people through videos as compared to written essays as you can attract them in both express and implied ways. It has risen as an effective and efficient mode of presenting the information.
Thus, this blog will help you understand how to make a video essay proficiently and the significance of making such an essay. Let's start by discussing what a video essay is.

What is a video essay?
The essay is a short formal piece of writing to express one's thoughts, stories, arguments, and so on. Video essay means narrating the content of an essay in a video through pictures, text, music or narration, etc.
This is why it is a bit challenging to make a videos essay as compared to writing a traditional essay. Hence, the importance of learning how to make a video essay arises.
The following picture shows the steps that will help you get going with your project.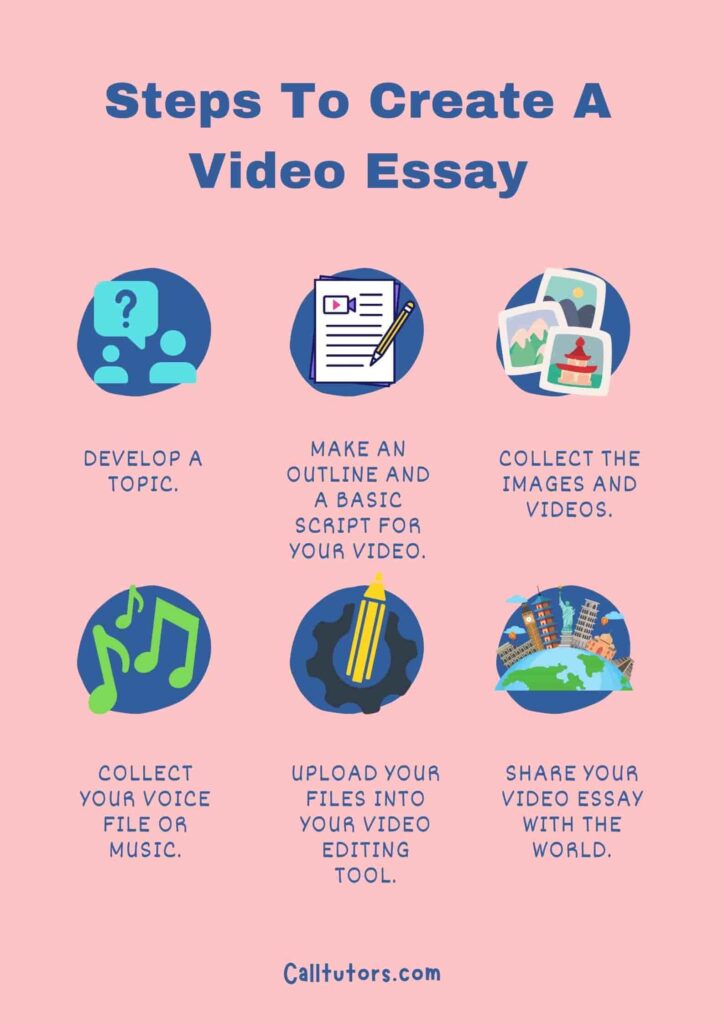 How to make a video essay?
Following are the steps involved in how to make a video essay:
1. Contemplate your topic wisely
The first and the foremost step in how to make a video essay is to choose a topic for your essays. You can't jump on to other steps before finalizing your topic. Your topic must address a brief content of the essay. Since it's a videos essay therefore you have to decide a catchy title with a view to attract and allure your audience.
While contemplating a topic for the essay you should always keep in mind that the product or content is the second thing but the title is the first thing to tell the audience about the essay.
2. Create a script and structure
After deciding a topic now you have to create a story from your idea. Since video essays work as written essays, therefore you have to build a story on your idea in an interesting way.
As in a written essay you have to build a structure and outline to present your story, likewise in a video essay you have to drive a video in three stages beginning, middle, and end.
This step is very mandatory and has to be observed very cautiously. Create your narration or pictures, text beforehand so that you narrate the actual story in the perfect format.
As soon as you will make your outline then you can write your script in an efficient and effective manner. Writing a story is an art so make it worth watching.
3. Decide the right clips and images
By now you have decided your title, outline, and structure for your video essay. Now the next step in how to make a video essay is to choose the right clips and images to tell the story in the best manner.You can create clip by selecting the most relevant parts of your footage and trimming them down to fit your story's pacing and structure. Additionally, consider using images that help illustrate your points or add visual interest to the video.
Since this is the best advantage of a videos essay that you can use pictures and clips to share your views so you also have to make the best use of them accordingly.
Always use only those pictures, clips, and texts which directly suggest your point of view or argument or your experience and so forth.
To choose the most suitable clips and texts and images you must have a rich library of the same. The rich library will help you to find exactly what you need and want to support each and every point you make and to rebut the point you want to rebut. Conclusively, you will craft a better video.
4. Edit the video into a single essay
You have everything ready to go and you are only left to collect and merge all the chosen images and footage into a single video to give it a form of narration.
While editing your video essay you can use any tools related to editing the videos as there are several videos editing too. It will help you to garnish your video in an attractive manner. You can make changes in the video while remembering your targeted audiences.
How long should a video essay be?
A 10-minute video essay that is clear, focused, stylish, and well-crafted is much better than a 60-minute video essay that is loose, vague, obvious, and thrown together. Thus, concerning traditional written essays, the following are the idea of the expected length of a video essay:
| | |
| --- | --- |
| Word-limit of Written Essay | Expected Length of Video Essay |
| 1500-2000 words | 8-10 minutes |
| 2000-2500 words | 10-15 minutes |
| 4000-6000 words | 15-20 minutes |
Bonus Point
What are the best video editors?
Following are the best video editors that are free of cost:
(i) Lightworks: It is the best free choice for those who want to create professional-quality movies or videos without spending a penny.
(ii) Hitfilm express: It is also free-to-use video editing software. This software adjusts color balance, trim clips, and exports your projects in different video formats.
(iii) Movie Maker Online: It is a video editor that runs in your browser. to edit a video, you have to upload an unusual vertical project timeline where you can crop clops and add filters or transition effects.
(iiii) Canva: Canva is renowned for offering tens of thousands of templates in every format imaginable for use on every publishing platform. The features that make Canva video editor a fun, special, and effective tool include real-time collaboration, self-recording plus screen recording that is ideal for classes, training, and webinars, pre-licensed audio tracks, content planner, and publisher, as well as brand kit and colors. Canva's video editor is also accessible on your browser (for online editing), desktop download (if you want offline editing), and mobile (iOS and Android).
If you are well versed with this blog, then sure, you know how to make a video essay efficiently and effectively.
Video Essay As Form Of Marketing
The video essay is the latest popular style of essay in which a short video is made to narrate a story or anything as per the genre of the essay. That is why it has emerged as an effective tool of marketing as now companies can sell advertises their products through video essays instead of advertisement videos. This is more efficient than traditional advertisements because it does not directly intend to do marketing. Instead, it depicts the importance of the product through pictures, video clips or story narration, etc. But all this is possible only when you know how to make a video essay.
Quick Links
Conclusion
With the emergence of technology and awareness of technology in people, the method of academics has completely changed and video essay is one of the modern aspects. In video essays, You can create clip by selecting the most relevant parts of your footage and trimming them down to fit your story's pacing and structure. Additionally, consider using images that help illustrate your points or add visual interest to the video. It has also become a tool of digital marketing owing to its advantages. But all this is possible only when you know how to make video essays and all the guidelines thereto. It will help to make a good video essay.
Hope you have found out from the above information how to make a video essay, but if you still have any doubts, then you can help from our experts through essay writing help, write essay for me in a very short period, and how to write my essay in an easy way.
FAQs
What Makes A Video Essay Great?
According to Max Marriner, intellectual accessibility, genuine or hard-hitting evidence, and an engaging host are key formulas for making a good video essay.
Who Made The First Video Essay?
Mathew Turner created a viral youtube essay arguing that Daniel LaRusso, the young hero of the 1984 film, The Karate Kid, was actually the movie's villain. You first need to know the story behind the video he posted to youtube.
How Do You Structure A Video Essay?
The video essay will have the same features as an essay; an introduction, argument, discussion, and conclusion. Students should be enabled to approach the development of the video essay in the same way as their academic essays; research, write, plan, prepare, edit, and submit.