In this blog, you will learn how to write a comparison essay. So, let's get started.
When we go about our daily lives, We can't help but notice the aspects of our environment. It could be a new car, a new fashion trend, or even some new adventures. If you think of your favorite Mexican restaurant and then go to another, you're bound to compare the two. So it may appear normal when your teachers offer you homework to compare two examples in a case study.
But something happens at the college level: our natural ability to compare vacates us. You might be confused as to how to write a comparison essay. This is a frequent problem that many students face. We've put together this step-by-step tutorial to lead you through the process of creating the perfect paper. Below are some points on creating an outline, what to include, and most importantly, how to go about it. So keep reading to learn how to write a comparison essay like a master.
What Is The Definition Of a Comparison Essay?
A comparison essay (also known as a Compare and Contrast essay) is a typical writing assignment in high school and college classrooms ranging from art to science. You should critically study any two subjects in a comparison essay, locating and pointing out their parallels and differences.
Such essays might be comparative only (looking at similarities), contrasting only (calling out contrasts), or both comparative and contrasting, depending on your assignment.
What Makes A Good Comparison Essay Topic?
Many students don't know how to write a comparison essay. What you exactly write in your paper can decide the success or failure of your essay. Like any other academic work, a good comparison and contrast essay will have a purpose that offers value. Consider subjects that are relevant to the field of study. Effective comparison and contrast subjects should expand the scope of knowledge or provide evidence for valid statements that have yet to be proven. The following are a few examples of possible topics:
Economics: Fiscal vs. Monetary Policy – An study of the Great Depression and the Stagflation Era
Political Science: Barack Obama vs. George W. Bush: Inspiring orator vs. modest disposition
Literature: Faulkner and Hemingway: A Prose Paradox
Philosophy: Utilitarianism and Existentialism
Law: When it comes to property, Common Law vs. Statute Law
When you start college, you may be assigned to create a decent application comparison essay in addition to these academic areas. These subjects could be lighter, such as comparing your youth to your adolescent years or contrasting two close friends.
Comparison Essay Structure
One of the most critical aspects of success is to think about the structure of your essay. The only way to properly outline and compose an essay, paragraph by paragraph, from beginning to end, without errors, is to follow a recommended essay structure.
There are 2 recommended patterns for a comparison essay: the point-by-point ("alternating") pattern and the subject-by-subject (or "block") pattern.
Alternating Pattern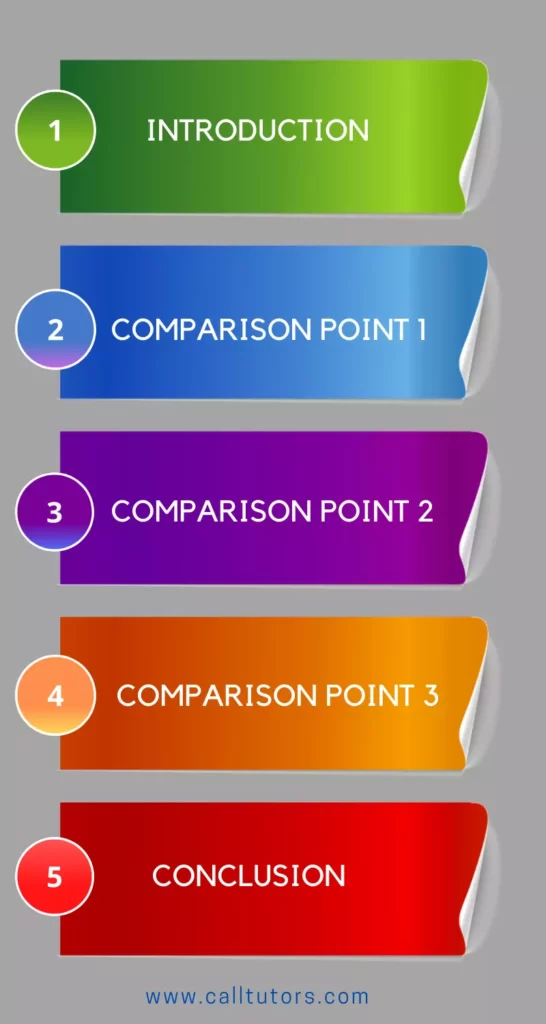 "Point-by-point comparison" is another name for the alternating pattern. Your essay will have five paragraphs if you use this style of comparison.
You'll have to compare and contrast each of the similarities and differences in the following subjects to complete it:
Your thesis is stated in the introduction.
Then, for each point of comparison and contrast, you explain both of your topics together.
You repeat the thesis and briefly summarise your essay in conclusion.
Block Pattern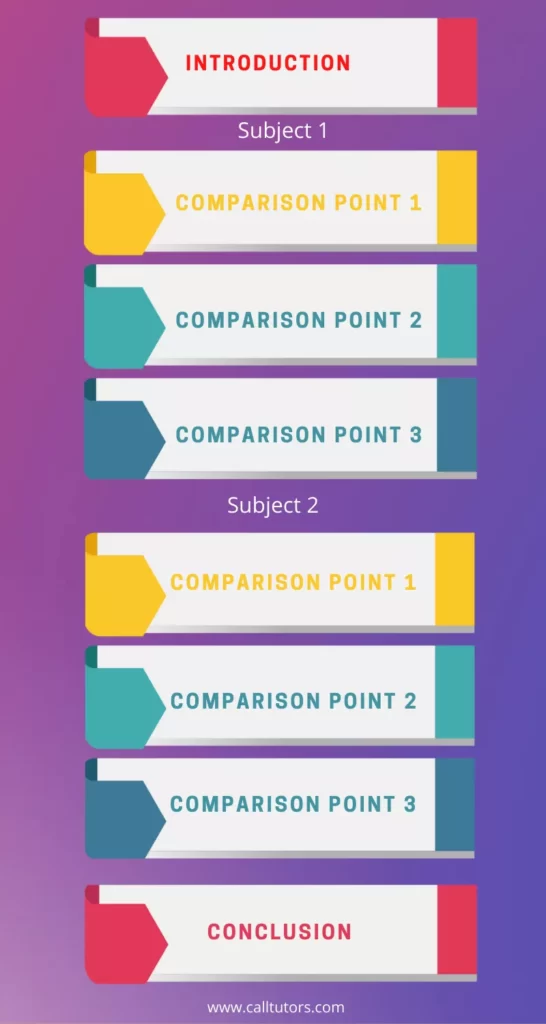 "Subject-by-subject comparison" is another name for the block pattern. The body of your compare and contrast essay will be divided into two parts according to this structure.
The first half of the body will be devoted to the first subject, while the second half will be focused on the second:
Your thesis is stated in the introduction.
You start with the first topic.
Then you move on to the second topic.
You repeat the thesis and briefly summarise your essay in conclusion.
Comparison Essay Format
Formatting is essential at universities. Many students may find this problematic, but academic work should be similar across fields to make it easier for analysts to reference and apply research to their studies. You may be expected to write a comparison essay in MLA or APA format, depending on your course. So, equipped with your preferred style guide, let's get started on how to construct an excellent comparison essay outline.
Compare And Contrast Outline
At the very least, a decent essay outline will have three major sections: introduction, body, and conclusion. The introduction is sometimes the most difficult to write, and thus it should be saved until last. It's far easier to hammer out an excellent opening to notify the reader of what's to come once you've laid out all of your thoughts. You can use fascinating information from your paper to build a compelling hook that will attract your readers to read more. You'll also be able to tighten up your compare and contrast thesis to make a more powerful impact.
Comparison Essay Outline Example
In this example, We'll break down a comparison and contrast essay point by point. We've chosen to start with parallels in our format and then move on to contrasts, with an extended conclusion that includes an analysis and then the actual concluding paragraph for the paper's scope.
An introduction, body paragraphs, and conclusion make up a basic essay outline.
Briefly introduce the topics.
Give a brief overview of the subjects you'll be comparing and contrasting.
Write a powerful thesis that shows how the issues are related to one another.
Examine the topic in depth.
Compare and contrast the two subjects and present the data that back up your conclusions.
To make a significant impact, use transition words.
Finish your essay with a good analysis.
Return to the thesis statement to reconnect the audience with the essay.
Finish the essay on a positive note. Now start how to write a comparison essay.
How To Write a comparison essay and Compare Essay?
Here we will tell you how to write a comparison essay. A proper essay outline and organizational framework are required for comparing and contrasting essays.
When writing a decent compare and contrast essay, keep the following ideas in mind.
Selecting the Objects
The selection of the objects to compare is the first stage, and they should be distinct but belong to the same category. Instead of reaching an artist to a politician, a writer could compare two separate artists. This is the first step on how to write a comparison essay.
Identify the Differences and Similarities
In the second phase, a writer must pinpoint the Differences and Similarities. This approach is generally aided by drawing a Venn diagram with two overlapping circles, and it helps with the organization of data. This is the second step on how to write a comparison essay.
Create a Thesis Statement
The goal of this essay is to use similarities and contrasts to create a thesis statement. The thesis statement aids in the development of a focused argument and the creation of a road map for the reader. Determine what your essay will say about the topics. This is the third step on how to write a comparison essay.
Select an Appropriate Organizational Structure
It's critical to pick a framework that makes sense for your core point. Choose one of the appropriate structures from the list above and write your essay appropriately. By following a strict format, the entire essay will remain on track. This is the fourth step on how to write a comparison essay.
Craft an Outline
Create an outline for your essay based on your organizational structure. An article typically includes an introduction, three body paragraphs, and a conclusion. If you have a lot of information to cover, you can always increase body paragraphs.
You can explore the similarities and contrasts in a single paragraph if you use a point-by-point structure. If you use the block structure format, each subject gets its paragraph. This is the fifth step on how to write a comparison essay.
Provide evidence to back up your thesis statement
Support your argument with extra evidence. Evidence can be gathered by extensive research, reading, or firsthand observation. When comparing two types of cats, for example, it is acceptable to utilize personal thoughts. In this approach, your argument will make a great impression on the reader's mind. This is the sixth step on how to write a comparison essay.
Use Strong Transition Words
To ensure a smooth transition from one statement to the following, powerful transitional words should be used. When comparing, use words like both, likewise, and similarly. This is the seventh step on how to write a comparison essay.
Proofread Carefully
Do not read your article right after you finish it. Proofread for at least an hour or a day. It helps in the detection of more grammatical and spelling errors.
You can also use an online spell-check tool to help you. Additionally, have someone else read your article and point out any flaws. This is the eighth step on how to write a comparison essay.
How to Begin a Comparison Essay
In a comparison essay, you should assess two subjects and bring out their similarities so that the reader may create an informed opinion about them.
The manner you begin a comparison essay has a significant impact on your readers. It is critical to remember that the nature of your introduction impacts whether or not your readers will become interested in your article or abandon it.
As a result, here's a rundown of some of the techniques you might use to grab your audience's interest.
Give your readers a brief history of your issue to assist them in grasping it.
Begin with a narrative to attract the reader to learn more about your topic.
Make a terrific remark, either happy or shocking.
Use statistics to show the scope of the problem.
Conclusion
In this blog, you have learned about how to write a comparison essay. I hope you have understood how to write a comparison essay easily. A comparison and contrast essay is critical for assisting readers in making educated selections when deciding between two objects or situations. To determine what to choose, a reader must first read the article, consider its various elements, and then settle in favor of one. Contact us for Top Quality Essay Writing Help if you don't know how to write a comparison essay and contrast essay. how to write a comparison essay
FAQs (Frequently Asked Questions)
In compare and contrast essays, what are the most regularly utilized transition words?
The following are the most typical compare and contrast essay transition words:
In the same way
In like manner
Likewise
Similarly
By the same token
What does a compare and contrast essay serve?
The main goal of a compare and contrast essay is to show how two items are alike and dissimilar, and they also necessitate the application of critical thinking skills. A good comparison essay can teach readers about current events, political candidates, vacation places, and items.