The deadline is coming near, and still, you see the blank paper for many hours. Thinking of how to write an informative essay effectively? Don't panic! We are here for help! In this blog, we will provide you the complete guidance on writing an informative essay.
An informative essay is the most common form of writing, which the professor assigns to students. In addition to this, writing an informative essay is comparatively easy, but students often find it hard to write. Frequently, students end up getting average grades. That is why they search for informative essay writing guidance.
Let's uncover the secrets on how to write an informative essay!
What do you understand by informative essay?
As the name itself depicts its meaning that it gives information on any topic to others. The main objective of this essay is to educate the audience on a particular topic. In this essay, a writer can define a term, analyze data, compare and contrast something and write how to do something. But a writer cannot present an opinion and try to convince the reader.
How To Write An Informative Essay: Step by step guidance
Step 1 Select and research the topic
a) Understand the question- Firstly, try to understand the question of your assignment. That is what your teacher wants you to explain and also understand the requirements carefully.
b) Select the topic- The teacher assigned the topic to the students, but sometimes students have to select independently. They have to make sure they choose the topic as per the requirements of the assignment.
c) Do proper research- It is extremely important while writing an informative essay. You have to find accurate information on the topic. You can use both online and offline mediums for research.
d) Prepare notes of your research– write down important points on paper or type the points on a computer. Try to keep all the notes in one place.
Step 2 Creating an outline.
The outline of the essay is a vital part. The purpose of an essay outline is to begin the information as clearly as possible, and the reader must get as close as possible to the subject. The outline of the essay is constructed step by step, and no need to add ample information. We give you an outline example, and it helps you know how to write an informative essay.
Example of structure of an informative essay
In this part, you can catch your students. Thus they won't stop later in the first section. Try to make it curious from the beginning and first sentence. Besides this, you know how to use several questions to incite an argument and include the reader to have extra concerns. Try to add a hook in the introduction. It helps in making it engaging.
Introduction writing tip by an expert-
" By using all types of hooks, try to use statistics, jokes, facts, anecdotes, famous quotes, metaphors, and similes. Always end your introduction with a powerful thesis statement. Make all efforts to engage the audience in the first paragraph of an essay."
-Catherine Doyle, The University of Michigan professor and editor at Pro-Essay-Writer
A thesis statement is one sentence that states the main idea of an essay. 
In this section, you must add 2-3 long paragraphs. Along with it, you will have to notify your reader related to the thesis statement. Besides this, a body paragraph is a set of linked sentences associated with the particular idea or topic responsively linking to the thesis.
Since essays are collections of various paragraphs of the corporate structure, it is one of the most critical aspects of creating a well-organized essay.
It is the last part of an informative essay, so you have to rewrite the thesis statement of your informative essay in a changing method. Create a summary of the clarifications of your essay. The part of the conclusion has to be definite in a single paragraph. And, the phrase, in conclusion, means "finally, to sum up" and is used to familiarize several final explanations at the end of an essay.
Step 3 Start writing your essay
a) Firstly, write the rough draft- By using the outline and research points, start writing the rough draft.
b) Explain one point in one paragraph- Always try to explain one point in one body paragraph. Don't create hosh-posh in a paragraph by adding all the points in it.
c) Edit your first draft- Read the first copy of the essay and find out its mistakes.
d) Finally, write your essay- After editing the first draft, start writing the final draft of your essay.
e) Take care of grammar and spellings- It is an important point you must keep in your mind. Always use the proper grammar and avoid spelling mistakes while writing an informative essay.
Step 4 Proofread your essay.
We are humans, not machines, so that mistakes can happen. Always proofread your essay before submitting it to the professor. It helps in making a mistake-free essay.
By following the above steps, you will surely know how to write an informative essay. Stay tuned with the calltutors blog for getting more information on various topics!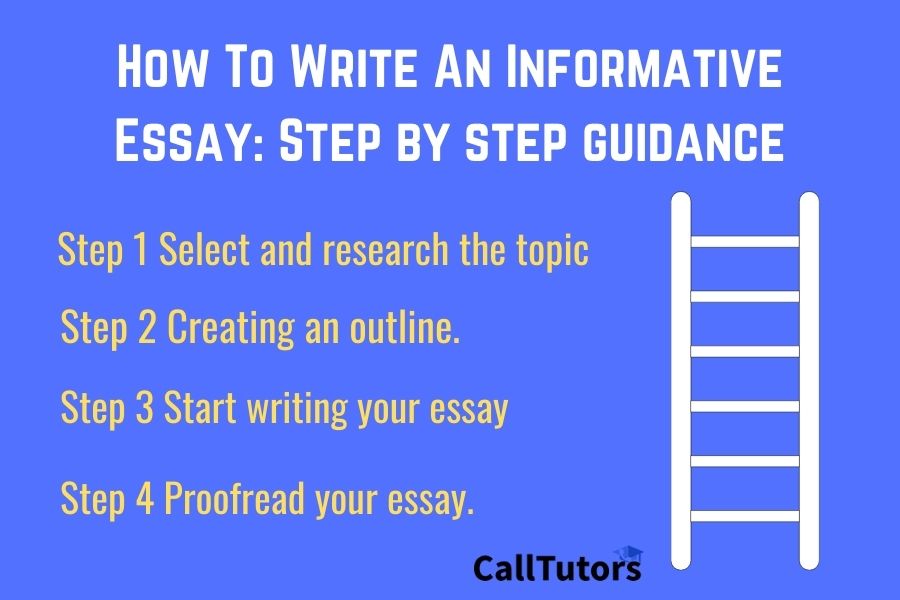 Brain boosters-
In what way to start an informative essay?
The easiest and best way to start an informative essay is to ask the reader about the details you recommend in the next paragraphs.; therefore that he won't stop on your introduction of an informative essay. You will have a blessing chance to acquire the winning grade later, turning in your essay. Besides this, it is continuously good for GPA. Don't forget to build a concise, informative essay on brief documents so that your links can be easily read.
Exactly how to end an informative essay?
It is the last and hardest part of an informative essay, later constructing the thesis statement. As a result, in what way to conclude an informative essay, it is the most often asked question.
Nevertheless, you can always be able to find a solution, right? The informative essay's conclusion is only answers to the things that may be lacking after the passages. Rewrite all of your thesis statements and connect them. It doesn't sound too complicated.
Point to remember-
Always select the interested informative essay Topics

Undoubtedly, an outline is the most significant. Besides this, one of the hardest things is discovering the best topic, which you can open as well as it must be first exciting to you only after that you can make the reader interested in the subject if you are interested.
Some ideas of informative essay topics-
There are lots of examples of informative essay writing, which are as follows-
Global warming
Causes for tornado
Thanksgiving history
Causes for tornado
Gap year
Domestic Violence
Homelessness
Racism
Poverty
Stress
Procrastination
Plastic Surgery
Illegal Immigration
Let's sum up-
Now you understand how to write an informative essay from the above discussion. The writing of the essay is an essential part of the life of a student. Because it is an excellent idea for a homework project, the professors love to give it. It promotes the growth of skills assessment, critical thinking, and contemporary training.
Get the best essay writing help from the experts at nominal charges.
Mostly asked questions-
1. How to write a solid thesis statement?
First of all, you have to believe in your point and write the statement that it's true and it is the heart of an essay.
2. How do I know that my professor assigns an informative essay?
If your assignment question include to 
1. compare and contrast something;
2. define a term, topic, or issue;
3. Provide a how-to guide on a subject.
4. Analyze data, an issue, or a phenomenon;
in your essay, then it is an informative essay writing task.
3. Are pictures helpful in clearing the meaning of the topic in an informative essay?
Yes, including images in your essay answer helps you in explaining your point clearly.